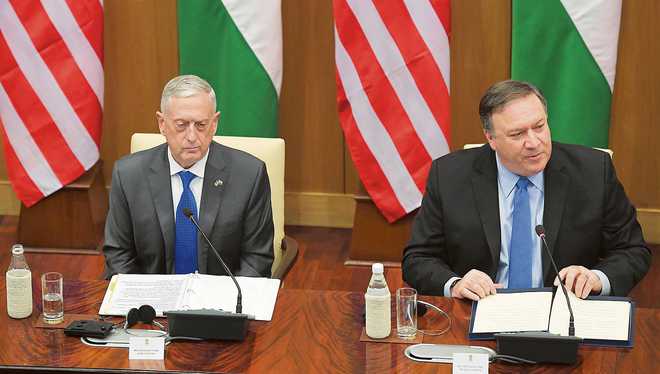 Manoj Joshi
Distinguished Fellow, Observer Research Foundation, New Delhi
The visit of US Secretary of State Mike Pompeo is significant. It is the first visit to India by a senior US official following the recent General Election. It is to set the stage for the Modi-Trump meeting, the first since November 2017 that is likely to be held on the sidelines of the G-20 summit at the end of the week. But it is also to assess the mood in New Delhi.
Narendra Modi remains the Prime Minister of the country, strengthened by his electoral victory. But there has been a fairly extensive change of personnel in the government as such. Modi is more experienced and knowledgeable about world affairs than he was when he took office the first time around.
As for the US, while relations remain good, there have been disturbing developments, be it on the issue of trade, or religious freedom, and the larger issue of decisional autonomy, that suggest that New Delhi needs to make its red lines clearer to Washington.
All these will be invaluable in dealing with the consequences of US policy unfolding in our neighbourhood — Afghanistan, Pakistan, Iran on one side, and China and Russia on the other. Here, neither we, nor any other country has a significant say. And the key driver is neither Pompeo nor John Bolton, but President Trump himself.
Even though the world has begun to get some measure of his style — bluster, maximal demands and sudden U-turns — Trump remains an unpredictable variable. Even now, for example, we are not clear what the US wants in Iran: Trump seems to be happy to renegotiate the nuclear deal, but Pompeo's 12 demands look more like the terms of surrender which Bolton, who is looking for regime change per se, will be happy to support.
Therein lies a great danger for us and the world. Since last week, Indian tankers are being provided with Indian Navy personnel to guide them through potential risks in the area and two Indian warships have been deployed there.
On Friday, Indian civil aviation carriers were asked to redirect their flight to Europe to avoid Iranian air space. Any disruption of oil flows from the region where India sources a little over 60 per cent of its oil would be catastrophic. This is not counting a wider war that may require the evacuation of millions of Indian expatriates who work in the UAE, Saudi Arabia and the other sheikhdoms.
It is important to emphatically convey some of these concerns to Pompeo. India has gone along with the US in stopping all oil purchases from Iran. But it cannot and should not accept becoming collateral casualty to the incoherent US policy in the Persian Gulf region that has
the potential to set back our economy by decades.
Another item of interest to Pompeo will be to promote the American Indo-Pacific strategy. By now, the US should know that neither India, nor many regional players are keen on any kind of an overreach here. While diplomatic coordination and calls to uphold a rules-based order are fine, there is little interest in joining up with any anti-China grouping.
Last October, Prime Minister Shinzo Abe journeyed to Beijing in what was clearly a reset of Japan's China ties. Tokyo hasn't quite forgiven the US for walking out of the Trans Pacific Partnership and keeping Japan out of negotiations with North Korea. An important outcome of the visit was Japan signing up on the Belt and Road Initiative in all but name.
In India's case, the signals were sent through the Modi-Xi summit process that began in Wuhan last year and repeated in Prime Minister Modi's address to the Shangrila Dialogue in June 2018.
India is not the only country worried about the maximalist approach being taken by the Trump administration. What occasioned more surprise has been Singapore Prime Minister Lee Hsien Loong's address at the 2019 Shangrila Dialogue earlier this month. For a strategic partner of the US, Lee struck a somewhat equidistant tone, saying China needed to play by the rules that had brought it prosperity and stability, even while calling on the US to forge "a new understanding that will integrate China's aspirations within the current system of rules and norms." He said almost all the US allies in Asia, including Japan and South Korea, and Australia, had China as their largest trading partner and they and Singapore hoped that the US and China will resolve their differences.
Note that most countries, including India, claim that ASEAN is central to any notion of a free and open Indo-Pacific. Yet, ASEAN states are themselves divided and do not have a common understanding of the concept. As for India, it has veered between upholding the Japanese notion of upholding a rules-based international order, to declaring that Indo-Pacific itself was more of a geographic concept.
As it is, and this is another point that needs to be emphasised to Pompeo: a country that weaponises tariff is most certainly not upholding a rules-based international order. And just in case we forget, it is the US that walked out of not one, but two UN-sanctioned accords: the Paris Climate Agreement and the JCPOA (Joint Comprehensive Plan of Action) with Iran.
No matter which way you look, there is great uncertainty, caused in considerable measure by the 'America First' policies of the Trump administration. Hawks like Pompeo and Bolton are the advisers of a President who is not known for consistency, or even integrity. This is a dangerous conjuncture and India must navigate through very, very carefully.
Top News
2 feared dead as car plunges into Beas river on Chandigarh-M...
Is produced in a local court amid heavy police security on W...
Khwaja Sayyed Chishti was a refugee from Afghanistan used to...
On Tuesday, a police team from Chhattisgarh reached Uttar Pr...