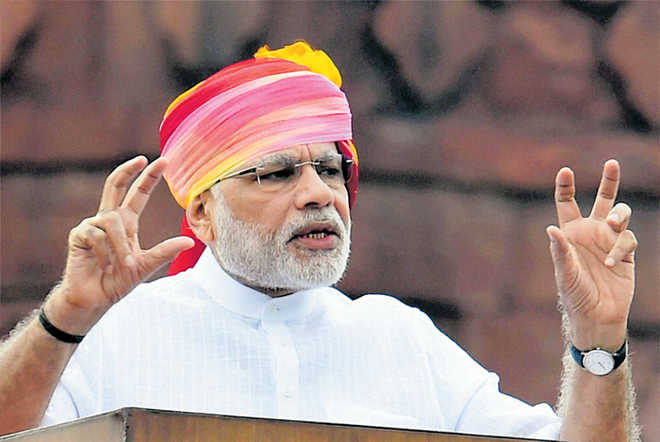 THE Prime Minister's Independence Day address from the Red Fort on August 15 is generally a mid-year review of the government's achievements, like the US President's annual State of the Union address to the US Congress, mandated by their constitution. Both speeches are also watched for new priorities of the government. For PM Modi, the significance was even greater as midway through his term, he faces crucial elections in Punjab and UP in the next six months. In the former, the BJP faces severe anti-incumbency while the latter is the crucible for his re-election in 2019.
The hundred-minute speech mostly recounted his government's achievements — in improving services, boosting infrastructure and enabling 'last-man delivery'. More significantly, it was scanty on foreign policy though it re-calibrated his Pakistan policy. It however skirted the main issues confronting the nation — the Kashmir turmoil, cow-protection brigade's vigilantism, and anti-Dalit acts by BJP- associated fringe elements.
Some of PM's claims were immediately contested. Two examples would suffice and both impinge on the forthcoming elections. First, his assertion that dues of sugarcane farmers had been defrayed almost totally by sugar-mills, aimed at the election-bound UP, was contradicted by Yogendra Yadav, sitting alongside me in a television studio, telephoning the farmers' union and learning that the actual figure was 50 per cent.
Second, from the Red Fort ramparts, Modi would have seen Jama Masjid to his left and straight down Chandni Chowk, the golden dome of Gurdwara Sis Ganj memorialising Guru Tegh Bahadur (the ninth Guru). So when the PM quoted Guru Gobind Singh (10th Guru), with an eye on the Punjab polls, perhaps more appropriate for India, as indeed for the saboteurs of communal harmony in his own party, would have been the message of religious freedom that the ninth Guru's martyrdom — protesting forcible conversions to Islam under Aurangzeb — so powerfully symbolises.
Modi talked of neeyat (intention) and neeti (policy). While no one doubts his intentions or his development-oriented vision, implementation is another matter. His over-centralised system, reminiscent of the model perfected by Indian chief ministers in running states with a handful of trusted aides and intelligence sleuths, is unable to cope with the challenges that a diverse and large country presents. That is why the best Indian prime ministers had never been chief ministers. For instance, HD Deve Gowda was a successful chief minister but an ineffective prime minister. PV Narasimha Rao was a rejected state leader who, at a crucial juncture of nationhood, redrew Indian foreign and economic policies to adjust to the post-Cold War realities — a track India is still on.
External Affairs Minister Sushma Swaraj has become a social media darling by tweet-managing the delivery of consular/passport help to individuals or groups. Even Atal Bihari Vajpayee had set up in 1978, as external affairs minister, a special complaints cell in his office for passport complaints. But his main aim was to reform the system. He insisted that direct Indian Foreign Service recruits be sent to head passport offices. I volunteered and headed the Chandigarh office, then one of the biggest in India, and thereafter opened the Jalandhar office. In other words, systemic reform is what ministers are meant to achieve. Each direct complaint is sign that reform has been unsuccessful.
Finally, the policy shift on Pakistan. There were hints three days before the address that something was brewing, when in the all-party meeting, he invited attention to the goings-on in POK; even telling the Ministry of External Affairs to contact disaffected non-resident Pakistanis from disturbed regions. India was readying to take the battle to Pakistan's real policy makers — the army in thuggish league with the jehadis. Vajpayee and his successors, despite 9/11 and US presence in the area, were unable to wean Pakistan away from its use of India-specific terror syndicates as adjunct to its India policy by allurements or threats. Modi was about to change the rules of the game.
In his Red Fort speech, Modi added Gilgit-Baltistan to the debate as Pakistan cleverly, and India by neglect, treats POK as a sliver of land east of the Kashmir valley on the two banks of Jhelum. The erstwhile Northern Areas, now renamed Gilgit-Baltistan and inhabited by Shia of ethnicity, more in common with Indian Ladakhis than Pakistani Punjabis or Mirpuris, is the theatre of China's new 'Great Game', to connect the warm waters of the Indian Ocean to Xinjiang.
Indian Foreign Secretary S Jaishankar is learnt to have told the visiting Chinese foreign minister that as per Article 6 of the 1963 Sino-Pakistan border agreement, all territorial concessions made by Pakistan, including ceding of the Sakshgam valley, are subject to "the settlement of the Kashmir dispute between Pakistan and India". The question then arises why India has remained reticent over years about burgeoning the Sino-Pak collaboration in and through the Gilgit-Baltistan sector.
The same logic is inapplicable to Baluchistan as India is not a party to the accession dispute between the Khan of Kalat and Pakistan. Perhaps India missed a great strategic opportunity in 1958 when Pakistan bought Gwadar and surrounding area controlled by Oman for a mere US $3 million. Had India obtained a toehold on the Makran coast at that time, by a rival bid, India today would be in a different negotiating position on Pakistan's depredations in Baluchistan.
Expectedly, Pakistan reacted sharply by promptly linking its old allegations of India abetting terror in Baluchistan to Modi's remark as proof of Indian perfidy. The effectiveness of Modi's new gambit depends on whether it is a tactical ploy for the upcoming elections and part of Modi's blow-hot-blow-cold Pakistan policy, or a strategic shift that takes the battle to the Pakistan army — the real sponsor of terror as adjunct to diplomacy. Generally, the Punjabi-dominated Pakistan army does not respond well to threats. It can be expected to escalate tension. Hopefully, the government will quickly realign its domestic policy for peace in Kashmir and its foreign policy to use the strategic space that the new Pakistan "pivot" has opened up vis-a- vis both Pakistan and China.
— The writer is a former Secretary, Ministry of External Affairs
Top News
Both Houses adjourned for the day amid uproar over Adani iss...
Adani Group company stocks have lost over US$ 90 billion in ...
Total losses in stocks of 7 listed Adani group companies hit...
DGP said Arif was being handled by a Pak-based LeT terrorist...
Idol of Lord Ram's 'baalroop' carved out of these stones wil...