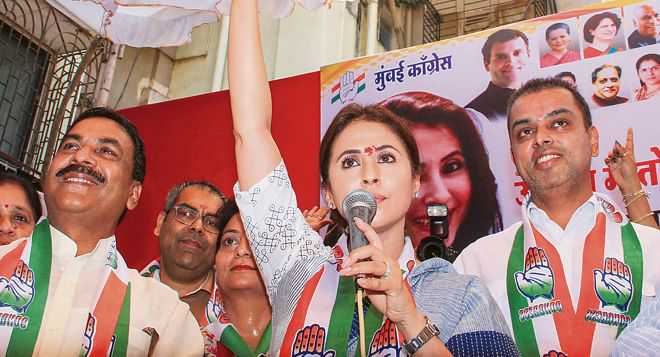 Rasheed Kidwai
Senior journalist and author
The abrupt exit of Urmila Matondkar and Kripa Shankar Singh is a reflection of how the Congress central leadership [read Gandhis] is handling the party affairs and a consequent sense of despondency within its ranks. Milind Deora may not quit the Congress or join the rival camps [Shiv Sena or BJP], but the young politician is said to be disillusioned with politics itself.
It is often said that history repeats itself. In the Mumbai Congress affairs, the recent developments are a reminder of many past instances. Actress Urmila's induction was sudden, as that of actor Govinda, who, incidentally, has had a much longer but chequered career due to electoral success. Urmila, in the eye of Mumbai Congress, remained as reluctant, cheesy and a misfit as Govinda.
At another level, if Urmila bothers to check Priyanka Chaturvedi's last six months in the grand old party, she would find striking similarities. Chaturvedi, an AICC spokesperson, put her personal prestige at stake, seeking action against some local Congress leaders in Mathura who had reportedly misbehaved with her. The high command looked the other way. Urmila, too, met a similar fate in Mumbai North where her call for action against Sandesh Kondvilkar and Bhushan Patil, close associates of Sanjay Nirupam, a former Mumbai Congress president, came to a naught.
Sanjay Nirupam, considered a Rahul Gandhi favourite, has once again emerged as a villain of the piece. Though Nirupam is tight-lipped about the Urmila episode, except for a tweet requesting her to reconsider her decision, the former Shiv Sainik-turned Congressman has a dubious history of antagonising Mumbai stalwarts such as Sunil Dutt and Gurudas Kamat.
In fact, when Gurudas Kamat died in August 2018, his family, wanted Priyanka Chaturvedi to contest from the Mumbai North-West Lok Sabha seats. Closer to the 2019 General Election, Nirupam acted swiftly, contesting himself from Mumbai North-West and drafting newcomer Urmila from Mumbai North. Priyanka Chaturvedi quit the Congress to join the Shiv Sena. The Congress tally from Mumbai metropolis was zero.
The task of bringing in Urmila in the Congress fold was not easy. Govinda's nephew Krushna Abhishek reportedly declined to contest as a Congress nominee for the 2019 Lok Sabha polls. Subsequently, Congress MLA Aslam Sheikh was credited with convincing Urmila to join the Congress. Some of the conditions reportedly accepted by the party were bizarre. It exempted the candidate from spending any money from her personal kitty. A vanity van was reportedly requisitioned during the campaign whose daily expenses were borne by Mumbai party unit.
Oldtimers may recall that the Govinda-Congress parting of ways too was far from smooth. When Govinda started threatening to resign in 2008, the Congress had reacted cautiously. The then Mumbai Congress chief, Gurudas Kamat, persuaded Govinda not to hand over his resignation letter to the Lok Sabha Speaker. But Kamat's efforts did not find approval from many Congress leaders in Mumbai and Maharashtra who wanted the actor to quit. Some in the Congress had even sounded out actors Raj Babbar, Nagma and Ravi Kishan to contest the bypolls if Govinda had gone ahead to formally resign.
According to the anti-Govinda camp in the party, it was a wrong decision to give ticket to a political novice like Govinda who had little to do with the Congress' ideology or its social programmes and had remained absent during most of the Lok Sabha sessions. As an MP, Govinda had earned the dubious distinction of skipping the highest number of Lok Sabha meetings during his five-year tenure (2004-09) in Parliament, with records showing that the actor had attended merely 12 per cent of the Parliament sessions. Moreover, the few speeches and remarks he had made in Parliament were deemed 'politically incorrect' and a source of embarrassment to the party leadership. Among them was his stout defence of fellow actor Shakti Kapoor, who had been caught in a news channel's sting operation, asking for sexual favours from an undercover reporter posing as an aspiring actress.
Actor Sunil Dutt, too, had issues with Sanjay Nirupam. When Nirupam joined the Congress on April 25, 2005, Dutt, a Union Cabinet minister in the Manmohan Singh government, turned a disillusioned man. He could not fathom why Sonia Gandhi had inducted a Shiv Sainik who had addressed him, Dilip Kumar and Shabana Azmi in the most abusive and derogatory manner. Just before his death on May 25, 2005, Dutt had told his daughters Priya and Namrata, "I am tired. I cannot do what I want to do. I can do nothing about the things happening under my very nose. I'm overstraining myself and my life does not seem to be in my control anymore."
The Congress has many lessons to learn. Celebrity politicians without social commitment or ideology are not suited for the party going through a difficult phase. Actors have a conditional sense of loyalty towards the political party they represent as they invariably remain image-conscious and have many professional commitments outside the political arena. Sonia Gandhi, in particular, should have known this. Just prior to the 2004 General Election, actresses Nagma and Farah had reportedly paid a courtesy visit at 10, Janpath. When Sonia asked them to contest the ensuing parliamentary polls, both are said to have given preference for the Rajya Sabha.
Importantly, the internal communication mechanism in the Congress needs a thorough review. The high command culture is eating the vitals. Rahul and Sonia are said to be relying upon Maharashtra pointsman Mallikarjun Kharge and inputs from Sanjay Nirupam. Rahul not visiting Kamat's family after his death may not have caught media attention, but those familiar with Kamat-Rajiv Gandhi ties, were deeply shocked. Eyes are now on Milind Deora's next move, which also assumes significance as the dates for the October-November Maharashtra Assembly elections are likely to be announced this week.