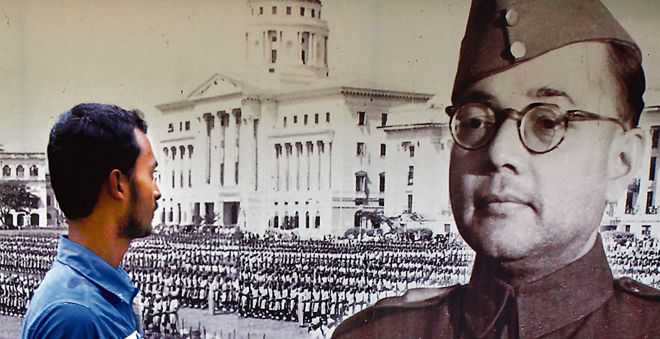 Lt Gen Prakash Chand Katoch (Retd)
Distinguished fellow, United Service Institution of India
Buried in newspapers of August 22, 2019, was a report of Anita Bose Pfaff, daughter of Subhas Chandra Bose, wanting to meet Prime Minister Narendra Modi to seek a DNA test of the ashes interred in Renkoji Temple, Japan, that the Japanese say are of Netaji, since she believes he died in a plane crash in August 1945.
Two factors had catapulted India as Japan's most favoured Asian country since World War II: close links with Netaji and Radhabinod Pal, Indian judge on the International Military Tribunal for Far East (IMTFE) set up by the powers to try Japanese leaders for 'war crimes', who sided with Japan. In recognition, Japan offered five prime locations in Tokyo to move the Indian Embassy from its nondescript premises.
Netaji, heading the INA, sought help from Japan to oust the British from India. Major (later, Lt Gen) Iwaichi Fujiwara, a Japanese military intelligence officer, was liaison officer to Netaji during his visits to Japan commencing June 1943 when he was immediately granted audience by Prime Minister Tojo. Fujiwara's son-in-law, General Tomizawa, later commanded the Japan Ground Self-Defense Force (1995-97).
Japan held Netaji in high esteem. In April 1944, the INA together with Japanese soldiers launched attacks against Allied bases across the Indo-Burmese border. Major Gen Shah Nawaz Khan describes resulting scenes of jubilation in his book My Memories of INA and Netaji, authored in 1946. On August 18, 1945, Bose boarded a plane in Vietnam for Taiwan which was under Japanese occupation. But the plane crashed because of an engine problem. Netaji suffered serious burns, died in the evening, was cremated in Taiwan and his ashes later interred in Renkoji Temple, an hour-and-a-half drive from Tokyo.
India acknowledges the plane crash but numerous stories abound of Netaji surviving, escaping to Russia, imprisoned in Siberia, Congress-KGB link, living as a recluse in India as 'Mauni Baba'. No one asks why Bose would 'escape' from Japan when he could continue living like AM Nair, who fled arrest by the British at age 18, spending his balance life in Japan, and Ras Behari Bose, who after failing to assassinate Viceroy Lord Hardinge escaped to Tokyo and lived on in Japan. If Bose was the Mauni Baba living in India, why would he not make contact with any family member?
Renkoji Temple has Netaji's bust — an honour reserved for high priests. President Rajendra Prasad and Prime Ministers Nehru, Indira Gandhi and Atal Bihari Vajpayee have visited Renkoji during their visits to Japan. Sugata Bose, grand-nephew of Netaji, disagrees with the findings of the 1999 Mukherjee Commission that failed to establish what happened to Netaji after the plane crash.
Sugata Bose, who authored the book His Majesty's Opponent, told the media, "All the historical evidence, including the testimony of six of the seven survivors of the air crash, of medical personnel and the interpreter brought to the hospital, suggest that (Subhas Chandra Bose) died tragically as a result of the air crash on August 18, 1945." The head monk of Renkoji Temple, Kyozen Mochizuki, says, "Bose died over 60 years ago and people are still saying his ashes here are fake. It's unbelievable."
On November 18, 2018, Hiroshi Hirabayashi, president of Japan India Association (JIA), Tokyo, and Japan's former Ambassador to India (1998-2000), delivering a lecture on 'India, the last superpower' at the Ahmedabad Management Association, questioned why the Indian governments had failed to take the ashes of the 'hero' (Netaji) back home. He also lamented, "Every year in August on the day of his passing away in Taiwan, we hold a memorial praying for peace of Netaji's soul. But frankly speaking, since sometime, there is no representative from the Indian Embassy. There are no major visitors from India (to Renkoji). Why?"
Hirabayashi's question came concurrent to Indian political parties, in the heat of elections, accusing each other for having let down the nation, including ignoring Netaji. The bane of India is that every action to be taken is weighed against increasing vote-banks. Even for honouring sentiments and sacrifices, the timing must be right to extract maximum political advantage; otherwise, they are no-go or must wait. In 1979, General Iwaichi Fujiwara urged India's Congress government to take care of Netaji's ashes in Renkoji. Prime Minister Moraji Desai assured him he would take care of the issue in 'one or two years'.
With approaching elections, the BJP government brought Netaji into prominence last year: Modi unfurled the Tricolour at Netaji Memorial in Port Blair on December 30, 2018, commemorating the first flag-hoisting by Netaji; Ross Island, Neil Island and Havelock Island were renamed Netaji Subhas Chandra Bose Island, Shaheed Dweep and Swaraj Dweep, respectively. The Netaji Bose museum was opened in Red Fort, New Delhi.
Speaking at the commemoration of 75th anniversary of the Azad Hind government, Modi said on October 21, 2018, "Today I can say this with certainty that if our nation was guided by the likes of Subhas Bose and Sardar Patel, if it was not looked at from a foreign perspective, then the situation of the country would be much different.... country's overall development was an important aspect of Bose's vision and the NDA government is going in the direction as envisioned by Bose."
Many question that if Bose is described as the reason, over Gandhi, why the British fled India, shouldn't his statue be next to Sardar Patel's Statue of Unity? But that notwithstanding, why have all Indian governments shied away from bringing Netaji's ashes to India or asked for a DNA test if they believed the Japanese are lying? Various trusts running in Netaji's name, too, have never raised such a demand despite the issue of the ashes having come up periodically over the years.
Will the Modi government act now for the DNA test, rectifying the fault of the previous governments, act just before the next elections, or not act at all? Whatever the government decides, India stands shamed. Making amends without delay is in order.