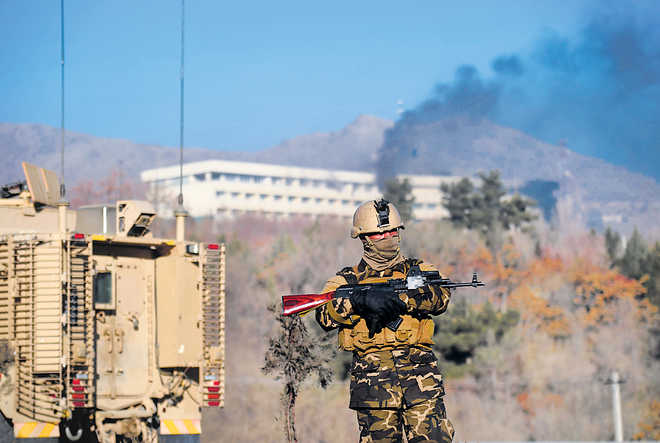 Vivek Katju
Former secretary, Ministry of External Affairs
January was a cruel month for Kabul. On the 27th, the Taliban in a suicide terrorist attack blew up an ambulance in a busy market in the city centre, killing almost a 100 people. A week before that, it breached the security of a major hotel and killed more than 20 persons, including foreigners. Meanwhile, the ISIS claimed that it was responsible for an attack on a military academy on the Afghan capital's outskirts on the 28th, in which more than 10 soldiers lost their lives.
These terrorist incidents, once again, drew international attention to the fragility of the Afghan state. Worse, they raised serious doubts about the effectiveness of President Donald Trump's Afghanistan and South-Asia policy. It is floundering. Certainly, Trump's bluster and threats against Pakistan for its villainy in Afghanistan only expose the US to ridicule; it did not contribute to any positive movement in Afghanistan. And on its part Pakistan simply shrugged off the threats and did nothing to rein in the Taliban.
The fact is that, for Trump, as for his predecessors, the key to bringing about lasting and positive change in Afghanistan does not lie in that country but across the Durand Line in Pakistan. However, over these past 16 years Pakistan, through its Taliban proxies, has kept Afghanistan destabilised. Both Presidents Bush and Obama sought to persuade Pakistan that it was in its interest to ensure that the Taliban abandoned the path of violence and negotiated a power-sharing agreement with the Afghan government. They essentially relied on non-coercive approaches, which included rewarding Pakistan with billions of dollars in assistance and overlooking the loss of almost 2,500 American soldiers at the hands of the Taliban. Pakistan happily pocketed the money, played the terrorism victim card, and continued with its protection and support to the Taliban. Unwilling to use strong action against Pakistan, Obama had to abandon his pledge to end the war and bring the 'boys' back.
Trump personally announced his Afghanistan and South-Asia policy last August. He emphasised he would not lay down artificial deadlines for the presence of US troops in Afghanistan. They would remain as long as they were needed. Through this measure he signalled to Pakistan and the Taliban that they would never succeed throwing out the Afghan government through terrorism and violence. He put Pakistan on notice to close Taliban safe havens on its territory. Finally, Trump asked India to enhance its role, especially in the economic sector, in Afghanistan.
Trump's policy initially rattled Pakistan. Expectedly, and as it has consistently done over decades, it denied responsibility for intervening in Afghanistan. Going a step further, it blamed Afghanistan for allowing the Pakistani Taliban to remain on its territory from where they launched terrorist attacks in Pakistan. It also blamed the US for seeking to push the onus of its failures in Afghanistan on Pakistan. Clearly, encouraged by the new Sino-Russian alignment on Afghanistan, which is in line with its own position on the Taliban, Pakistan did not publicly buckle under US pressure though it gave the US assurances that it would seek to move the Taliban to the negotiating table. Through all this it also conveyed its unhappiness at the prominent role being assigned to India in Trump's calculations on Afghanistan.
It soon became apparent that Pakistan had no interest in modifying its Afghan policies. US-Pakistan engagement continued fruitlessly over the months as it had during the previous administrations. A frustrated Trump gave vent to his feelings this New Year's Day. Then on January 30, Trump delivered his State of the Union Address but did not even mention Pakistan by itself or in the context of Afghanistan. In this context he confined himself to saying, "As of a few months ago, our warriors in Afghanistan have new rules of engagement. Along with their heroic Afghan partners, our military is no longer condemned by artificial timelines and we no longer tell our enemy our plans."
Meeting a UNSC delegation a day earlier at the White House, Trump, while noting the Kabul attacks, said there might be a time to talk to the Taliban but not while they were killing people 'left and right'. He added that the US would have to "finish what we have to finish".
A decision to remain militarily engaged is only an assurance that the Taliban cannot take over Kabul and other major urban centres, not of the return of peace and stability. For that the suspension of assistance to Pakistan or drone attacks will not be enough. These will not succeed in moving Pakistan to give up on the Taliban and close its safe havens. Much more will be needed for that purpose, including targeted economic sanctions, sustained ground actions across the Durand Line against the sanctuaries, and fully exposing the Pakistan army. China and Russia will make many noises against the US but confine their support for Pakistan to only words.
Without such decisive steps, Trump's policy will fail to impact the Afghan situation. Does he have the stomach for them? Unlikely. Indian policymakers should take note.
Top News
The accused ASI was nabbed by local people, who then handed ...
Two frontline combat aircraft of the IAF crashed during a tr...
Gandhi was accompanied by his sister and Congress general se...
PM Modi also appreciated people for eating food items made o...