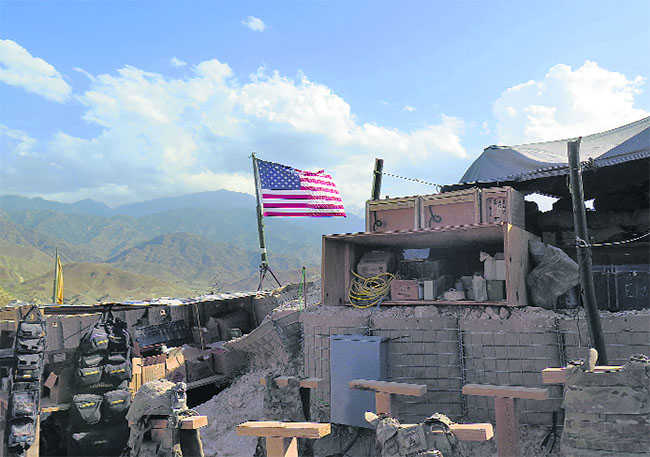 Vivek Katju
Ex-secretary, Ministry of External Affairs
President Donald Trump's aggressive Afghanistan and South Asia policy has proved to be a hollow bombast. The US is in strategic retreat in Afghanistan and Pakistan and the Taliban is in the ascendant; it has lost the will to militarily stem the Taliban's creeping influence, if not, control, amid continuing instability. The world's pre-eminent power has also given in to Taliban demand for direct diplomatic engagement.
US special adviser Zalmay Khalilzad's meetings with the Taliban and his interactions with regional countries lead to the inevitable conclusion that the peace-making process will not be entirely Afghan led or owned but that deals will be cut between the US and the Taliban who will be guided by Pakistan. Such a process has the danger of further eroding NUG's (National Unity Government) already strained cohesion and image. The unity of the army depends on Afghan politics holding together. It is important to ensure that different ethnic groups do not adopt independent means to safeguard their individual interests. The recent Taliban assault on the Hazaras in Ghazni may impel them to do so, for instance. President Ashraf Ghani is consulting with all political entities to form a multi-ethnic advisory group so that peace making is broad based. As the Taliban raises atavistic fears among many non-Pushtoons, it is uncertain if Ghani's attempts to instil confidence will succeed.
Just before Khalilzad began his second regional tour, Russia organised an inter-governmental multilateral meeting on Afghanistan in Moscow on November 9. The Taliban and NUG's High Peace Council representatives attended the meeting. Afghanistan's neighbours and other Central Asian states also participated. The US attended as an observer. India attended the meeting through two retired diplomats. In not sending serving officials, India followed the NUG example. India and NUG's attempts to create 'non-official' characters to the representations cannot mask the reality of the two countries being in the room as participants with the Taliban. While in the past Russia had failed in such endeavours, it succeeded on this occasion. This was because regional countries are sensing that international diplomacy on Afghanistan is changing. Therefore, participation in new multilateral processes is in their interest.
The Russian initiative was a valid exercise in the present Afghan context. However, along with some other countries it can only play positive or negative roles, encourage or complicate peace making. It cannot make peace. That can only be done by the principal parties to the continuing conflict — NUG, Taliban, the US and Pakistan. The last two may deny that they have a direct role in making peace. However, there can be no movement without them.
The US-Taliban negotiation process would not be easy, though some goodwill gestures may be made to show apparent progress. These may include the release of some prisoners and occasional ceasefires. Pakistan released Taliban leader Mullah Baradar who had been in its custody for many years, but his present influence on the group is unknown. Major problems between the Taliban and Pakistan, on the one side, and the US and NUG on the other include the presence of foreign troops and power sharing between the Taliban and NUG.
At the Moscow meeting, the Taliban maintained its stand that the first requisite to peace was the departure of foreign forces. Expectedly, it did not show a willingness to engage NUG. It is, though, signalling a readiness to talk to NUG, but only if the US indicates a firm withdrawal time table and some physical movement in that direction takes place. Some months ago, President Ghani had accepted that the withdrawal of foreign forces can be part of NUG and Taliban negotiations. The Taliban had then rejected the entire Ghani package.
Taliban's intransigence flows from the US and NUG's inability to militarily weaken it. Therefore, it has no need to be flexible. Besides, the Taliban retains full Pakistani support. It remains to be seen if it has modified its approaches on governance and human rights. Power sharing will not be easy if it wishes to restore the entire theological structure of the Islamic emirate as obtained under Mullah Omar. At the Moscow meeting, the Taliban claimed credit for eliminating opium cultivation during its rule in Afghanistan. This was no doubt to demonstrate the efficacy of its administrative systems in comparison to NUG's weak governance and continued opium production. These Taliban claims are false: opium production was stopped for a year during its rule to staunch oversupply, and today, it benefits from the opium trade.
As a new chapter opens in Afghan affairs, India has to employ a supple strategy to safeguard its interests. This should include the continuance of full support for the Afghan government and also vigorous pursuit of its assistance programme. This is a fundamental basis of the goodwill that India has across all sections in Afghanistan. India should separately interact with all ethnic groups, especially those with whom it has had excellent ties in the past. There is a coincidence of interests with them both in the Afghan and the regional contexts.
The Modi government did well to send representatives to the Moscow meeting even if they had formally only a listening brief. It is inconceivable though that on the meeting's sidelines Indian representatives would not have exchanged salaams, and, perhaps, more with Taliban representatives. These contacts should continue. In the past Pakistan ensured that India was out of international diplomacy on Afghanistan. Now, it will be a pity if India voluntarily shuts itself out by refusing to develop contacts with the Taliban. Contacts do not imply either support or endorsement but generally they are essential for participation in the game of nations.
Top News
Polling began at 8 am and will continue till 5:30 pm
Over 1.45 crore electors are eligible to exercise their fran...
Discuss Russia-Ukraine war, highlight emerging security chal...
Rahul Gandhi skips meeting as Bharat Jodo Yatra led by him i...
The seized drugs are the spurious versions of leading brands...