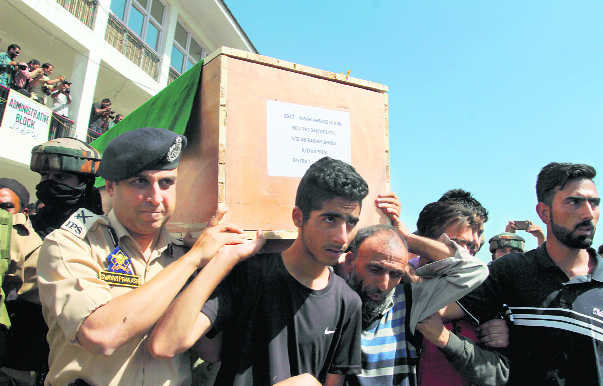 Ajai Sahni
Executive Director, Institute for Conflict Management
In a peculiar, but enduring pattern of analysis that afflicts counterterrorism commentary in India, every new incident is quickly projected as a sensational new trend, with little concern about past trajectories or the configuration of motives, capacities and capabilities that influence future patterns. Two recent developments in J&K in the recent past fall squarely into this 'paradigm' of analysis: the abduction and killing of three Special Police Officers (SPOs) in Shopian on September 21; and the arrest of seven Assamese who were purportedly 'extending' the Hizb-ul-Mujahideen's theatre of operation to Assam. The Hizb is a terrorist formation with its headquarters at Muzaffarabad in PoK. A few weeks earlier, another 'trend' had been discovered in the abduction of 11 members of the families of police personnel in Pulwama, Anantnag, Kulgam and Tral districts of the Valley, sparking fears that terrorists would now target families of local police personnel on a regular basis.
First, the targeting of local policemen, specially the particularly vulnerable SPOs, is nothing new. At least 27 policemen have reportedly fallen to such targeted killings (fatalities among state police personnel, whether on or off duty in terrorist initiated attacks) in the current year, adding to another 27 killed in 2017. Throughout the insurgency, local policemen have been a target, and this is not unique to J&K. Indeed, local police and intelligence personnel are regarded as the most effective instruments of the State's counter-terrorism drive, and are consequently invariable targets of intimidation or attack by terrorist formations. The same logic applies to the intimidation or targeting of family members of police or intelligence personnel — albeit with some restraint, since the families of terrorists would also be vulnerable to pressure and retaliation if this tactic is taken too far. It is useful, in this context, to emphasise that the Indian State has tended to be extremely circumspect in applying pressure or visibly coercive measures against family members of terrorists — no doubt with occasional aberrations — and has, in fact, extended undeserved benefits to many family members of the Hizb leadership from time to time.
Demonstrative violence against police forces and their families does ordinarily escalate during phases when terrorists come under extraordinary operational pressure. In the past, however, such an escalation has proven extremely counterproductive, resulting in a sharp crystallisation of will among state forces, and an intensification of counterterrorism operations. The immediate loss of life is, nevertheless, a matter of deep concern.
As for the 'extension' of Hizb activities to Assam, this is mere noise. The Hizb 'cell' of a cluster of Assamese youngsters that has been discovered and neutralised is evidently a one-off incident. Qamar-uz-Zaman, a petty trader from the Hojai district of Assam settled in Kishtwar, was subsequently drawn into the militancy there. He organised a small band, including his own brother and some friends, into an unsuccessful conspiracy to acquire weapons, allegedly for the Hizb. This fledgling grouping was discovered and neutralised at this incipient stage. Crucially, the Hizb is struggling for its own survival in its 'heartland' Valley today, and has little capacity to launch into an expansionist adventure. Moreover, if it did seek some measure of extension or new areas of refuge to escape the pressure of security forces, it would incline to do so in regions contiguous to its areas of operation. Assam, despite apprehensions of troubles as a result of the National Register of Citizens (NRC) exercise, is now an area of relative stability, and not a particularly easy environment for terrorist mobilisation.
Much of the panicked assessment of the troubles in J&K is also misleading. There has been a slow increase in fatalities — 117 in 2012, climbing to 358 in 2017. As many as 286 persons have already been killed in terrorism-linked incidents in the current year, but the terrorists have borne the brunt of these losses, with 173 killed in this category. The security forces, with 71 killed, have also paid a high price, but their intensification of offensive operations has brought them dramatic successes, not only in terms of the numbers of terrorists killed or arrested, but also more significantly, in the decimation of the terrorist leadership active within the state (the top leadership, of course, remains protected in Pakistan). Total fatalities are, however, a tiny fraction of the peak levels of violence in the state. For instance, 4,507 persons were killed in terrorist violence in 2001 (all data from South Asia Terrorism Portal). Crucially, residual violence is extremely localised. Just five of 82 tehsils in the state have accounted for over 50 per cent of all fatalities in 2018; and for over 65 per cent of all reported stone-pelting incidents.
Disruptive and polarising politics has been the bane of the state. Polarising memes and intentional falsification of the discourse, the increasing reliance on communal friction and the harnessing of divisive issues such as Articles 370 (autonomous status of J&K) and 35A (special rights and privileges of 'permanent residents'), cow transportation and slaughter, Hindutva on the one hand, and Islamism, on the other, etc., have created opportunities for a limited separatist-terrorist recovery in J&K. Unfortunately, elections have become a time when evil is given free rein. With local bodies' elections ongoing, and state and general elections looming, political troublemaking can only be expected to increase. The number of lives lost, including increasing numbers of civilians and security force personnel killed, appear to play no part in the partisan politics calculus.
Top News
The accused ASI was nabbed by local people, who then handed ...
Two frontline combat aircraft of the IAF crashed during a tr...
Gandhi was accompanied by his sister and Congress general se...
PM Modi also appreciated people for eating food items made o...