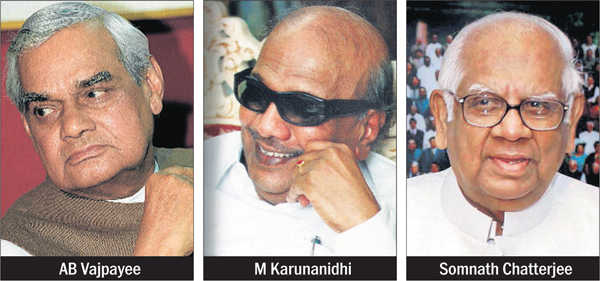 Salil Desai
Pune-based writer, filmmaker
Isn't it the duty of the media not to be carried away by public mood or the popularity of an individual and objectively analyse the life of a public figure? What the media inadvertently ends up doing when it publishes hagiographies in the garb of obituaries is that it creates myths of political giants.
There is a maxim — never speak ill of the dead. The Indian version of this belief is summed up in the Sanskrit phrase 'marnantivairani', which means all ill-feeling and animosity ceases with the death of a person.
However, can this be interpreted to mean that in the immediate aftermath of death, only glowing tributes should be heaped on a person and that any focus on his/her blemishes should be left for another day? This question assumes particular relevance when it comes to leaders and public figures.
This month has seen the demise of three extraordinary political stalwarts — former Prime Minister Atal Bihari Vajpayee (August 16), five-time Tamil Nadu Chief Minister M Karunanidhi (August 7) and former Lok Sabha Speaker Somnath Chatterjee (August 13).
The demise of each of these distinguished persons has seen a deluge of obituaries, 24x7 breathless media coverage of their funerals and cloying paeans to their greatness, their personalities, their popularity and momentous occasions in their long careers.
Social media, too, is abuzz with tributes, condolences, lamentations and RIP messaging, going overboard with hyperbole, greatly magnifying both the sense of national loss as well as the virtues of the departed souls.
No doubt, Vajpayee, Karunanidhi and Chatterjee deserve special places in Indian political history, the spontaneous public outpouring of love and anguish following their deaths and words of high praise for their respective contributions to India. But must the media also participate in the hagiographic overtones that have come to characterise political obituaries in recent times?
Isn't it the duty of the media not to be carried away by sentiment, public mood or the popularity of an individual and objectively analyse the life and legacy of a public figure? Indeed, it behoves the media to keep its head while all those around are losing it. Yet, all that we see the media doing today is milking these deaths like some rich melodrama, giving disproportionate weight to their achievements and happily being complicit in raising the status of these stalwarts to that of demi-gods.
Let's take the example of Vajpayee first. As the first PM from the BJP, Vajpayee can rightly be put on the pedestal for his long, distinguished stint as an Opposition leader and the sagacity with which he led the country from 1999 to 2004. His outreach to the Kashmiris and Pakistan, his fillip to infrastructure through the Golden Quadrilateral project, his sensible steps in further liberalising the economy and industry through disinvestment and unleashing the full potential of the telecom and software industries, the conduct of the nuclear test in asserting India's status globally — all these were his lasting, exemplary contributions to India. But, if we look at his failings — Kargil, Kandahar, his refusal to sack Modi after Gujarat, his calculated silence and ambiguity during the Babri Masjid demolition and his inability to denounce the politics of Hindutva — does it not show that Vajpayee, on balance, was certainly not a leader who can be described as great —in the league of a Gandhi, a Nehru or a Mandela? But that is exactly what most obituaries seem to portray him as.
Next, if we look at M Karunanidhi, known as Kalaignar, he was a prolific writer and screenwriter, a leading light of the social justice Dravidian movement, a rationalist, five-time Chief Minister of Tamil Nadu. But is it also not true that the same Karunanidhi's party, the DMK, was the face of corruption as the fountainhead of perhaps the biggest scam in independent India — the 2G scandal which erupted during UPA-2? His daughter Kanimozhi was considered a beneficiary along with A Raja, the erstwhile Telecom Minister, while Karunanidhi's nephew Dayanidhi Maran too was suspected to be involved. Further, Karunanidhi, for all his rationalism, was equally happy to stoke the fires of Tamil chauvinism, while also being suspected of close ties with the LTTE, a terrorist organisation which wreaked havoc in Sri Lanka for nearly 30 years, and also assassinating Prime Minister Rajiv Gandhi. How then can unqualified praise be his lot?
Finally, coming to Somnath Chatterjee, a man who was elevated to the status of 'greatness' by the media, based on one single act — his refusal to resign from the post of Lok Sabha Speaker after his party, the Communist Party of India (Marxist), withdrew support from the UPA in 2008 on the issue of the Indo-US nuclear deal. Not only did Somnath Chatterjee refuse to resign but he also presided over the no-confidence motion moved against the Manmohan Singh government. There can be no two views about the courageous conviction he showed in refusing to abdicate his responsibility of being non-partisan in the constitutional post of the Speaker, but the rest of his career as a Member of Parliament was vigorous and studious but not extraordinary in any sense of the word.
Therefore, what the media inadvertently ends up doing when it publishes hagiographies in the garb of obituaries is that it creates myths and mythologies of political giants. Indeed, none of them — Vajpayee, Karunanidhi, Somnath Chatterjee —was a political giant. They were merely good leaders who stood tall because they were wandering amongst political pygmies.
Top News
The network, which operated in the darknet and used cryptocu...
Railway Board has recommended for Central Bureau of Investig...
Amid pro-Khalistan sloganeering, the 39th anniversary of Ope...
Focus on ways to expand bilateral defence and strategic ties
Officials said police are collecting evidence in connection ...