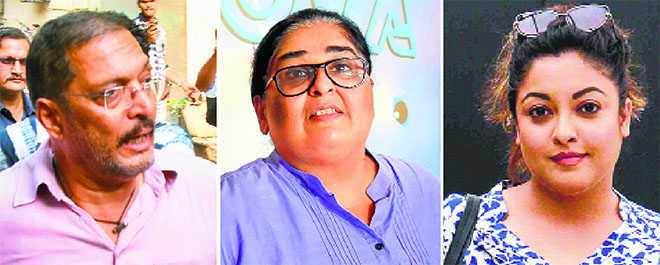 Salil Desai
Novelist and documentary film maker
Tanushree Dutta's allegations of sexual harassment against Nana Patekar have quickly triggered an avalanche of accusations against other well-known personalities in the media, literary and entertainment world. Among those who have been put in the dock by various women are writers Chetan Bhagat and Kiran Nagarkar, stand-up comedian Utsav Chakraborty, film-maker Vikas Bahl, photographer Pablo Bartholomew, actor Alok Nath and journalists M.J. Akbar, Gautam Adhikari, KR Sreenivas, Mayank Jain, Anurag Verma, Ayush Soni and Prashant Jha.
More revelations against them and others are bound to surface. The allegations against Utsav Chakraborty, Vikas Bahl, Alok Nath and M.J. Akbar are by far the most serious because they involve explicit and repeated actions of a sexually predatory nature. However, a vigorous debate is also underway whether the transgressions mentioned in the case of others can really qualify as sexual harassment and in fact trivialises the #MeToo movement and feminism as such, by trying to shame and punish men for silly, borderline inappropriate or unwanted advances. In the case of Chetan Bhagat for instance, the messages he sent to a woman can be termed foolish, awkward and flirtatious but hardly sexually offensive.
While a nuanced perspective will have to be developed in deciding what does or does not constitute varying degrees of sexual harassment, the question that inevitably comes to mind as one dwells on the incidents narrated in almost all cases, is what the hell is wrong with men? What makes them totally lose their decency, dignity and even common sense, when it comes to women?
At some point in time in the evolution of mankind, it fell upon men to be pursuers in establishing a romantic relationship. Because of social mores and practical inhibitions, it was considered indelicate of women to initiate relationships and they had to be pursued, wooed, impressed and won over by men. Over a period of time, the protocols of formal courtship developed, which step by step led to calibrated intimacy and ultimate consummation. Today, of course, we live in completely different times and what, even 50 years ago, was the norm is completely redundant as men and women conduct romantic and sexual liaisons without rigidities, etiquettes and other conservative conventions. Yet, the male is still cast in the role of the pursuer.
The problem with the role of the pursuer is that the distinction between flirting, wooing, charming, impressing, cajoling on the one hand and lechery, seduction, stalking, harassing and forcing, seems to be lost on many men. When does flirting become lechery, wooing become stalking, cajoling become harassment, impressing become seduction? Popular culture seen in films, books, mythology and received conventional wisdom (although hardly wise) constantly hammers away at men that persistence and macho moves (?) are the essence of romantic pursuit because women will play hard to get and are only waiting for the right gambit from the man to finally give in. It's as if persistence and resistance has become standard male and female romantic and sexual protocol, at least in the minds of many men.
So how exactly does one disabuse men of this quaint notion? While shaming men through campaigns like #MeToo is one way of doing so, it is unlikely to be effective beyond a point since there is already too much generalised and indiscriminate negative commentary about men in the media. This might make women feel empowered, but makes most men turn a deaf ear, because much of the male-bashing simply lacks nuance and assumes that all men are despicable slime-balls with dirty minds.
Therefore, leaving aside the long-term project of shedding the misogynistic mindset and male sense of entitlement, which might well take another century, wouldn't it be much more effective to start communication and social campaigns that do not portray all men as just creeps, but rather nudge them toward behavioural reform through direct, straightforward, common sense messages. For example —
A woman's NO, does not mean YES'
A DATE does not automatically mean SEX'
MACHO MEN should also be GENTLEMEN'
The intention should be to ensure that the message becomes internalised over a period of time, while also acting as an instant consciousness-raiser.
Simultaneously, what might be particularly helpful is to sting that very male ego and vanity that generally triggers inappropriate behaviour, and wean it away from missteps toward women in pursuit of romantic endeavours, whether casual or serious.
This might be best achieved by controversially removing both romance and women from the pedestal they occupy currently and freeing men from the burden of pursuing women. For too long has mankind been brainwashed into believing that it is the job of men to pursue women, that he is less of a man if he doesn't and that amorousness is something of an ideal that must be aspired for.
Apart from raging hormones, this societal and peer pressure of successfully pursuing some woman, thrusts men into one of three roles - clumsy pursuers, desperate suitors or obnoxious predators. Might it then not be better to build campaigns that liberate them from the role of playing pursuers, while also provocatively egging their male egos into taking the high road rather than stooping low when it comes to courting women?
For instance, can campaign messages be like —
Why should you chase, someone who doesn't like your face?
Are you so desperate, to want sex with every woman you date?
Women don't sleep with a creep
Aren't you much more than your genitals?
While such messaging might be explicit and even crude, perhaps it's time to talk to men in the language they understand, to get the message across forcefully, instead of angsty feminist rhetoric, because from what we know about effective communication, how something is said matters more than what's being told.
Top News
Several centrally-protected monuments across the country lit...
Harried passengers take to social media to vent their ire at...
Lapid had stirred a massive controversy by terming Vivek Agn...
Voter turnout less than 66.75 pc recorded in first phase of ...
DigiYatra will provide seamless entry and embarkation proces...