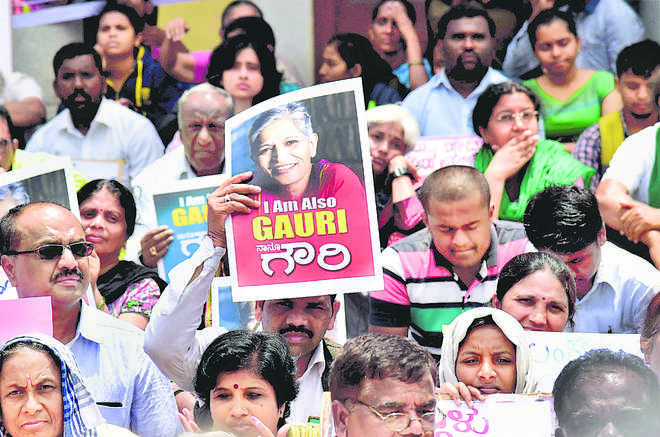 Faizan Mustafa
Everyone knows that fear is a socially pervasive human emotion. Both Christianity and Islam talk of it as the first human emotion when Adam experienced fear of God after eating the forbidden fruit and faced possible consequences of violating God's command. In the movie, PK, the character played by Aamir Khan, rightly says that all religions thrive only on the business of fear. In the memorable words of Cicero, "peace is liberty in tranquility." "The political liberty of the subject is a tranquility of mind arising from opinion each person has of his safety. In order to have his liberty, it is requisite the government be so constituted, as one man need not be afraid of another," said Montesquieu in the celebrated The Spirit of Laws. Political liberty is all about security or people's opinion that they have security.
The brutal murder of Gauri Lankesh was intended to instill fear in the minds of independent journalists.
A few weeks ago, talking of the right to security and freedom from fear, this is what Hamid Ansari had said: "Yes, it is a correct assessment. From all I hear from different quarters, the country. I heard the same thing in Bengaluru, I have heard from other parts of the country, I hear more about it in north India. There is a feeling of unease, a sense of insecurity is creeping in."
People on social media immediately started criticising him and went to the extent of saying that the Hindu-majority India gave him such a high constitutional office, yet he is talking of insecurity. His critics proved him right.
There is absolutely no denial of the fact that India continues to be a great place for minorities, in general, and Muslims, in particular. Indian Muslims really enjoy much greater freedom than Muslims anywhere in the world, particularly in the so-called Islamic world. But then it is neither here nor there because we are not supposed to compete with the worst examples. India as a liberal democracy has to compete with itself.
The nine-judge Bench privacy verdict is a milestone in the history of human rights in India. In this judgment too, Mr Justice Nariman explicitly held that the definition of human rights under Section 2 of National human Rights Commission Act includes human rights under various international covenants. The court in one voice also said that the right to live with human dignity is so fundamental that it permeates the core of all fundamental rights. "Dignity is the core which unites the fundamental rights because fundamental rights try to achieve for each individual the dignity of existence," observed Mr Justice Chandrachud. This right to dignity means individual autonomy and includes the right to take vital decisions. Privacy too was held as a facet of dignity and everyone is free to decide what to eat, what to wear, which religion to follow and, of course, what to write or speak etc. Ansari, as a seasoned diplomat, was aware that the right to live with dignity includes freedom from fear.
Freedom from fear certainly does not cover irrational and unfounded fears. Was Ansari guilty of having such fears or did he exaggerate fears beyond reason? Gauri's murder yet again has proved him right. If a young boy is killed in a train and no one, including the police, comes forward to rescue him; if a person is killed on mere allegation of possessing beef in his refrigerator at home; when most victims of mob lynching are from a particular community and when a man is killed in spite of having valid papers for the purchase of a cow for the purposes of his dairy business and when Dalits are not only brutally beaten up but also the culprits themselves have the audacity to put the video tapes in the public domain and now killing of this senior journalist etc. These incidents may justifiably create a sense of insecurity. Of course, to say that such incidents did not happen under earlier regimes will also be wrong.
Ansari's critics were probably following Thomas Hobbes who was of the view that if no one is actually interfering with your freedom of action at present, your present freedom is unimpaired. Fear, to Hobbes, is something in your head, not in the world. You must learn to live with it. Speaking of the great depression, Roosevelt did tell the Americans: "You have nothing to fear but fear itself."
Fear can be a self-realising state. A person's opinion is a joint product of multiple factors. Fear is s subjective state of mind, based on some objective facts. Freeing people from fear requires sincere reassuring. Prime Minister Modi was conscious of this when he condemned cow vigilantes in the strongest possible terms and directed state governments to take stern action against these anti-social elements. Mr Justice Deepak Mishra, Chief Justice of India, too yesterday without mincing words said that killings in the name cow-vigilantism must stop at once.
The Universal Declaration of Human Rights (UDHR), 1948, has identified in its preamble freedom from fear as one of the four "highest aspirations of mankind." Two Covenants of 1966 too repeated it with explicit statements that freedom from fear can be achieved only when conditions are created for the realisation of both civil and political as well as socio-economic and cultural rights.
Our Supreme Court has taken liberty or freedom to a very high pedestal in the privacy judgment. It is the fear rather than actual direct interference with freedom which has the greatest adverse effect on liberty. No government has either the resources or the desire to cause physical restraints on each and every citizen. They will be far more satisfied if people on their own out of fear themselves impose self-restraints. Fear can have a huge "chilling effect" on human rights. The ongoing Rohingya refugee crises does demonstrate that these unfortunate people are leaving their country due to 'well-founded fear of persecution'. Refugee Convention explicitly recognizes significance of fear.
Both French and American revolutions did promise freedom from fear through right to 'personal security' which included uninterrupted enjoyment by each individual of his life, his limbs, his body, his health, his reputation and his opinions. The US Bill of Rights,1791 clearly acknowledged the right of the people "to be secure in their persons, houses, papers and effects." The human right of security of person is explicitly mentioned both in the UDHR (Article3) as well as the International Covenant on Civil & Political Rights,1966 (Article 9). Article 5 of the International Convention on the Elimination of All Forms of Racial Discrimination,1965 goes a step ahead and guarantees the right to security of person and protection by the state against violence or bodily harm, whether inflicted by the government or by the government officials or by any individual group or institution. Section 12(1) of the South African Constitution takes right to security at a different level when it specifically includes in it the right to be free from all forms of violence from public or private sources. Thus, this right is available against non-state actors as well as such ones who killed Gauri Lankesh and the Congress government in Karnataka certainly failed in protecting her right to 'security of person'.
Just like the right to privacy, the Indian Constitution does not explicitly mention the right to security but it is an integral part of the right to life and personal liberty. Mr Justice Chalmeshwar did say in the privacy judgment that constitutional silences too can be invoked to expand fundamental rights. In fact, the foremost reason of creating state in the state of nature was security of person and properties. Let us not create conditions similar to state of nature.
Let governments be different from religions and they should desist from creating fear in the minds of citizens.
The writer is Vice-Chancellor, NALSAR University of Law, Hyderabad.
Top Stories