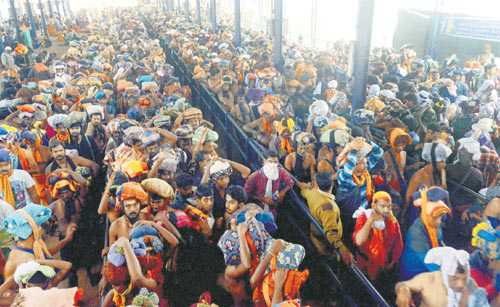 The Shani Shingnapur temple in Ahmadnagar district of Maharashtra performed a "purification puja" on Sunday after a young woman tricked security to offer worship to the idol, which is placed in the open on a platform. Women are traditionally barred from climbing atop the platform; they can glimpse the idol from a distance. Authorities at the temple suspended seven workers for "negligence," while one trustee resigned taking moral responsibility. Till the idol was "purified" from the sullied effects of worship by a woman, the shops in the vicinity remained shut. Of course, they did not refuse selling goods to women.
Ironically, the people of Shingnapur have made headlines for not installing doors neither in their houses nor in business establishments. Incidents of theft and robbery are unknown to the "doorless" town, thronged by thousands of devotees every day. But, misogyny is accepted as a norm even in this "paradise".
The incident has once again offended feminists to demand dignified treatment of women in places of worship. Few weeks back, the newly appointed head of the Sabarimala temple in Kerala, Prayar Gopalakrishnana, had infuriated women by his sexist remark. "These days there are machines that can scan bodies and check for weapons. There will be a day when a machine is invented to scan if it is the 'right time' for a woman to enter the temple. When that machine is invented, we will talk about letting women inside," he said. The "right time" that the priest could not even come to utter refers to the hushed-up "shameful" word-menstruation — the biological cycle that all young and healthy women have to undergo to live a healthy and natural life.
The temple authorities do not allow women aged between 10 and 50 years to offer worship to the idol of Lord Ayappa, because they might not be in the "right time." Ironically, Sabarimala is named after the Dalit female devotee of Lord Rama, Shabri. While all the rich temples, thronged by millions, are quick to use electronic devices and gadgets for maintaining security, timing the darshan queues and keeping accounts, their "scientific" approach takes a U- turn when it comes to giving a fresh look to the obsolete patriarchal practices — like not letting women and Dalits worship.
The male control over gods is not monopolised by temples alone. Earlier this year, a PIL was filed in the Maharashtra High Court by activists Noorjehan Niaz and Zakia Soman of the Bharatiya Muslim Mahila Andolan, who experienced "first-hand restriction which was imposed somewhere between March 2011-June 2012".
The petitioners said, since their childhood they were allowed unimpeded access to the inner sanctum (mazaar) of Haji Ali Dargah, Mumbai, but around 2012 the barricades were placed for women. A trustee told them the decision was taken for the safety and security of women and is based on the Shariat provisions.
The petitioners, thereafter, conducted a survey which showed that 12 out of 19 dargahs in Mumbai allowed women into the sanctum. They followed up with representations to the authorities, including women's commissions, the state minority commission and the charity commissioner, but no one was willing to intervene due to the religious connotations attached to the issue, even though it amounts to gender discrimination. More women have begun to demand what is the stand of the Indian Constitution. The taboo and shame attached to menstruation is not restricted to the entry of women into temples and mosques, the archaic practice keeps half the population vulnerable to life-threatening infections. Since planning and decision-making bodies are often not "manned" by women, the health hazards resulting from menstrual shame received attention of the Ministry of Health as late as in 2011. Close to 70 per cent of Indian women risk getting severe infection, at times causing death, due to the ignorance and shame attached to the menstruation cycle.
There is nothing salutary about any body effluent, regardless of gender, but to never discuss it in public, or in private, even when it involves death-like threat is ridiculous. Reproductive tract infections (RTI) are 70 per cent more common among women who are unable to maintain hygiene during their menstrual cycle, according to a national survey. The Indian Council of Medical Research survey on risk factors associated with cervical cancer revealed that the risk associated with the use of unclean cloth was 2.5 fold higher as compared to those who use sanitary napkins. Yet, 75 per cent of rural women remain ignorant of menstrual hygiene according to a 2011 study conducted by A C Nielsen, because health authorities are embarrassed to talk about the issue.
The bias against womanly biological cycle afflicts the "modern" world too. As per a report, news magazines do not advertise sanitary napkins. They are supposed to be read by intellectuals, who cannot be menstruating women! When the word is indeed mentioned in public discourse, it is in reference to the self-help groups and their social organisation working in the field, like A. Muruganantham of Menstrual Man fame and Anshu Gupta of Goonj.
The shop attendants may still push a pack of sanitary napkins wrapped discreetly like contraband, from behind the counter, young women are trying hard to remove this taboo. They do not feel the need to be discreet about their biological reality and want it to be accepted at all places.
On November 21, Nikita Azad, a second-year BA student from Patiala started social media campaign #HappyToBleed in response to the Sabarimala head priest's comments on purity. She was joined by hundreds of women, who posted their pictures on social media with strong messages, ridiculing the ludicrousness of the priest's demand. Last year Rupi Kaur, sparked a controversy in Toronto when her photo essay on menstruation fell prey to Instagram's social media guidelines.
In March this year, anonymous campaigners for the "Pads Against Sexism" campaign from Kolkata and Jamia Milia Islamia and Delhi University, stuck sanitary napkins with feminist messages on trees and walls. "Menstruation is natural, rape is not", one declared. "Period blood is not impure, your thoughts are", stated another.
The ludicrousness of treating menstruating women as impure has been ridiculed by women for centuries. The 18th century Tamil poet Avudai Akka, ridicules the practice of Teettu, a term used for defilement; as from menstruation, childbirth or death of kin, in her poem Paraparakkanni, "…The result of your earlier teettu (coitus)/Is lying asleep in the cradle and now/You unhesitatingly pick it up to kiss it!/How can it be that you remain so blind/To the Creator's illusion, Paraparame?/(O man!) When the teettu of your lust/Took the shape of the child in your arms,/You crawled off like a tortoise/To bathe in holy rivers, Paraparame!/ All shastras, all gotras, all varnas and ashramas,/ And all holy men are teettu:/ Do they know this, Paraparame? ( Translation by Kanchan Natarajana into English from the original in Tamil)
vandanashukla10@gmail.com
Top News
JD-U supremo to take oath as CM on Wednesday; BJP cries 'bet...
RJD leader Tejashwi Yadav had derisively named Kumar as 'pal...
MPs, MLAs of RJD and JD(U) held parallel meetings
18 MLAs, including state BJP president Chandrakant Patil, we...
The Bambiha gang in an FB post earlier had claimed that poli...