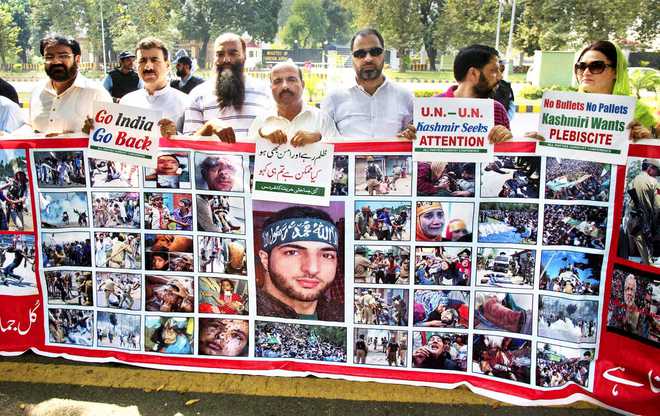 CONFLICTS have a nasty habit of creeping up the escalatory ladder, the absence of empirical or historical precedents notwithstanding. Conflict escalation is the process by which conflicts grow in severity over time. Between two nations, from non-kinetic to the various stages of kinetic engagements, is a matter of time if not controlled.
Last week, for the nth time, Pakistan's mischief was witnessed in full flow in Jammu and Kashmir, culminating in the Uri attack on HQ 12 Inf Bde. Eighteen fatal casualties were inflicted on Army troops and 20 were wounded in Pakistan's determined efforts to infiltrate maximum number of terrorists before the snows come in across the Line of Control(LoC). Whipping up an insurgency-like situation in the Valley has, once again, raised the hackles in India. That the nation, in unison, is clamouring for a swift and an overwhelming punitive response against a terror-exporting Pakistan is only but an expected emotion of the Indian public.
The Indian government and its security establishment would now be considering options to finetune the strategy against a more-than-errant Pakistan. Many functionaries in the government have strongly assured the nation of a befitting response by this "muscular, no-nonsense" government, notwithstanding its past record of muted responses following the terror strikes at Dinanagar in 2015 and the early January 2016 strike at the Pathankot airbase. That the government must respond effectively but prudently will be merely highlighting the obvious. However, mere recourse to rhetoric will further damage the nation's credibility not only among the comity of nations but, importantly, with rogue states like Pakistan.
A nation's Comprehensive National Power (CNP) is the sum total of all its diverse strengths and resources. It includes its economic might, its military strength and prowess, its science and technological base and its population, among other factors. CNP not only encompasses the diverse material strengths but its "ideational ethos" and diplomatic/ international influence which will stand it in good stead whenever crisis situations confronts it. In all these constituents which go to make a nation's CNP formidable or otherwise, India is well ahead of Pakistan. Therefore, India must employ all the genius and abundant resources at its command to teach a befitting and long- overdue lesson to Pakistan. That Pakistan will always indulge in nuclear sabre-rattling must be factored in.
India, after taking due precautions, will have to call off Pakistan's nuclear bluff, sooner or later, one fine day — either in concert with members of the international community or even independently.
India, since the last decade or so, is well on its way to becoming an economic giant working for the welfare of many of its teeming millions still impoverished. It naturally does not want war —futile and mutually destructive that it will be. But, for Pakistan, the sole raison-d'etre of its miserable existence — appears overly obsessive, self-destructive anti-India formulations in whatever it undertakes. Pakistan has not learnt any lesson from the dismemberment of its eastern wing in December 1971 at the hands of the Indian armed forces. It is all attributable to its policies of discrimination and genocide against its own citizens. The continuing genocide against hapless Balochistan and also the Shias in PoK/Gilgit Baltistan regions will surely boomerang one day.
If war is thrust upon India, for whatever reasons, India has to be fully prepared to take it to its logical and victorious conclusion. However, prior to such an eventuality, there are options that India could consider. As far as Pakistan is considered, after Prime Minister Nawaz Sharif's diatribe, the longest by any Pak PM ever, at the UNGA, crying over Kashmir and peppering his talk with half-truths, the gloves are really off. Thus India must now move swiftly and, yet be fully prepared, to go the whole way if Pakistan thrusts war on it.
Firstly, India must downgrade its diplomatic relations with Pakistan and pack off the undiplomatic anti-India Pakistan High Commissioner based in New Delhi back to Islamabad. Secondly, India must withdraw the most-favoured nation (MFN) status given to Pakistan and stop all trade and economic ties and any interaction with it.
Thirdly, a major diplomatic blitzkrieg must be launched against Pakistan to ostracise it in the global community. It is a global pariah and some of our common neighbours think so too. We will have to firmly remind the US, supposedly our "strategic partner" now to stop pussyfooting with Pakistan.
All the terror woes of the US and others find their roots in Pakistan, aptly dubbed "the Ivy League for terror" globally. The US, UK, Iran, Russia and EU nations must be strongly advised to keep economic ties with Pakistan to the barest minimum. If anything will teach Pakistan a lesson, it will be shutting off the economic largesse given to it by many nations that ultimately finds its way in financing terror activities by Pakistan.
Importantly, India too must set its own house in order by ensuring that we do not encourage internal dissensions and social instability among our own people. Regrettably, some fringe elements are already doing so and in the current adverse political climate obtaining in the region, India can ill afford to have its own tail on fire. Primarily, we have to reach out to our Kashmiri brethren to calm them and apply the healing touch. For that, stern action against the intensely pro-Pak Hurriyat leaders must be undertaken as per our anti-sedition laws. They need to be arrested and moved out of the state. Otherwise, they will keep stoking the fires inside the Valley at the behest of their Pakistani masters.
India has weathered many crises since its Independence in 1947 and come out with flying colours. It is time that all those who love India rise above their petty affiliations — political, religious, regional, caste or creed — and rise in unison to defeat the dark forces within and in our neighbourhood. We can recall what renowned British historian Arnold Toynbee said many years back, "At this supremely dangerous moment in history, the only way for salvation for mankind is the Indian way."
The writer was India's first Chief of the Defence Intelligence Agency.