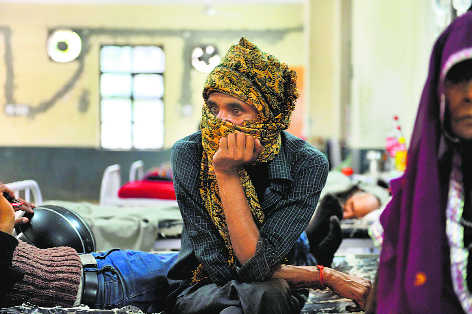 Although much effort has gone into tuberculosis control, reduction in incidence has been disappointingly slow. India is a good example. Although India's Revised National TB Control Programme (RNTCP) covers the entire country, and has met the 2015 targets, India continues to report over 2 million cases every year, and accounts for 1 of the 3 million "missing cases" that are either not diagnosed, or not reported.
One reason behind the observed lack of rapid reduction in TB incidence is the inability of programmes to rapidly diagnose and treat persons with TB, before the infection is transmitted to others. In India, a typical TB patient is diagnosed after a delay of about two months, and after having seen three different doctors. This underscores the importance of early diagnosis, of engaging private and informal sectors where patients often seek care, and suggests that more intensive efforts are necessary to identify the mission million patients each year.
To control TB in India and elsewhere, we need new technologies (including novel tests and drugs), new policies, and new healthcare delivery models. We also need TB champions who can advocate for more resources.
New technologies
TB cannot be eliminated using tools that were developed decades ago. Most developing countries, including India, still rely on the sputum microscopy test. This method is more than a century old, and can only detect half of all TB cases. Furthermore, it cannot detect drug-resistance, which is a growing threat in India.
Thankfully, new, accurate diagnostics for TB are finally here and are being implemented in India. The GeneXpert test is a rapid molecular test that can detect TB as well as drug-resistance within two hours. It is now being scaled up for TB diagnosis (pulmonary as well as extrapulmonary) and drug-resistance detection and over 10 million tests have been used globally. In India, this technology is being used in the RNTCP as a rapid drug-susceptibility test, along with other WHO-endorsed tools like line probe assays and liquid cultures. In the private sector, these WHO-approved tests are now more affordable and accessible via the Initiative for Promoting Affordable and Quality TB Tests (IPAQT). The IPAQT network has over 80 private, accredited laboratories across India, where WHO-approved TB tests such as GeneXpert are available at nearly 50 per cent the market price.
Currently used TB drugs were developed more than 40 years ago. The past couple of years have seen some breakthroughs in new drug development. Bedaquiline, a new drug to treat adults with MDR-TB, is the first new TB drug approved in over 40 years. Another new drug called Delamanid has also been introduced. In addition, efforts are underway to evaluate drug combinations (e.g.combinations containing PA-824, moxifloxacin and pyrazinamide) and these are expected to shorten duration of TB treatment from six to four months. Shortening TB treatment to even four months will increase cure rates, improve adherence, and reduce the risk of drug resistance. Currently, these new drugs are not available in India. It is important for India to streamline its regulatory and policy process, so that new drugs can reach the patients who desperately need them.
Policies and standards
Last year, two major standards were published — the 3rd edition of the International Standards for TB Care (ISTC), ENREF6 and the first edition of the Standards for TB Care in India (STCI). These policy documents are based on the most current evidence, and already incorporate new tools like GeneXpert and newer WHO recommendations on treatment (e.g. acceptance of both daily and thrice-weekly intermittent regimens). These standards aim to inform physicians about the best approaches to TB detection, treatment and follow-up, and their acceptance and widespread use should reduce mismanagement of TB.
In India, research studies show that most private practitioners do not follow international or national standards. This can result in poor quality of care, and increase risk of drug-resistance. Indeed, cities such as Mumbai are already dealing with a widespread problem of multidrug-resistant TB (MDR-TB), and even more severe forms of drug-resistance. Thus, it is important to educate the large number of private practitioners about STCI, and to check whether they are following the standards.
Healthcare delivery models
New tools and new policies will need to reach patients who need them the most. This brings up the relevance of new business models and delivery innovations that can make quality care more affordable and accessible to patients at the base of the pyramid. TB patients need a complete and patient-centric solution, regardless of where they seek care (public or private). Engagement of the private sector for TB control is a key area where newer care delivery models are urgently needed.
There are many good reasons to partner with the private sector for TB control. First, half of all patients with TB seek care in the private and informal sectors, and private practitioners (including informal and AYUSH practitioners) are often the first contact care providers. Many patients begin seeking care in the informal private sector, including chemists and unqualified practitioners. So, if we want to diagnose TB early and prevent further transmission, then engagement of such first-contact private providers is the critical. For example, India has over 8 lakh chemists, and many of them directly dispense medications for persons with classic tuberculosis symptoms. If chemists can be educated and engaged to refer such persons for TB testing, they could become a great source of active case finding.
Second, there is plenty of evidence that quality of TB care in the private sector is suboptimal. Private doctors prefer blood rather than sputum tests for TB (e.g. TB Gold and TB Platinum) that have not been recommended by ISTC or STCI. Even if diagnosis is made correctly, TB treatment in the private sector is highly variable with a variety of irrational drug regimens, formulations and dosages. So, it is important for private practitioners to follow international and national guidelines and use the correct drugs and regimens.
Third, even if the correct TB treatment is started, adherence is not guaranteed. All TB patients must complete the full course of treatment. Otherwise, outcomes can be poor. Thus, in the private sector, there is a need to create systems to support patients during therapy. Mobile phones may be particularly helpful to send reminders to TB patients, and to make sure they come back for follow-up visits.
Fourth, engagement of the private sector is necessary to increase rates of TB case notification. Since 2012, it is mandatory for all TB cases in the country to be notified to local health authorities (e.g. district TB officers). Unfortunately, most private practitioners and private hospitals still do not notify TB cases. Fifth and last, engagement of the private sector is critical to detect drug-resistance and ensure that all patients with drug-resistant disease have access to free second-line treatment that is available in the public sector. If patients cannot afford TB drugs, they should be referred to the public sector.
In India, there are good examples of innovative and affordable models in healthcare — from artificial limbs (Jaipur foot), to affordable cataract (e.g. Aravind eye care system in Madurai) and heart surgeries (Narayana Health in Bangalore).There are novel models in the area of TB care as well, including World Health Partners, Operation ASHA, and Initiative for Promoting Affordable and Quality TB Tests (IPAQT). These models have used product and process innovations to serve the base of the pyramid.
Currently, a Private Provider Interface Agency (PPIA) model is being tried out in Mumbai and Patna, to assess whether interface agencies can aggregate and incentivise private providers, educate them on STCI, improve quality of care and increase case notifications. Another project in Mehsana, Gujarat, is exploring the model of free drug vouchers for patients who are privately managed. All of these pilots are showing promising early results, and lessons from these projects will inform larger-scale public-private partnership initiatives in India. In fact, cities such as Mumbai have already launched their own TB control plans, engaging both public and private sectors.
Advocating increased resources
Lastly, we need much more resources for TB control. Otherwise, new technologies and policies cannot be implemented at the scale required. In particular, the RNTCP desperately requires a substantially higher budget, if it has to deliver on the objectives laid out in the ambitious National Strategic Plan, which aims for "Universal Access." Spending on health itself needs to be increased, given how little India invests in health. Without adequate financial resources, no program can tackle TB.
Advocacy, is therefore, crucial — to raise public awareness, and to inspire political leadership. In the past few months, TB advocacy has received a tremendous boost. In October 2014, Satyamev Jayate, anchored by Aamir Khan, featured an entire episode on TB. In December 2014, Amitabh Bachchan became an ambassador for TB control. A TB survivor himself, Bachchan has featured in a wonderful ad campaign. These are very positive signs, and will hopefully attract increased governmental and private investments in TB control.
The writer is Director, McGill Global Health Programmes, and Associate Director, McGill International TB Centre Montreal, Canada.
Top News
Appointments come amidst strong observations by a Supreme Co...
The regulator says committed to ensuring market integrity; m...
Says the meltdown of Adani Group would not impact country's ...
Firm exported two consignments of 24 batches of the allegedl...
Preneet Kaur is accused of helping the BJP in the northern s...