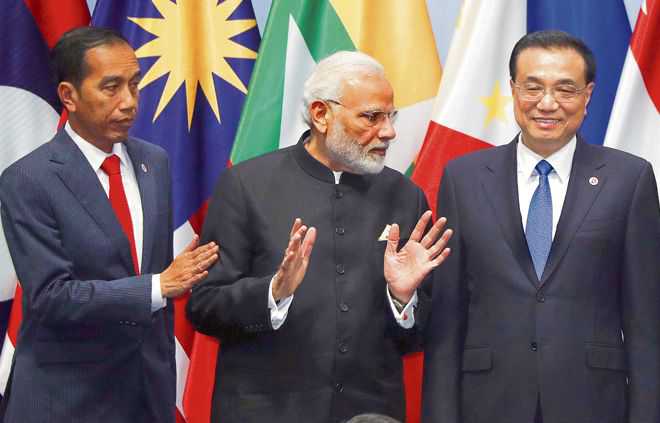 Abhijit Bhattacharyya
Commentator and Author
The Regional Comprehensive Economic Partnership (RCEP), conceived during the 19th 10-nation ASEAN (Association of South East Asian Nations) summit-November 2011, was formally launched at the November-2012 ASEAN summit in Cambodia. The basic idea thereof being a 'free trade area' transcending 16 Asia-Pacific countries: China to India, Australia, New Zealand to Japan, South Korea and 10 ASEAN countries.
An idea, commensurate with the 'global village' slogan, was born. It is the world's biggest economic bloc, covering almost 50 per cent of the world demography (1.4 billion Chinese and 1.3 billion Indian). However, how, and which way does India benefit by joining this 'club-16'? 'Free trade area' is an attractive slogan of/for 'globalisation' protagonists, in which free flow of capital, goods and labour constitute the core. But, the beneficiaries here usually are the minority 'big boys of the game', with non-beneficiaries constituting the majority. Regretfully, India thus far has not been a beneficiary therefrom.
What's worrisome for India at this point in time is the economic growth rate owing to the overall core sector slump and adverse bilateral trade balance with RCEP countries. The latest bilateral trade figures are too dismal to be ignored, and grave enough not to be noted, for course correction.
The figures of 2014-15 to 2018-19 are stark. With Australia, it's a consistent five-year deficit: $9,610.77 million in 2018-19. With Brunei too, the last five years have had adverse figures: $534.91 million deficit in 2018-19. With Beijing, owing to the Communist Party of China juggernaut, it's minus $53.567 billion.
With Indonesia, the 2018-19 figure is minus $1,0574.07 million; a familiar, repeat trend of last five years. With Japan, the 2018-19 deficit of $7,910.94 million is the continuation of an uninterrupted five-year flow. India's 2018-19 trade deficit with four countries of Malaysia $4,372.30 million; South Korea $1,2053.90 million; New Zealand $250.91 million and Thailand $3,000.41 million follow the same pattern of the last five years' adverse balance sheet.
The two bilateral trade figures with Singapore and Vietnam, however, are strange. India had a favourable trade balance with both for four years: 2014-15 to 2017-18. Nevertheless, from a surplus $2,735.83 million in 2017-18 to a deficit $4,709.37 million with Singapore in 2018-19, and $684.85 million in 2018-19 adverse trade balance deficit with Vietnam after a healthy surplus of $2,714.53 million in 2017-18 do not augur well for India's future international trade. Something serious must have happened in the business model and planning of India.
The only consistent, last five-year, silver lining for India is the bilateral trade figures with Cambodia, a surplus $153.35 million (2018-19) and the Philippines, $1,162.54 million (2018-19). Nearer home, Myanmar is a steady partner of bilateral trade; from a deficit of $458.30 million in 2014-15 to a surplus $684.11 million in 2018-19. Lao, nevertheless, is a mystery. After four consecutive adverse figures from 2014 to 2017-18, India's surplus for 2018-19 stands at $38.34 million.
Overall, therefore, the Indian position in RCEP appears non-promising. The 2018-19 trade deficit stands at a staggering $107.269 billion with 11 countries and a paltry $2.038 billion surplus from the four small countries of Cambodia, Lao, Myanmar and the Philippines, thereby making India a net loser of $105.231 billion.
Further, if one takes the larger picture of the total, the last five year-on-year trade balance of India, one would feel uncomfortable to state the stark reality. From an overall annual deficit of $137.694 billion in 2014-15, things improved a bit in 2015-16 to minus $118.716 billion and minus $108.504 billion in 2016-17. However, things deteriorated in 2017-18, with the total annual trade deficit shooting up to $162.054 billion and now, in 2018-19, to an all-time high of minus $184.33 billion.
In this scenario, what does India do now? Should India join the RCEP club-16? At a time of acute trade imbalance? Facing the industrially advanced and financially robust China, Japan, South Korea and the likes of Australia, Brunei, Indonesia, Malaysia, New Zealand, Singapore and Thailand with consistent high deficit? Will India be able to deal with, and reverse, the rising trade deficit in the multi-lateral trade mart when the bilateral itself is going haywire?
Hence, India must play her game to tell all RCEP, preferably bilaterally: "Look, you guys are eyeing our market for your finished goods. Fine. You have the advantage of industrial goods which we somehow cannot compete with, at this point in time. So, if you want access to our vast market and hinterland thereof, first give us access to our goods, services, labour and capital and guarantee us as to what description, quantity, value and types of goods you wish to buy from us. Before going multi-lateral, let us be clear about the terms and conditions of the existing, or future, bilateral." Here, an important thing needs to be borne in mind, without fuss. The RCEP has the indelible stamp of Chinese OBOR/BRI writ large all over. It's the Australasian oceanic version of the land-centric 60-plus countries, spanning from Dairen (now Dalian) to Duisburg; Gwangzhou to Gwadar; Manchuria to Monaco. All going through land, to reduce the disruption possibility of Chinese sea-borne trade, and simultaneously enhance the seamless movement and mobilisation capability of Chinese civil and military assets through rail and road, across the 10,000-km Euro-Asian heartland.
The fundamental of the RCEP for India, therefore, has to be 'national self-interest'. Absolutely. It's the bounden duty and responsibility of the state to look after the interest of the 1.3 billion people and the industry, commerce and agriculture of India. Globalisation or no globalisation. The people of India must be looked after by the representatives of the people of India. It cannot be done by any foreigner. If our industry suffers and companies go bust for lack of resources, and our food self-sufficiency collapses because of point-of-no-return agrarian distress, it's absolutely no point to open our market to foreigners, like what the Mughals did under Jahangir in 1612. One foreigner substituted by another; and Indians suffering under foreign rule. That's unacceptable in toto. No foreign country will come to the Indian market to help India. The Powerful India of 1.3 billion head is bound to be perceived as potential 'threat to their existence'.
Hence, every foreign country axiomatically has to look after its own interest and the people thereof. They want the Indian market only. That's the bottomline of the global agriculture, trade, business, commerce and industry. Globalisation is a trap of the rich to exploit the non-rich and the soft.
Top Stories