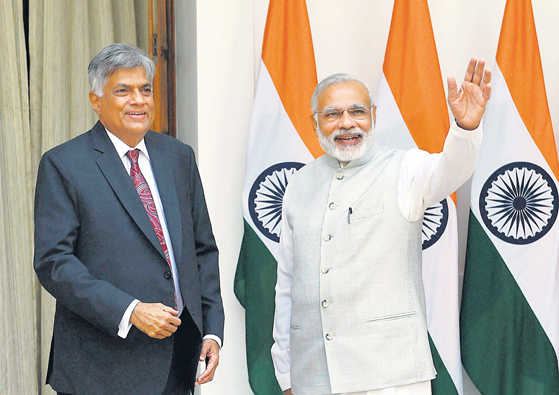 THE arrival of Sri Lankan Prime Minister Ranil Wickremesinghe in Delhi on September 15 was more than a casual neighbourly visit, returning one by the Indian Prime Minister to Sri Lanka earlier this year. It was carefully choreographed to reflect what PM Modi, in his joint press conference, called a vote, twice this year, in Sri Lanka for "change, reforms, reconciliation and progress". PM Modi was referring to the victory of current President M Srisena over the incumbent M Rajapaksa in January, and then PM Wickremesinghe defeating Rajapaksa again in a fight for the Prime Minister's post last month.
A change in Sri Lanka's approach to India is clear when President Srisena, in February, and now, the Sri Lankan Prime Minister make India their first destination for visits abroad. This is good news for Delhi after Rajapaksa's hyper nationalism, following his success in eliminating the LTTE, which he used to give China a heightened role in defence and security, but also renege on a transparent enquiry into charges of human rights violations by the Sri Lankan army against Tamil civilians. There was also palpable unwillingness to move from war and confrontation to reconciliation and delivery of promised devolution of power to Tamil Provincial Councils under the 13th Amendment of the constitution.
All told, Sri Lanka was contemptuously moving into the Chinese sphere of influence, symbolised by access given to Chinese naval vessels, particularly their submarines, to the new port at Hambantota and at Colombo. The Chinese were also promised a reclamation project in Colombo, thereby granting them a huge tract in the Sri Lankan capital.
It seems the Sri Lankan people understood that in rejecting the Rajapksa family, which had monopolised all power after browbeating the opposition and the press, they were like the British rejecting Winston Churchill after the Second World War, wanting power returned to less autocratic hands. The new Sri Lankan leaders are signalling to India their rebalancing of relations with India and China, mindful that a tilt, if at all, must be towards India and not China. That is why PM Modi articulated clearly that today the two nations have "closely aligned security interests".
This is, however, easier said than done as the same would have to be buttressed by much more dynamic economic and trade linkages. Trade has grown at a healthy pace, quadrupling in years 2000-09, from $658 million to $2,719 million, facilitated by the Free Trade Agreement. This was despite the civil war sapping Sri Lankan resources and discouraging foreign direct investment. The expectation that the two governments were near signing a long negotiated Comprehensive Economic and Partnership Agreement (CEPA) was belied.
In an interview with me, conducted by Sri Lanka's premier television channel, the anchor asked what India could do to boost the Sri Lankan economy. My answer was that as the biggest economy of South Asia, which will, by 2050 or sooner, be the second or third biggest in the world, India can play the role of the lead goose that helps all neighbouring and integrated economies grow as much as Japan and China did in their regions. It was for Sri Lanka to determine its growth model, i.e. a greener and high technology one that leverages its tourism and services potential, or some other mix providing jobs and higher wages through manufacturing.
This analysis of the India-Sri Lanka relations and the mutating geo-political context in the Indo-Pacific region raises some issues. A year ago, as the Modi government was unrolling its foreign policy, China was ascendant, Australia led by an extremely India-friendly and China-sceptic PM, Tony Abbot, and Sri Lanka steered by a power-drunk Rajapaksa. The Indian "Act East" was compatible with the US' own Asia pivot. At the beginning of 2015, President Barak Obama, defying precedent, made a second trip to India during his presidency and, amongst other documents, issued a Joint Strategic Vision for Asia, which calls upon the two nations as democracies to act in unison in a region that connects the Indian Ocean to the Pacific.
As 2015 draws to a close, much has changed. Chinese economy's vulnerability and the leadership's incompetence in coping with it are exposed. Sri Lanka has a new leadership that is repositioning it to not get drawn into Sino-Indian competition, particularly in the maritime region. President Obama is focussing on legacy issues like Iran nuclear deal, reconciliation in Afghanistan, containment of the ISIS, etc. Australia suddenly has a new leader, Malcolm Turnbull, who, unlike PM Abbot, is not a fan of the US' Asian pivot. He has spoken of a more conciliatory path to handling China. There may be fresh questions over the sale of Australian uranium to India.
All this demonstrates that as the plates of international diplomacy shift, new opportunities as well as fresh challenges arise. A similar reshuffle in 2006/2007 led to, first, a Labour government assuming power in Australia and then, the ouster of PM Abe of Japan. The successors in Tokyo and Canberra turned out to be those seeking to engage China rather than balance it. The change in Canberra again may be giving China a foothold to create cracks in the US attempt to restrict China from acquiring strategic space along its periphery.
As India strengthens its southern alliance with Sri Lanka, it has to keep an eye on the Maldives, which has amended its constitution to allow sale of land to foreign entities. India must start thinking of islands running along its southern landmass in the west from Lakshadweep to the Maldives, in the south Sri Lanka, and to the east, the Andaman Islands, as its first island chain, which it cannot allow any nation, particularly China, to breach. Two of these are Indian territories, but the other two need constant tending and vigilance, if not some nudging. The Wickremesinghe visit is to be welcomed. However, it is but one step in a continuous diplomatic process that will, over the coming decades, be a passion play between India and China — the two rising powers of the East.
— The writer is a former Secretary, Ministry of External Affairs.