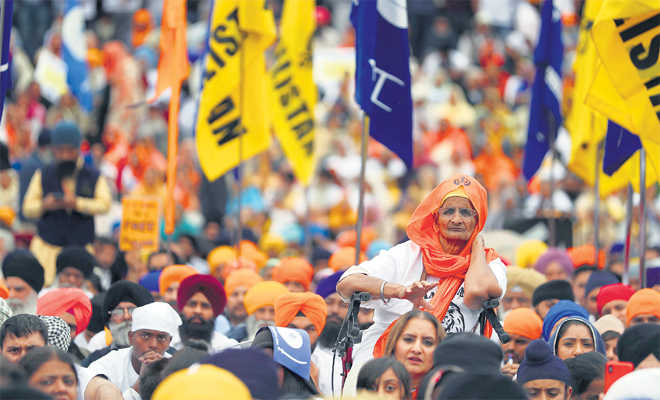 Ajai Sahni
Executive Director, Institute for Conflict Management
FLUSH with funds, with a frenetic campaign to drum up support, and sponsorship schemes to fly people from across the world and provide free accommodation in London — particularly targeting 'youth in Pakistan and Afghanistan' — the Khalistani Referendum 2020 still ended up as a damp squib. There are crucial lessons here for India (and not just in the context of Khalistani extremism).
The most significant of these is that the echo chambers of the Internet are not an index of actual support for a cause. The Referendum 2020 campaign had established a strong presence across the Web, aggressively marketing the Trafalgar Square 'London Declaration' rally on August 12. There was a gathering impression among official Indian sources of a significant congregation, given the kind of financial and logistics support provided. Indeed, India initiated diplomatic efforts to block the rally, but was refused by the UK government on grounds of the freedom of expression.
There has been much talk over the past years, particularly after the dramatic rise of the Islamic State (aka Daesh) about 'cyber radicalisation'. Significantly, Khalistani elements across the world have created and deployed massive cyber resources, including bigoted news, songs and reams of propaganda material seeking to create a sense of grievance, alienation and oppression among the Sikh community. These resources cannot be ignored, and response capabilities must be created to neutralise any potential or peripheral influence they have. Nevertheless, as with the near-comprehensive failure of Daesh efforts in India, it is evident that Khalistani 'cyber-radicalisation' has failed to find significant traction in the Sikh community.
This reality demands close attention: the core processes of radicalisation occur overwhelmingly among communities, in homes, neighbourhoods and religious institutions. What occurs on the Internet is (with rare exception) mobilisation or recruitment of elements who have already been radicalised within their immediate social environment. The preponderance of efforts and resources, consequently, need to be directed at this environment.
The failure of Referendum 2020, despite the cyber-blitz, is an index of the degree to which the idea of Khalistan has been rejected, and the Sikh radical fringe isolated. Instead of harping on 'growing Sikh radicalisation', it is time to mobilise the community against extremism. Despite well-supported efforts to revive terrorism in Punjab, the terrorist leaderships in havens in Pakistan and the West, have failed to secure significant traction in Punjabi soil. The most voluble Khalistanis are located abroad and they have secured a disproportionate presence in the politics of the Sikh diaspora in their host countries, through sheer stridency and periodic intimidation. This is despite the fact that the quiescent majority of Sikhs has little to do with this clamorous fringe. India has given extraordinary prominence to its diaspora and mobilising this powerful segment to neutralise Khalistani (and other anti-national) radicals should be a crucial policy objective, along with domestic efforts to undercut marginal trends to radicalisation within Punjab.
The more urgent tasks of preventing subversive mobilisation within communities need to be addressed, so that the messaging of cyber-radicalisers falls on barren ground; and to recognise that even very small numbers of such radicalisers can always inundate the Web with propaganda. This objective of addressing Sikh communalism is, however, difficult to pursue within a widening environment of majoritarian radicalisation and polarising politics that is everywhere in evidence.
The failure of the Trafalgar Square rally is also a demonstration that the Khalistanis are now at a low point, not only within the community, but also among opportunistic political groupings in their host countries. There was little visible support from domestic politicians in the UK, with the exception of the discredited Pakistani-British India-baiter, Lord Nazir Ahmed, and a couple of marginal politicians who likely know little or nothing about the issue.
At this juncture it is crucial to follow through. The funding and sponsorship of this event, not only in the UK, but also among groups who organised advertising and support campaigns in other countries, provides significant opportunities. The covert money and sponsorship chains need to be investigated by Indian agencies, where possible, in collaboration with domestic agencies in the host countries. Domestic laws in these countries can be exploited to target the groups receiving resources from hostile intelligence agencies or from terrorism-linked organisations. It must be recognised that the tolerance for terrorism and even for lesser forms of extremism has significantly diminished across the world, and avenues for constructive counter-terrorism cooperation are continuously expanding. It is the lack of committed Indian resources that has failed to consolidate advantages in this direction.
India's gravest counter-terrorism failings have been rooted in the tendency to quickly lapse into passivity once a crisis has passed. The entire system needs now to be reoriented to ensure that threats that have substantially been defused, have no opportunity to re-emerge. This requires sustained attention, translated into policies, strategies and resources directed against every dimension of the problem; not just the 'sexy' bits that command transient media attention. Counter-terrorism demands focus, determination and will; in their absence, new opportunities, new campaigns and new terrors will inevitably emerge.
Top News
The accused ASI was nabbed by local people, who then handed ...
Two frontline combat aircraft of the IAF crashed during a tr...
Gandhi was accompanied by his sister and Congress general se...
The decision was taken after an independent investigation in...
SWAT team member Gursewak Singh later dies by suicide in Mog...