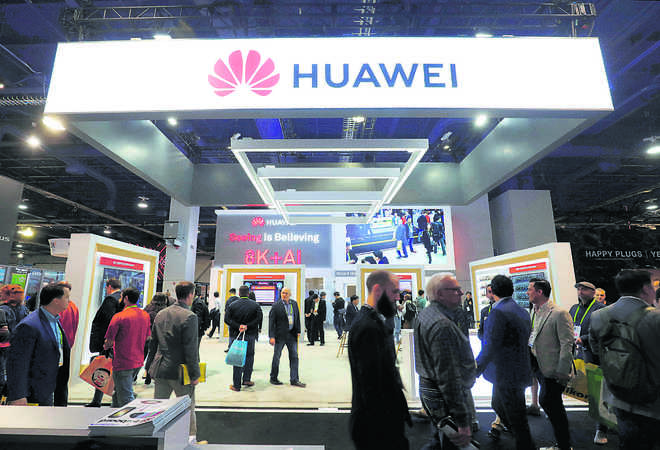 Manoj Joshi
Distinguished Fellow, Observer Research Foundation, New Delhi
In the ongoing tussle between the US and China over trade and technology, Huawei occupies a special place. The first shot was fired in 2012 when a report of the US House Intelligence Committee said Chinese-owned Huawei and ZTE were a national security threat because of their ability to tap US communications and their links with the Chinese government.
The second round was played out through US investigations into the export or re-export of US technology in the products of these companies to countries under sanctions of the US — Cuba, Iran, North Korea, Sudan and Syria. In 2018, pressure from the US Congress convinced AT&T to drop a deal to sell Huawei's high-end Mate 10 smartphone in the US. In July last year, the heads of so-called Five Eyes —US, UK, Canada, Australia and New Zealand — intelligence services agreed to coordinate moves to check Huawei's activities. Till now there have been a lot of investigations and subpoenas, but no proven wrong-doing in relation to US rules.
In December, however, there was a distinct shifting of gears when Huawei's chief financial officer Meng Wanzhou, who is also the daughter of its founder Ren Zhengfei, was arrested in Canada at the request of the US, which is seeking her extradition in a case relating to the suspected violation of Iran sanctions by the company. In between, there was the illustrative drama when the US action nearly led to the collapse of ZTE that was reprieved after Xi Jinping personally interceded with President Trump. The company acknowledged its guilt and paid $1.19 billion.
From its founding in 1987, Huawei has risen to be the largest telecom manufacturer in the world. But from the outset it has been dogged by the charge that its founder was once a member of the PLA. Today, it has a global presence with 1.8 lakh employees and an estimated annual sales of $100 billion. The company has invested heavily in R&D and has emerged as a world leader in the 5G segment. Since 1999, it has had a presence in India in the form of an R&D centre in Bengaluru.
The heart of the current American concerns lies in the fact that the company is a major player in 5G technology and has been active in establishing the standards for the technology which is very different from 3 or 4G. Not only will it power the coming internet of things, but also will be critical in another revolutionary development—driver-less cars.
The Five Eyes are committed to exclude Huawei from their 5G networks, as is Japan. British Telecom has even begun removing Huawei 3G and 4G equipment from its core networks. Somewhat more reluctantly, France and Germany are moving to ban it as well. Big pressure is now being mounted in Central and Eastern Europe where it has a major presence. One negative manifestation of the campaign was the arrest by the Polish authorities, earlier this month, of two people, including a Huawei employee, for spying for Beijing. Poland is the company's biggest market in Central and Eastern Europe, and last year the government had designated the company as an official partner of its 5G strategy.
Meanwhile, India has struck an independent course by allowing Huawei to participate in field trials of 5G equipment, despite reservations. Indian agencies have at various times flagged concerns over the use of Chinese-made telecom equipment in Indian networks. However, Indian companies have found that Chinese-made equipment is the key to their ability to provide the services they do at the prices that are, perhaps, the lowest in the world.
Huawei has been active in India for decades. In 1999, it set up an R&D centre in Bengaluru, deemed to be the biggest overseas facility run by the company. The facility with some 4,000 engineers is involved in a range of activities, including cutting-edge software in emerging technologies. Huawei's 4G smartphones are being widely used in India with 'Honor' being touted as one of the largest selling phones.
Huawei technology is invaluable for the smart cities project initiated by governments around the world. Already, the company is involved in projects in Armenia and Russia and is seeking to expand its footprint in the Czech republic, too.
The situation seems to be developing in a way that could well see the world of future technology divided into an American and a Chinese sphere. This would be a loss for everyone. Chinese equipment has helped bring down the costs of ICT the world over. Two spheres with their own standards and equipment will be a headache, just as two kinds of railway gauges are. They can be managed, but they do impose inconvenience and costs.
For countries like India that are nowhere in the hardware business, the choices are not easy. The Indian market is extremely price sensitive and Chinese equipment has helped spread the telecom revolution.
Then, whether it is equipment from China, or from some Western country, we have to reckon with the possibility that it has backdoors which can be used for espionage. India needs to have the ability to conduct forensic examinations of the critical components that are involved in its network.
Till now, however, even countries like the US have not quite been able to prove that the Chinese-origin equipment is compromised. In fact, they are challenging Huawei essentially by insisting that their domestic law on sanctions applies to third countries. Actually, the battle is more about technology dominance rather than some spy-versus-spy games.
Top News
Rana Gurmit Singh Sodhi, Manoranjan Kalia and Amanjot Kaur R...
Can meet at Hyderabad residence on Dec 6, says Kavitha
CM Bhupesh Baghel had earlier accusing the probe agency of c...
Secretary of State Antony Blinken emphasises that Biden Admi...
Gurpatwant Pannu, head of the banned terror outfit Sikhs For...