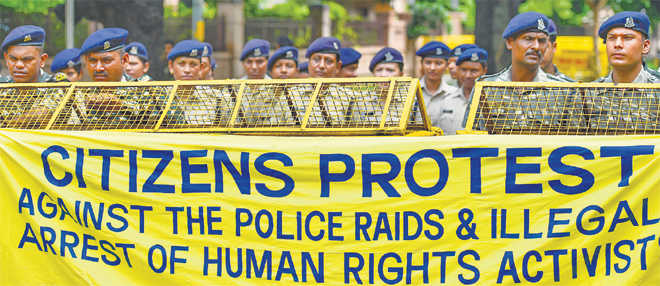 Rasheed Kidwai
Senior journalist & author
The Congress support to urban Naxals, a term describing ultra-Left and liberals supporting Maoist guerrillas-led armed insurgency, is rather problematic and unlikely to bring political dividends. In its over 55-year-rule since Independence, various Congress governments at the centre have displayed scant regard for human rights and often used the State's might to crush armed resistance against paramilitary forces or government machinery.
In this sense, Rahul's assertion in post-Bhima Koregaon arrests, "Welcome to the new India" requires wider debate and discussion from within the Congress party than a smart tweet from the AICC chief. Perhaps, the Congress Working Committee (CWC) is an ideal forum to deliberate the issue and come out with a structured formulation. The Congress under Rahul is within its rights to avail itself of all possible opportunities to attack the Narendra Modi-led government.
It, however, owes its supporters, followers and sympathisers a theoretical formulation on vexed issues like Naxalism and Maoist insurgency. Finding common cause with the Left and liberals is not a way forward as the grand old party has had a chequered history.
Former Bengal Chief Minister Siddhartha Shankar Ray is credited with taming the Naxal violence in Bengal where over 1,600 lives were reportedly lost during the 1972-77 Congress rule. There were allegations galore of extra-judicial killings during this period.
The Congress also doesn't have a blemish-free record of maintaining freedom of speech. In the first few years of the Jawaharlal Nehru government, the first Congress government of independent India treated freedom of speech with a qualifier. The Nehru government also linked issues like "public order" and "friendly relations with foreign states" with Article 19 of the Constitution in order to avoid disclosing information in the public domain. "Friendly relations with foreign states" has had such a profound impact that even the Narendra Modi government had sought cover under its wings for not making files on Netaji Subhas Chandra Bose public.
A Time magazine report on May 28, 1951 illustrated Nehru's mindset on media: "Part of the Indian press, said (Nehru), is dirty, indulges in 'vulgarity, indecency and falsehood'. To teach it manners, Nehru proposed an amendment to India's Constitution that would impose severe restrictions on freedom of speech and expression. He asked for power to curb the press and to punish persons and newspapers for 'contempt of court, defamation and incitement to an offence'. Nehru told Parliament: 'It has become a matter of the deepest distress to me to see the way in which the less responsible news sheets are being conducted … not injuring me or this House much, but poisoning the minds of the younger generation."
The tradition of curbing freedom of speech continued during Indira Gandhi's Emergency. In subsequent years, Rajiv Gandhi introduced a defamation Bill which sought to curb "criminal imputation" and "scurrilous writings".
A highly successful nationwide strike by the newspaper industry and increasingly strident popular protests forced Rajiv to withdraw the Defamation Bill of 1988. If the Bill, reportedly a brainchild of P Chidambaram, had been passed, it would have empowered the Central government to collect extensive technical and financial information from publishers of newspapers and books.
The Congress faced an acute embarrassment on January 10, 1989 at the prestigious 12th International Film Festival of India held in New Delhi. It was an event attended by several international filmmakers and dignitaries, including the then Information and Broadcasting Minister HKL Bhagat, who used to fancy himself as 'the eyes and ears' of Prime Minister Rajiv Gandhi.
Actress Shabana Azmi interrupted the proceedings and read out a prepared statement, explicitly naming and shaming the Congress party in connection with the murder of noted poet, playwright and theatre personality Safdar Hashmi near Delhi just 10 days earlier. As the rear of the auditorium erupted with the shouting of slogans, as if in a well-rehearsed move, Shabana went on to voice her outrage. 'We register our protest against a system that, on the one hand, claims to promote creativity and, on the other, connives in the murder of cultural activists,' she declared emphatically. The ignominy of the Congress party was complete when the proceedings were shown live on state-controlled national television Doordarshan.
In 2006, the then Prime Minister Manmohan Singh had described Naxals as "the single biggest internal security challenge ever faced by our country." Constructive dissent in the Congress has been in short supply. During the UPA years when Digvijay Singh had termed Union Home Minister P Chidambaram's Maoist policy as "one-eyed", the AICC general secretary was quickly asked to retract the statement.
Against this backdrop, Rahul needs to formulate a well thought-out response. However, given the Congress culture and a zeal to mix pragmatism with idealism, such an outcome is unlikely. After all, Rahul views grandmother Indira Gandhi as his role model. Author Zaheer Masani has quoted Prime Minister Indira as saying, "How can anybody who is the head of a nation afford not to be a pragmatic? You have to be practical, every day. But you have to marry your pragmatism with some sort of idealism or you would never get people excited about what you want to do."
Ideology for the Congress has been a convenient ploy to get "people excited."
Top News
The BSF personnel open fire after noticing the movement of t...
The move is a key step as Western sanctions aim to reorder t...
India formally assumed the G20 Presidency on Thursday
The move will allow more than 200,000 workers who have famil...