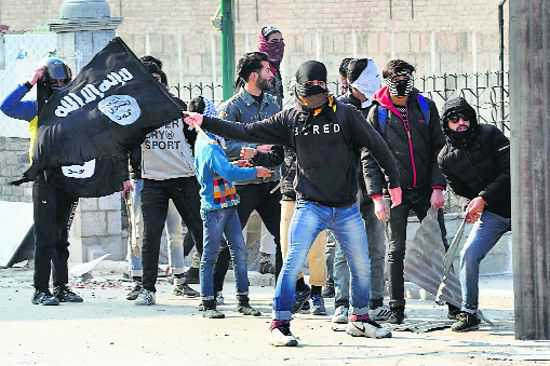 Lt Gen DS Hooda (retd)
Former Northern Army Commander
On December 23, it was widely reported by the media that six terrorists of Ansar Ghazwat-ul-Hind, an outfit affiliated to Al-Qaeda, were killed in a gunfight in South Kashmir's Tral sub-district. There was another noteworthy report that the National Investigation Agency (NIA) had 'found evidence indicating that members of the Islamic State in J&K may have links with operatives of the outfit in Afghanistan and some of them may even be getting directions from there'.
It has long been believed that transnational Islamist groups like the Al-Qaeda and the Islamic State have only a limited appeal among the Kashmiri youth. While this is largely correct, it is equally true that radicalisation is on the rise in Kashmir. There are differences of opinion on what exactly is driving this radicalisation, and whether the ideology is primarily religious, political or just an expression of alienation and frustration. However, irrespective of the ideology, the result has been a surge in the use of indiscriminate violence by various terror groups. The recent killings of civilians and local policemen on leave, and an increase in local youth picking up the gun are grim indicators.
Despite the clear signs, there is some ambiguity in dealing with the issue of radicalisation, perhaps because of its religious overtone. However, if we shy away from recognising the true nature of the problem, we will be unable to develop a coherent response.
Efforts to counter radicalisation will have to focus on madrassa education, community involvement, the assistance of Muslim clerics, identification of potential threats, and enhancing resilience against radicalisation through an effective counter-narrative. This requires a vast outreach and a comprehensive action plan, which has not been given due attention by the Ministry of Home Affairs.
There are many good examples of countering radicalisation from around the world. The Saudi government fights violent extremism as a 'war on ideas', based on what is permitted in Islam. The strategy is based on 'PRAC' — prevention, rehabilitation and post-release care. There is extensive religious counselling of prisoners and support for rehabilitation.
Singapore's strategy is a comprehensive mix of measures to counter the extremist ideology, programmes to re-integrate terrorists into society, and community engagement programmes to strengthen the social fabric. EXIT-Germany, an initiative to help people leave extremist groups, distributed free T-shirts with the logo of skull and bones and the title 'Hardcore Rebels', during a concert where a large number of Neo-Nazis were present. After a wash, the logo and title faded and were replaced by the words: 'What your T-shirt can do, you also can do — We help you to free yourself from right-wing extremism.'
One key area in the fight against radicalisation is the government's communication strategy. Terrorists use extremely effective messages and narratives to attract people to their cause. This is a battle of perceptions, where what is true is not as important as what is perceived to be true. The target is the mind and the most important weapons are Facebook and Twitter. Extremist narratives are based on a mixture of real and perceived grievances and play on fears. In Kashmir, the narrative that the Kashmiri identity is under threat is a consistent theme.
The government's strategy to counter this narrative has been largely based on a law enforcement approach — shut down the extremist content by pressurising service providers or shut down the Internet altogether. This will have only a limited impact because of the limitations in monitoring the massive quantity of content on the Internet. Blocked accounts reappear under other names within minutes.
An effective communication campaign must focus on discrediting radical ideologies and providing a healing narrative to the target population. While preparing this campaign, three important aspects have to be kept in mind. First, and most important, it should target all extremist content, irrespective of religion and ideology. An extreme right-wing message can have the same effect on a disgruntled Muslim youth in Kashmir as an Al-Qaeda video. Both these contents must be countered with equal emphasis.
Second, a Centrally driven campaign from Delhi will have only a limited appeal. While Delhi must lay down the broad policies and guidelines, the implementation should go down to the local level. Different regions and threats require a different narrative. The ideology that drives a student in South Kashmir towards radicalisation is different from that of a youth in Poonch. A common theme for both groups may end up appealing to neither.
And finally, narratives have to be supported by actions on the ground. Sometimes, leaders become so seduced by social media that putting out a tweet or press note seems like enough action as long as it generates thousands of likes. If there is no follow-up activity, the government's credibility can be quickly damaged. Today, all political and military leaders appeal to the local youth who have joined terror outfits, asking them to shun violence and return to the mainstream. However, when the state government sought to introduce a new surrender and rehabilitation policy in March, it became the casualty of political wrangling and had to be withdrawn.
Social media has become the main delivery tool for the spread of extremist narratives. While none of us can be completely cocooned from its divisive influence, societies in conflict zones are the most vulnerable. We are witnessing this today in Kashmir. Countering this radicalisation will require a very comprehensive effort. This is neatly summed up in the words of John Kerry, US Secretary of State, in his address on the subject 'countering violent extremism', at Davos in 2015. He said, 'Ultimately this fight is not going to be decided on the battlefield. The outcome is going to be determined in classrooms, workplaces, houses of worship, community centres, urban street corners, in the perceptions and the thoughts of individuals, and the ways in which those perceptions are created.'
Top Stories