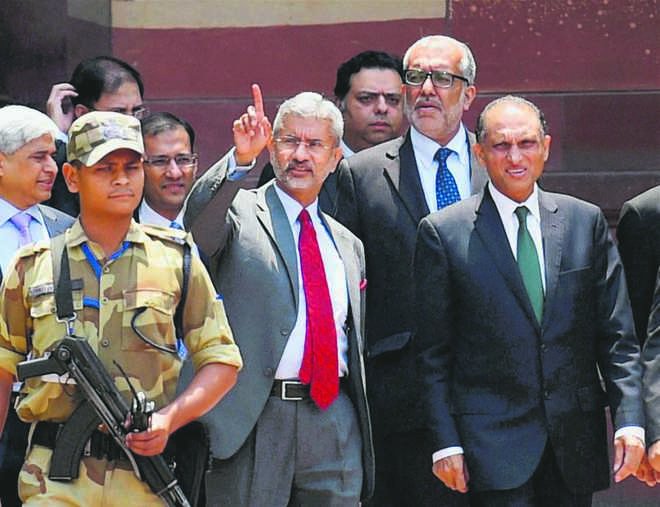 THE Modi government has adopted a more activist approach in domestic and foreign policy. At home, it has taken a page out of PM Indira Gandhi's book, toppling state governments still under Congress rule. Abroad, it is espousing what NSA Ajit Doval calls an "offensive-defensive" posture.
Two events are noteworthy. First, the brouhaha over the cancellation of visa of Dolkun Isa, executive president of the World Uyghur Congress, invited to attend a conference at Dalhousie by the US-based Initiatives for China, alternatively called Citizen Power for China. It claims it is: "Advancing a peaceful transition to democracy in China through truth, understanding, citizen power and cooperative action". Its president is Dr Yang Jianli, who was at Berkeley University when the student uprising in China broke out at Tiananmen Square in 1989. He rushed back to participate. Since then, he has campaigned for democracy in China.
The rules for foreign conferences in India are extremely strict and permission is sought months in advance from the Ministry of Home Affairs with lists of invitees. Dubbed an 'Interethnic Interfaith Leadership Conference', the invitees include pro- democracy activists from Tibet, Xinjiang, Hong Kong, Macau, etc. as well as Christians, Muslims and Falun Gong. Thus the Modi government is not only cooperating with the US, Japan, Australia and other neighbours of China, with whom there is convergence of interests, but is also now game to bait China with the soft power of democracy and human rights that undercut the Chinese model symbolised today by the greatest concentration of power by President Xi Jinping, since Mao.
Unfortunately, the flip-flop over Dolkun Isa has detracted from the significance of India finally standing up to China after decades of Chinese use of surrogates like Pakistan to stymie it. The US earlier this year allowed Isa to receive in the US an award on the eve of the National Security Summit, which was not only attended by President Xi, but also President Obama, who as a special favour, granted him a one-on-one meeting. It was the American way of balancing multiple considerations while engaging China. India has to be careful though, as it does not have the comprehensive national power of the US and cannot assume that the Chinese would swallow a slight as they did from a significantly more powerful antagonist. Perhaps that explains the retreat on Isa's visa and media and other restrictions placed on the conference.
The other issue is the visit of the Foreign Secretary of Pakistan for The Heart of Asia conference to deliberate on regional issues and security, political and economic cooperation amongst Afghanistan and its neighbours. Consisting of 14 countries around Afghanistan, ranging from the Gulf to Central Asia to India and Pakistan, the meeting is held as the Taliban commence their spring offensive, heralded by a massive truck-bomb in Kabul targeting the training facility for commandos who guard the ruling elite. Similarly, further afield, the cease-fire in Syria too seems to be dissipating as Russian artillery and Iranian troops are again visible in the north.
The focus, nevertheless, was on India-Pakistan relations which have been testy since the attack on the Pathankot air base, immediately after PM Modi's stopover in Lahore. It appears the Pakistani army is convinced that NSA Ajit Doval has been practising his dark arts on them by extending support to Baluchi rebels and Tehrik-e-Taliban militants. They have retaliated by nabbing Kulbhushan Jadhav, a former Indian Naval officer who purportedly ran a business out of Chabahar, Iran, which is contiguous to Baluchistan. It is unknown yet if he was lured or abducted as Pakistan refuses to give the Indian consular access, but as Foreign Secretary Jaishankar told his counterpart, nations do not send provocateurs under own name and with a passport in hand.
Whether it is a Doval operation gone awry or the ISI is using abduction to create evidence of intrusion and conspiracy, the net effect is the same. Pakistan now has counter-allegations to hurl that negate the moral edge India has had, particularly since 26/11, about Pakistan sponsoring terror as an instrument of state policy.
It is thus not surprising that the call by Pakistan Foreign Secretary Aijaz Chaudhary on his Indian counterpart Jaishankar was carefully structured as a chat in office and not across a conference table. The Pakistani side began briefing the media minutes into the meeting, indicating their aim was to bandy Kashmir, protest Indian abetment to terror in Pakistan and the release of the Samjhauta Express accused. India responded, seeking urgent action against the 26/11 and Pathankot perpetrators. Diplomacy has descended to an exchange of recriminations and charges.
Pakistan seemed emboldened by the Organisation of Islamic Conference resolution berating India on J&K and China vetoing the listing of Jaish-e-Mohammad by the UNSC Counter Terrorism Committee under UNSC Resolution 1373. India would also have surmised that PM Nawaz Sharif, the driving spirit behind normalising relations with India, has been weakened by the Panama Papers revelations about his family's accounts abroad. His rushing to London for medical treatment and speculation in Pakistan of another military coup being imminent, leave him politically injured, despite his quick return. Thus the two foreign secretaries, at least for public consumption, adopted recalcitrant positions. Pakistan wants the terror issue put aside and comprehensive dialogue commenced as their list of terrorism grouses and counter-charges now match those of India, while India wants action on actual terror acts by Pakistan-based groups.
India, in trying to break the Pakistan created cycle of terror-dialogue, may have pushed China to more blatantly close ranks with Pakistan on terror. Baluchistan for China means the Gwador-Xinjiang Economic Corridor and Pakistani allegations of Indian abetment to terror there feed into Chinese interests. Chinese sage Sun Tzu advises on tackling antagonists thus: "If an enemy has alliances, the problem is grave...", so work to sever those alliances. Although closing ranks with the US and Japan provides India counterweight to tackle the Sino-Pak convergence, there is always a danger as Saudis are now discovering with the US-Iran handshake that big powers can realign their interests, leaving your flanks exposed. The Indian Government needs to recalibrate its "offence-defence" doctrine before it is sucked into unmanageable hostility with two powerful neighbours.
The writer is a former Secretary, Ministry of External Affairs
Top News
Congress' state in-charge says the party is tipped to get th...
Launches attack against nepotism and graft; seeks collective...
Says Congress will oppose attempts to put leaders like Gandh...
Chandrashekhar Harbola was part of a 20-member troop that wa...
One attack occurred at a minority habitation in Chadoora in ...