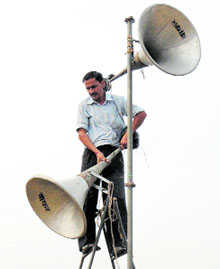 SINGER Sonu Nigam's tweet about being disturbed by the morning "azaan" could not have come at a better time. The singer has, therefore, done us a service by triggering a debate about the widespread misuse of loudspeakers and sound systems, especially when it comes to religion and tradition. Never mind if he expressed selective outrage against the "azaan" and not about the cacophony during every major or minor Hindu religious festival. Sound pollution is not just a genuine health hazard but also one of the contributory factors for the steep deterioration in the quality of city life.
Our cities are replete with temples, churches, mosques and gurdwaras. If we don't live next to any of these, we are at the very least within "loudspeaker distance" of one or the other. And if by some miracle, we aren't, then we are certainly within the disturbance radius of marriage halls or street-side 'mandals' or event venues rented out for some noisy programme or the other, including housing societies, which think nothing of organising loud cultural events without necessary permissions. This is in addition to all the other noise we encounter through the day — continuous traffic, vehicular honks, sounds of construction, industrial machinery, etc. Non-stop noise is a reality most urban Indians are forced to live with. The question is why must we be forced to tolerate sounds of a non-essential nature that trouble or disturb us? Especially when the law clearly stipulates noise regulation and pollution norms, which are violated with impunity by political and commercial interests, although upheld by various courts, including the apex court.
Firstly, why do we permit an automatic linkage between religion, tradition, festivity, celebration, culture and the use of sound systems? How does blaring raucous music / songs — cheap, patriotic, popular, pious — qualify as an essential requirement of any of the above? Why for instance must azaan or bhajans, aartis, and jagrans' be amplified beyond the premises of mosques or temples? Where has it been written — in which sacred texts? And even if it has, how could the use of sound systems have been ordained, when these inventions are no more than 150 years old?
Therefore, it is clear that when places of worship install sound systems and paraphernalia, these are acquired privileges — either from the state or self-awarded, safe in the knowledge that being a religious establishment, no one dare oppose it. The use of sound systems then no longer remains a matter of encouraging spirituality, but a means of asserting power in the locality — the power to assault your senses, the power to ram a certain version of piety, religion and culture down your throat, the power that inevitably translates into nuisance value and commercial benefit for trustees and others associated with these establishments.
The very same principle applies to rival mandals, supported by local politicians and businessmen, that organise noisy celebrations and events for every single occasion that can be exploited city streets, deploying huge walls of speakers, gaudy lighting and thundering decibel levels in blatant violation of all norms. Even a cursory count can list nearly 50 occasions in a year, including religious festivals, poojas and processions, birth and death anniversaries of leaders and cultural days, on which some place of worship or mandal or housing society in one's locality, organises events that create noise pollution. This amounts to a staggering average of nearly three to four programmes every month, perhaps more. Worse, if you are unfortunate enough to be residing near a wedding, event or party venue including clubs, hotels or open air lawns, more days of one's life are lost suffering unbearable nuisance, because many of these venues are owned by people of influence or connections, who feel no compulsion to follow rules or be considerate. Add to that the general public proclivity of equating cacophony with fun, as a divine right to cause disturbance to others. The moot question is why does the common man suffer noise pollution in silence? It is well known that noise greatly affects health seriously impacting people with hypertension, heart problems, depression and psychological issues,greatly increases stress, anxiety, irritability and palpitations amongst individuals of all age groups. It is particularly hard on the elderly as well as babies. Moreover, it is a big source of disturbance and distraction for children in the vicinity, studying for their exams or even doing homework. Relaxation and sleep also becomes impossible for many.
Why then do people hesitate from making just one call to the nearest police station to report noise pollution? The answer is of course the fear of being targeted for making a complaint.
Legally, the use of sound systems requires written police permission. Policemen are duty-bound to take cognisance of sound complaints and are empowered to stop the noise, even seize audio-equipment and register a case but reluctantlydo so only when citizens are insistent. Why not form a group of like-minded people and consistently report violations in your locality as and when they happen? Take the matter up the hierarchy if local cops ignore you. Make a recording of the nuisance on your mobile phones as evidence and make a representation to the local corporator and other authorities.
Just as public-interest advertisements ask you not to be passive smokers, similarly why remain a passive sound sufferer? For "aural aggression" is against the fundamental right to peace and quiet under Article 21.
The writer is a Pune-based novelist and film-maker.
Top News
Harried passengers take to social media to vent their ire at...
Lapid had stirred a massive controversy by terming Vivek Agn...
Final turnout to be higher as voting process continued at po...
DigiYatra will provide seamless entry and embarkation proces...
His song 'Mahakaal' removed from YouTube after 19 hours