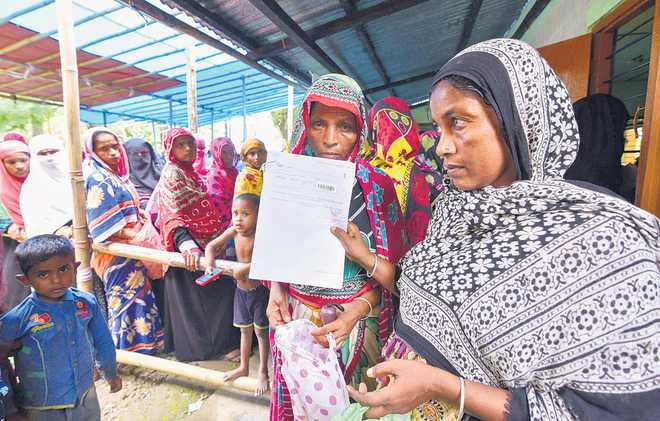 Assam is tense; internet services have been suspended and security forces on standby with the final draft list of the controversial NRC out. Sanjoy Hazarika, a specialist on the north-east, explains why it is sitting on a powder keg
I'M not getting into the numbers game for Assam and the National Register of Citizens (NRC) process which is a draft in progress. The first draft, published last December had 19 million names, triggering consternation in some circles. The second and final draft has now been published after a month's delay due to floods.
What is the NRC draft list and how does one get onto it in Assam? Essentially, it seeks to fulfill a long-standing demand for updating the NRC of 1951 - yes, you got that right, 1951 - which had all our parents or grandparents' names on it. The idea was to create the equivalent of the ideal but digitised citizen.
The state government provided formats to establish family trees going back till 1951 or earlier. Catch Number One: you had to produce documents to establish that connection. Catch Number Two (of several more): should there be a spelling error or a mismatch, you were sunk. Repeated summons to the local NRC office would follow.
Both Hindus and Muslims find to their alarm that they have been left off this list (for those who didn't know, the forbears of some Assamese Muslims go back 500-700 years). But more Muslims appear to be having to rush around trying to establish their identity.
There is a sense of acute vulnerability, fear mixed with deep resentment and confusion over the whole process and growing prejudice. To this add the total disregard for responsibility, privacy, facts and law shown by some local media as well as individuals and groups.
There are three principal stakeholders - the state government and the Centre besides the Supreme Court playing the role of arbiter. But the most affected -- the general public including the many ethnic groups -- are preceptors who are impacted by the decisions of all three. Assam's ethnicities, before insurgency reared its head in the 1980s, had long given internal strength to the state. These stand deeply fractured and stressed by an uncertain future.
Add to this mess, the ingredients of the Foreigners Tribunals which have been functioning in one form or another for 35 years has ``proved' an average of about 150 Bangladeshis per year. This speaks poorly of the effectiveness of the scheme.
In addition, the Centre has tossed a fresh controversy into the whole numbers game by proposing a bill to grant citizenship to illegals from every religion barring Islam from three Muslim-dominated neighbours: Afghanistan, Pakistan and Bangladesh. The whole idea is preposterous. Partly since it harks back to the Partition theory and would seek to vivisect South Asia a third time after 1947 and 1971. But, what happened to the vision of an Akhand Bharat driving the Hindu right-wing? Is it also not worried about putting its minority Hindu brethren in these countries at risk? Is it so blind to the scientific principle that governs politics and society - that each and every action produces an equal and opposite counter action?
All that this has done to Assam is drive a bitter, ever widening wedge between the Bangla Hindu dominated Barak Valley and the greater Brahmaputra Valley where Hindus, Muslims and many other groups including the majority Assamese speakers live.
In all this tumult, growing alarms are being finally sounded about future uncertainties should the draft second list produces lakhs of potential non-nationals. What will happen to them? Well, the Union Home Minister says that this is not a final draft and the excluded lot can challenge their non-inclusion. Which means that the Centre and the state have become unnerved by the specter of looming statelessness that this may unleash, something they have neither the skills, understanding or will to deal with. In addition, should such a situation arise, what about the weaknesses in law? Not to have thought about, let alone planned for is a huge mistake.
Thus, would families be torn apart and where would they be accommodated? Has anyone even thought about the future of children? The twin furies of potential violence and abuse would bring international opprobrium on us and generate mobilisation of rights groups. Have our 'strategic thinkers' been so obtuse as not to have seen this coming, given to what Assam has suffered over the past 50 years.
What this also means is that we would have to head back to the drawing board as far as foreign nationals are concerned. Deportation will never happen because there is no such legal treaty between India and Bangladesh.
Over 20 years back, I had proposed that work permits for nationals for both India and Bangladesh to enable them to travel to the other country for work, stay for a specific number of years and repatriate funds before returning home. It's still at the proposal stage though the National Security Advisory Board agreed in 2000 that it should be part of an internal security policy. The 'Bangladeshi' issue could unwittingly become a powerful weapon in the armory of the Bangladesh Opposition, especially the Jamaat, as our neighbour prepares for elections later this year. It could be surprisingly effectively against the incumbent side of Prime Minister Sheikh Hasina Wajed and put her on the defensive.
All this brings us to a fundamental conclusion: the NRC is not a panacea to finalise the citizenship issue and create identity markers through the politics of accommodation and manufactured consent. These are hugely fraught processes governments and political parties end up stoking greater angers and anxieties while trying to calm the fears of one group.
In the process, we have created a land of draft citizens, miring the struggle against 'illegal migrants' that began with torch-lit processions in 1979 in a tingling atmosphere of fervour.
I know because I was there and have seen its impact across the Brahmaputra Valley. We cannot go back to the lost years.