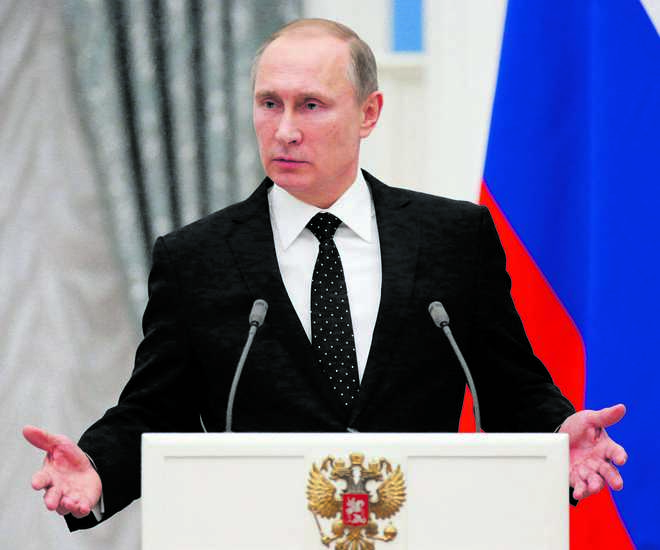 IS the North Atlantic Treaty Organisation (Nato) starting a new Cold War? Germany's foreign minister Frank-Walter Steinmeir thinks so. He has accused recent Nato exercises on Russia's borders as "sabre rattling and war-mongering". And a Nato summit in Warsaw firmed up a battle group of 4,000 new troops in Poland and in each of the Baltic states, Estonia, Latvia and Lithuania, and took command of a US-built nuclear shield in Europe.
Reaction from Moscow to the plan was swift, President Vladimir Putin declaring, "Where all this will lead I don't know but I do know that we will be forced to respond." A small ray of hope last week at a rare Russia-Nato meeting was an agreement by Russia's Alexander Grushko to have its military jets flying over the Baltic skies switch on their transponders if Western planes did the same. There have been several near misses of adversarial planes after Moscow's annexation of Crimea led the US-led alliance to police the Baltic skies.
The sense of foreboding felt in Russia is apparent from the alarm bells rung by Mr Mikhail Gorbachev, the last president of the Soviet Union, accusing Nato of preparing an attack on Russia. He declared, "Nato has started preparations for switching from a cold to a hot war. All rhetoric in Warsaw simply clamours for anything but declaring war on Russia. They are only talking of defence but in fact are preparing for offensive actions."
There is little doubt that the new hard line Nato is taking towards Russia is led by Poland, given its tragic history, and the fragile Baltic states, once part of the Soviet Union as was Crimea, gifted to Ukraine by Nikita Khushchev.
In geopolitical terms, Russia is no longer the superpower it was as the Soviet Union. But despite his economic problems exacerbated by Western economic sanctions and the precipitous fall in oil prices, President Putin has kept his country's end up. There has been a major modernisation of the Russian military and his air military assistance to Syria's beleaguered President Bashar al-Assad has meant that Washington must seek his help in ending the Syrian civil war. US Secretary of State John Kerry did so during his recent Moscow visit.
Nato is not a monolith, with its members holding divergent views on Russia. Italy's Prime Minister Alexis Tsipras said during the Warsaw meet that it was time to end the stand-off with Russia. And East European negotiators believe that the French attitude is more indulgent to Moscow in private. German Chancellor Angela Merkel does not entirely share her foreign minister's views, but by temperament she follows sober policies and is aware of the high stakes her country's industries have in the Russian market.
The important point to emerge out of the Warsaw summit is that the US stands solidly behind Poland and the Baltic states in their hard line, even as it somewhat nervously assesses China's rising power and treats it with kid gloves. At Warsaw, President Barack Obama brought dissenting views to an end by declaring, "We are united that there can be no business as usual with Russia. In good times and in bad, Europe can count on the US. Always."
Contrast these remarks with China defying the adverse ruling by the international tribunal on the South China Sea by breathing fire and brimstone and conducting a military display over the disputed area. The initial American reaction was to calm the roiling seas. Beijing has acquired power and is showing it, and the Washington establishment is duly respectful.
Returning to the European theatre, Mr Grushko made telling comments at the recent meeting with Nato representatives, "There is no reason for Nato to do what it is doing...The direction in which Nato is moving in military terms is very bothersome." The next test for Nato's hard line will be in January, with a review of anti-Russian economic sanctions. It remains to be seen whether some European countries will break ranks.
Nato's justification for "war-mongering", as Mr Steinmeier has defined it, is that its response is proportionate to the perceived threat from Russia. But the key to the present stance lies with Washington. In his overarching world view, President Obama outlined over extensive sessions for The Atlantic magazine, Russia appears as the familiar adversary in a weakened state while unusual attention is paid to China.
The US administration is deeply worried whether China, which is well on the way to achieving superpower status, will observe the international norms of diplomacy. And even when its reaction is ill-tempered and defiant as on the South China Sea ruling, Washington shows forbearance while painting Moscow as the truant.
Ukraine remains a major hurdle in improving relations between the US and Russia for two reasons: the foolish idea that despite it sharing long borders with Russia and a largely Russian-speaking population in the eastern region has deep religious affinity with Mother Russia, the country should be hijacked by the West, taking advantage of Moscow's perceived weaknesses. Speaking of sacrosanct post-World War II borders, who changed borders to create a new nation state in the Balkans?
The second reason for the impasse is the closing of the US establishment's mind on seeking a friendlier Russia. Most US think tanks are so obsessed with examining every tiny move China makes that they have little time left to study new Russian developments, except in hostile terms. In a sense, whatever the West's future moves on the ground, Americans have already adopted a new Cold War attitude to Moscow.
All is not yet lost. President Putin has reportedly spoken to President Obama, Ms Merkel and President Hollande in recent days. But judging by Mr Gorbachev's rare public intervention on Nato's moves, the sense of foreboding in Russia is palpable. Many in the West look up to Chancellor Merkel to find a way out. She is a fluent Russian speaker, having been brought up in the once Communist East Germany.
Top News
The CBI has registered an FIR in connection with alleged irr...
Says CBI raid reward for good performance
Punjab ministers Harjot Bains and Chetan Jouramajra also sla...
5 kidnappers arrested; wanted to sell the child for Rs 50,00...
Canada is one of the popular destinations for Indian student...