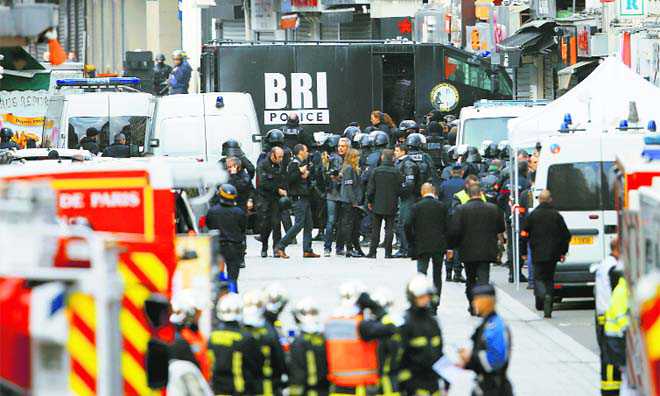 A team of IPS officers went to the FBI Academy in Washington in 2008. These officers, much experienced in their own right, were somewhat amazed to see the dependence of the FBI and other US police agencies on gadgets and forensic tools. Most of them questioned their rationale in ignoring the human inputs altogether in matters of investigation and intelligence collection.
However, the Indian police officers did not fail to note the lack of political interference in police working. On the other hand, in India, the police is caught in a Catch-22 situation — damned if you do, damned if you don't! Politicians, while retaining the archaic Police Act of 1861, have not let go of their stranglehold on the police in spite of Supreme Court directions to the contrary. This has resulted in use and misuse of police officers and personnel on jobs other than investigation and law-enforcement.
Huge police resources are being utilised on non-essential duties like guarding and escorting people for whom security is just a status symbol. Such people roam around peaceful places like Jammu with their PSOs and escorts to impress and browbeat ordinary citizens. Not many personnel are left for traffic management, while police stations are filled with unskilled and non-professional policemen. The CID gets people who want to hide themselves while doing no intelligence work.
This poses a great challenge in the times when organisations like the ISIS are overtaking Al-Qaida, the LTTE or the Basque in their brutality. In our own backyard in Kashmir, some elements take pleasure in waving ISIS flags every Friday. They are closing in with their cyber-savvy operatives while we continue to lower our educational qualification for recruitment in police and grind them through physical drills and "ji-hazoori" training schedules.
While the Prime Minister has launched a campaign for Digital India and Skill India, the Indian police is still stuck in the pre-colonial era, archaic policing methods and training. While the British have improved their policing and investigative methods vastly, we are still putting our recruits through regimental thinking and infantry-style training. There is more stress on physical and arms drill and less on law and investigation; much less on modern forensic tools. This, in spite of repeated exhortations from the Supreme Court of India regarding reforms in police and policing.
India is developing fast, though not in as organised a manner as one would have liked it to. There is rapid and unorganised urbanisation with tremendous migration of people from rural areas in search of livelihood. There is a great pressure on jobs which otherwise are scarce, and these people compete fiercely to sustain themselves. As a result, they earn enough to survive but not enough to get out of poverty. This gives rise to the language of violence and crime, which with the connivance of white-collar criminals gives rise to informal and parallel governance in such areas.
Of late, we have seen a rise in top-end crimes like multi-million scams, high- society murders and urban terrorism launched from some remote corner of the world. Police officers find themselves, especially in our part of the world, less armed with respect to knowledge and forensic assistance while dealing with such crimes. To add to their woes, they are always under pressure from the frenzy launched by the sensational and TRP-driven media in our country. It was refreshing to see the police in Paris doing their job in a highly professional manner, without any pressure from media or the politicians.
I don't see the police reforms, as laid down by the apex court, being implemented in the near future. The political class too is not anywhere near to loosening its control on the police. Steps have to be taken to prepare our policing and investigative agencies for the kind of crimes we saw in Paris, Lebanon and, recently, in Bangladesh. We need to recruit more officers with specialisation in forensic sciences and also in different fields like cyber crime, financial accounting and auditing and psychology. Police organisations in the West now recruit experts in micro-facial and body psychology to determine if a suspect is lying or not. Modern, non-violent methods of interrogation have been introduced and that is why their interrogation rooms are now 'interview rooms'. They have forensic teams with the latest technology at hand to help solve cases.
Once officers are recruited they need to go through police regimen, with stress on their field of expertise. Let us make physical exercise necessary for overall physical and mental wellbeing but not a regimental necessity. Investigation, detection and prevention of crime needs more focus. It needs to be understood that preventive detentions are not investigation but amount to shirking of responsibility. How many militants have been connected to their crimes through fingerprint comparison, blood stain examination, etc? A self-confessed killer, our own version of Luca Brasi, was let off by courts for want of evidence, while still others who killed unarmed uniformed personnel and civilians in broad daylight are enjoying the best of free life.
Protection and examination of the scene of crime needs to be prioritised and forensics used to the hilt.
Intelligence gathering is an art. Matters that need to be on the CID radar constantly need to be identified. It is alright to keep the ruling party informed of what its rivals are planning or not planning, but matters crucial for the security of the state and safety of its people need to be the priority in intelligence collection, followed by timely dissemination to those tasked with immediate action. The West is using scientific methods to secure its people. One doesn't know what use have the few CCTVs been put to in the cities of Srinagar and Jammu. Intelligence records need to be digitised and made available to authorised personnel on the pressing of a key on computer. Also, Intelligence analysts need to be trained and engaged.
There is a need to utilise the services of every officer in the organisation with clear division of work and responsibility. There is also an urgent need to separate law and order from the investigation and detection of crime. Such a system exists in many countries and it can be experimented with here also. We don't have to encourage auction of police stations and endanger the security and safety of our people. The riot police needs to be trained as riot police. It is a world of individual specialisations.
Finally, concerns about the integrity are some of the most important issues facing the profession of policing. Cases of police misconduct can seriously harm years of work to establish trust and confidence between the police and members of the community they endeavour to serve. We need to have some oversight over the police working, as is in vogue in South Africa, Northern Ireland and much of the UK.
The writer is a retired IPS officer of the J&K cadre.
Top News
Jhunjhunwala, Big Bull of Dalal Street, passed away in Mumba...
If Jhunjhunwala would have had a regret, it was not seeing t...
'Jaishakar said that Europe is buying gas from Russia and we...
Magnitsky petition yet another attempt to bring Indian Gover...
Cong leader Jairam Ramesh said the real intent of PM is to u...