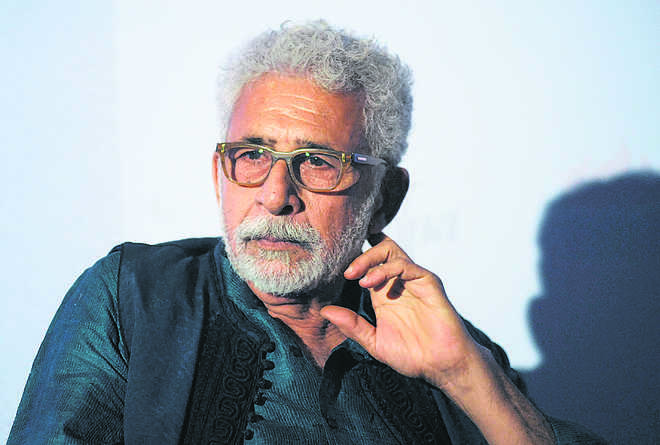 Salil Desai
Novelist and Filmmaker
One of India's best actors, Naseeruddin Shah, recently expressed his deep anguish as a Muslim in post-2014 India, when, speaking on the tragic Bulandshahr incident, he remarked, "I feel anxious for my children because tomorrow if a mob surrounds them and asks them whether they are Hindu or Muslim, they will have no answer…." More importantly, in the same video interview with Karwan-e-Mohabbat, a unique communal harmony initiative by former civil servant and noted activist Harsh Mander, Naseeruddin Shah went to the heart of what ails present-day India when he pointed out that "the death of a cow is given more significance than the killing of a police officer."
Within 24 hours, the predictable toxic reactions have come thick and fast. Naseeruddin Shah has been mercilessly trolled on social media, politicians from the BJP and Shiv Sena have accused the actor of being irresponsible and anti-national and of indulging in scaremongering; his event at the Ajmer Literary Festival was cancelled following protests by the Bharatiya Janata Yuva Morcha (BJYM), the youth wing of the BJP; and the Uttar Pradesh Navnirman Sena, one of the many obscure right wing groups, has claimed to have booked an air ticket dated August 14 for the actor to fly to Pakistan.
As if that was not enough, wrestler Yogeshwar Dutt waded into the controversy, advising Naseeruddin to refrain from calling himself a patriot after expressing such sentiments, especially because he had supported Yakub Memon's mercy plea earlier.
If anything, the vicious responses prove the very point Naseeruddin Shah made that "the poison has already spread and it is difficult to put this djinn back into the bottle."
Quite simply put, the ruling party and its affiliated right wing organisations have so successfully managed to normalise blatant communalism in our minds, that we now expect minorities, especially Muslims, to quietly accept Hindu dominance and intimidation, without a word of complaint, as if it were a natural fact of life even in a secular republic. In other words, society has started believing that Hindus are first-class citizens and have a right to treat minorities as second-class citizens.
Moreover, such inequality and the abuse, injustice and violence that follows is now considered to be a perfectly reasonable state of affairs, since certain minorities, especially Muslims, need to be kept in their place to maintain the natural order of Hindu hegemony in a predominantly Hindu country.
Thus, any voice of concern is attacked and condemned by right wing organisations with such vehemence that its genuineness starts getting perceived instead as a foul articulation of betrayal and hostility toward the land of Hindus, who can do no wrong.
Why otherwise would Naseeruddin Shah's statement be considered as an affront at all? As a Muslim married to a Hindu, actress Ratna Pathak Shah, why shouldn't he be able to talk about his uneasiness at the polarised atmosphere prevalent in the country and the safety of his children in the context of the growing impunity with which mobs can get away with lynching and murder under the garb of religion?
About two years ago, a similar outrage was generated by majoritarian outfits, led by the BJP, when Aamir Khan and his wife Kiran Rao (another inter-faith couple) talked about not feeling secure sometimes.
The fact is that many ordinary Hindus too disapprove of the strain of aggressive cow politics and belligerent Hindutva promoted by the ruling party and its affiliates, but don't lend their voice of support to minority concerns like the kind expressed by Naseeruddin Shah or Aamir Khan, because they have a deeply ingrained, subliminal prejudice against Muslims in general.
Perhaps, it's high time we asked ourselves: what exactly is behind this bias? Why are we Hindus so insecure despite being an 80 per cent majority in our country? Why do we feel so threatened by Muslims? Why do we see them as an alien community, just to be tolerated? There was a time when we wouldn't admit it, but now many people seem to say it openly, as if there is nothing to be ashamed of hating or treating them unequally?
Some of the many reasons for this dislike, which have been exploited and insidiously propagated by the right wing are:
The alleged oppression of Hindus during the Mughal rule.
Partition of India as some kind of a grand betrayal by Muslims.
The practice of so-called pseudo-secularism and excessive minority appeasement by the Indian National Congress during the many years of its rule.
The unfortunate global image of Islam, since 9/11, as a religion of fanatics.
Kashmiri militancy and Pakistani terrorism.
In addition, there is dissatisfaction stoked against certain Muslim personal privileges in India, like polygamy, triple talaq and beef-eating, as well as a general revulsion about their social backwardness, attire and lack of hygiene. In fact, we simply look down upon Muslims as human beings. And that is exactly where the danger looms because we, as a country, are perilously close to reaching a point where we start believing that our largest minority community does not deserve normal humanitarian consideration.
That is a terribly slippery road to go down for any country. The 20th century is testimony to that. Therefore, it's up to us ordinary citizens to consciously rebuff the demonisation of minorities and their slow relegation to second class status by right wing political parties. If we seek to be a progressive, modern nation, the onus of secularism and equality lies squarely with the Hindus. Minority-bashing only enhances a community's sense of persecution and isolation and nothing good has ever come out of it. If not for any loftier principles, the majority needs to halt communalism for its own sake.
Top News
Odisha government has issued helpline 06782-262286. The rail...
At least 50 people died and 350 were injured in a three-way ...
12837 Howrah-Puri Superfast Express, 12863 Howrah-Bengaluru ...
WFI chief demanded sexual favours in lieu of supplements and...
Said agitation will be intensified by holding panchayats acr...