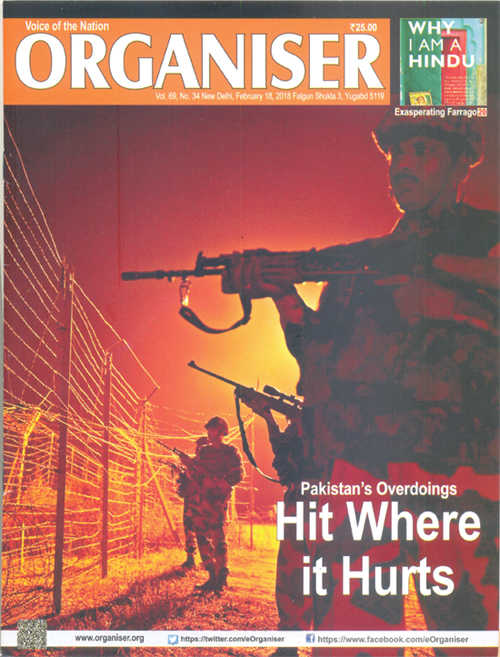 Harish Khare
THE Line of Control in Jammu and Kashmir is suddenly sizzling. Too much heavy firing, and too many jawans and civilians getting killed. And, then, those damn terrorists manage to sneak in and attack an Army base; and, two days later a CRPF camp faces a fidayeen assault. More soldiers get martyred. On Monday the Raksha Mantri found herself compelled to visit Jammu after the Sunjuwan military base was attacked. She was reported to have categorically declared: "I wouldn't certainly state a timeline [for action against Pakistan]. But will say this, Pakistan will pay for this misadventure. I repeat, Pakistan will pay for it."
The Hon'ble Raksha Mantri's loaded words were meant to be reassuring, in perfect sync with the uber-patriotic national mood, so assiduously being cultivated by a newly emerging religious-military-political axis. The axis is getting firmed up, silently sucking all reasonable men, women and institutions into its irrational exuberance, almost creeping on all of us. Consider this: Lt-Gen Devraj Anbu, GOC-in-Chief, Northern Command, felt obliged to join issues with a petty politician, Asaduddin Owaisi of the All India Majlis-e-Ittehadul Muslimeen. A General getting into a spitting match with a politico!
The toxic mood has, indeed, become a trap. A clamour can already be heard: take the current conflict with Pakistan to a higher notch. Without our wanting to do so, we have unwittingly created a war-hysteria and are now bent upon closing all our escape routes.
Earlier, we had manufactured for ourselves a seductive narrative: before 2014, we have had a pusillanimous political leadership, which had no guts to take on the Pakistan army; these weaklings practised appeasement and called it diplomacy. Now, that script of feeblemindedness was thoroughly rewritten and vigorously edited into a 56-inch-thick blue book of courageous options. We carried out daring, if not unprecedented, surgical strikes and advertised it from the housetops; even reaped rich electoral harvest in Uttar Pradesh. But these "Pakis" remain recalcitrant, unrebuked and unbent.
We are all being corralled into subscribing to a new tagline: Pakistan is in need for another round of spanking. So, now, the narrative is being ratcheted up a notch further: We should hurt Pakistan, punish it, give it a nose bloodier than we gave in those fabulous surgical strikes; why queasily rule out a tank battle in the Samba-Jammu-Akhnoor sector?
There is no mystery to this new posturing. The right-wing social media sites are brimming with talk of usefulness of a limited conflict. All one has to do is to take a look at the latest issue of the influential, Organiser, the RSS organ. The case against Pakistan is spelled out by retired Brigadiers and Colonels, with all the self-serving assurance at their command, and with complete disregard of Pakistan's cunning and capabilities to return the compliment.
The new argument is stated simply and clearly: "Pakistan needs to be hit in a manner that it is hurt enough to rein in its rogue elements. There can be calibration of Indian response but at the end of it all, if the matter stops at all-out war, so be it. India needs to immediately start putting in place the national effort required for such an eventuality."
A conflict, even a war, would produce pain. No problem. We should not feel deterred. Another argument, made by another retired Army officer, is explicit on costs and rewards: "Indian Security Forces — armed forces and CMPFs — have far greater 'punishment withstanding' capability than the Pakistan war machine. Let none of the political cadres and the peaceniks have any reservations on such a score. The current crisis situation provides an opportunity to Modi and the BJP to seize the initiative and force the momentum."
There is no secret that the RSS is the inspiration and ideal for the current government in New Delhi. That its mouthpiece is inclined to give platform to this extreme hawkishness should alert us to the possibilities of the government succumbing to such provocative goading. One can be reasonably sure that the PMO must be hearing similar advice privately from the top RSS functionaries.
The unstated assumption is that besides national glory and service, massive dividends, political and electoral, are assured. On the other hand, the Congress party had pointedly reminded the Prime Minister of all the tall talk about national defence and of the hard line he advocated during the 2014 Lok Sabha campaign, promising an end to irritating pinpricks from Pakistan and its non-state proxies. As an opposition party, the Congress has no reason to let the government off the hook; in any case, concepts like "national security", "national defence" and "national interest" have already been reduced to partisan pieties by the government. The Congress party can well argue that it alone cannot be asked to carry the burden of "responsible Opposition".
The Modi government now finds itself in a pincer movement: there is relentless hostility-talking, night after night, channel after channel, ensuring that the government does not even think of reconsidering its current counter-productive approach; and on the other hand, we have an Opposition, remorselessly, insistent on holding the government to account by its biases and prejudices and brags.
Irrespective of these political juveniles, we seem to have developed a magnificent obsession with force, violence and aggression. This is becoming a cultural norm in "New India". We are itching to punch above our weight. We want to prove — to ourselves and to others — that in New India we have strong leaders who are not afraid of a good fight. This obsession with violence has segued into a working religion; aggression is even deemed to have curative uses.
This obsession has naturally determined the choice of personnel for key national security positions — men who would be only too happy to oblige, and muster arguments, suggest tactics and sketch action plans to accommodate the leaders' aggressive predisposition. And, then, there are the Vivekananda Warriors, always at hand to provide cleverly venomous formulations about Pakistan and China.
Yet, the national challenge remains how not to stumble into an unwanted and unnecessary war with Pakistan, especially a conflict about which there can be no strategic clarity and certainly no assurance of a desired outcome. Our polity is in thrall of divisiveness, with all the cocky arrogance of a majoritarian bloody-mindedness. It would not be easy for such a polity to produce the requisite diplomatic sophistication and strategic reasonableness to avoid getting caught in the let-us-have-another-war- with-Pakistan trap. And, it is a trap we have laid for ourselves.