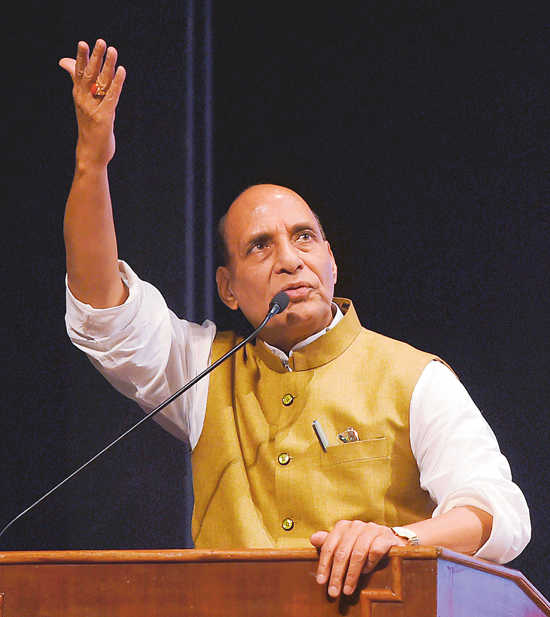 SNM Abdi
GRANTED that Rajnath Singh is not Narendra Modi's alter ego — that special privilege is reserved for Arun Jaitley — a polished English-speaking, clean-shaven version of Modi sufficiently important to be given the Ministry of Finance and Defence. But Singh is no push-over. Before becoming the Home Minister of India in 2014, he was twice the president of the BJP and a pretty successful Chief Minister of Uttar Pradesh, not to speak of his stint as Cabinet Minister in Atal Bihari Vajpayee's government.
It's precisely because Singh is such a towering figure that I resent his failure to give Muslims their due while speaking about the Home Ministry's performance on the third anniversary of the Modi government. Singh said that although India has the world's second-largest Muslim population, the Islamic State has failed to set foot in our country. Then, abruptly shifting gear, the Home Minister applauded the security agencies for doing a great job by rounding up 90 IS sympathisers, and went on to praise the coordination between central and state agencies in combating the Islamic State.
Just 90 odd sympathisers among India's 172 million Muslims say it all. Hence Singh should have praised India's peace-loving and law-abiding Muslims sky-high for vociferously rejecting the IS ideology. At this juncture, when Muslims are being subjected to extremist attacks on various pretexts across the country, the Home Minister's good words would have acted like a balm on their bruises and restored their badly shaken faith in the BJP leaders. To be honest, commending Muslims for keeping the IS at bay would have served the national interest more than patting policemen on the back.
I am even more disappointed because Singh is not like Yogi Adityanath who ordered Hindus to rape dead Muslim women, or Mahesh Sharma who solemnly observed that A P J Abdul Kalam was a nationalist despite being a Muslim. Singh, in contrast, seems to have some civilisation values. Recently, he batted for Muslims like a true liberal who knows that endorsing weaker sections fortifies democracy. Addressing Directors General of Police in November, Singh truthfully said that, "The threat of radicalisation by IS is not an issue because people who follow Islam in India love the country." He even went to the extent of adding that "no innocent should be troubled and none of the offenders should be spared" — an acknowledgement of rampant violation of human rights of Muslims by the police in the name of terror.
In future, Singh should use every opportunity and platform to give Muslims full credit for acting as a bulwark against IS and Al- Qaida. Ajit Doval, the National Security Adviser and ex-Intelligence Bureau chief, has given more marks to the minority community than to security agencies for the negligible number of IS recruits in our country. He openly said that it was "Muslim parents who approached the police and intelligence agencies and sought their help in preventing their wards from joining." If families had hushed up matters or turned a blind eye to the indoctrination of gullible youths, IS would have got a headstart in India making the job of the police so much tougher and riskier. The selfless role of parents in fighting IS or Al-Qaida can't be over-emphasised. In March, when Lucknow's Sartaj refused to accept his slain terrorist son Saifullah's body saying that "a traitor cannot be my son", there was a scramble in Parliament to salute the father who put the nation before his progeny. There are unsung cases of parents taking a principled stand against their own children's descent into extremism. Singh would do well to cite these cases in future. His words will carry a lot of weight because as the Home Minister he is supposed to be in the know of all things good or bad happening in our land. Last year, Mohammad Naseer, a Tamil origin computer engineer was deported to India from Sudan for alleged IS links and arrested by NIA. His father, Mohammad Pakeer, a Dubai-based mechanic, voluntarily flew to Delhi to record a statement under Section 184 of the IPC before a magistrate corroborating how his son was drawn to jihad. The upright dad knows fully well that his statement will be used as evidence against his own son. In a similar case, NIA is using mother Gulshan Bhanu's letters to her son, Adnan Hasan Damudi, expressing her anger and disapproval for his unlawful activities, as key evidence against Damudi who is accused of being an online recruiter for IS.
Equally significant is the consistent condemnation of IS and Al- Qaida by Muslim politicians and religious leaders ranging from Asaduddin Owaisi to Syed Ahmed Bukhari. Owaisi repeatedly calls IS fighters "dogs of hell" and says that the terrorist outfit's leader Abu Bakr al-Baghdadi deserves to be chopped into pieces for the pain he is causing to Muslims worldwide. Not too long ago, 70,000 Muslim clerics in India issued a fatwa against IS and other extremist groups declaring that they were not Islamic organisations but the anti-thesis of Islam. Jamiat Ulama-i-Hind and seminaries in Deoband are Bareilly have issued statement after statement saying there is nothing even remotely Islamic about IS.
Not surprisingly, Al-Qaida's Zakir Musa slammed and taunted India's Muslims this month for not joining the global jihad. He said: "They are the most beghairat qaum (shameless community) in the world. Their sisters are getting abused and dishonoured and Indian Muslims keep screaming that 'Islam is peace'. They cannot speak up against oppression and injustice. Is this what our Prophet has taught us?" Musa's rant drew a measured response from Naved Hamid, president of All-India Muslim Majlise Mushawarat, an umbrella body of 14 organisations, who said: "We don't need lectures from a terrorist. We know how to fight our battles peacefully within the framework of our secular Constitution. Musa's stand will only please anti-Muslim forces in India."
The minority community's unwavering faith in the judicial and democratic process despite provocations is one of the most wonderful aspects of our great country. That's why mass leaders like Singh should not miss even a single opportunity to praise the community for its impeccable behaviour and positive attitude in today's increasingly hostile environment, even if it means displeasing Modi, Amit Shah and Mohan Bhagwat who clearly believe in demonising and belittling Muslims in order to consolidate Hindus.
The writer is a Kolkata-based senior journalist.
Top News
Hundreds are still believed to be trapped under rubble, and ...
Chances of Parliament taking up a discussion on Motion of Th...
A Muslim man alleged he was assaulted and abused in the name...
Frank Hoogerbeets describes himself one having 'utmost respe...
Will be produced before the competent court in Mohali on Tue...