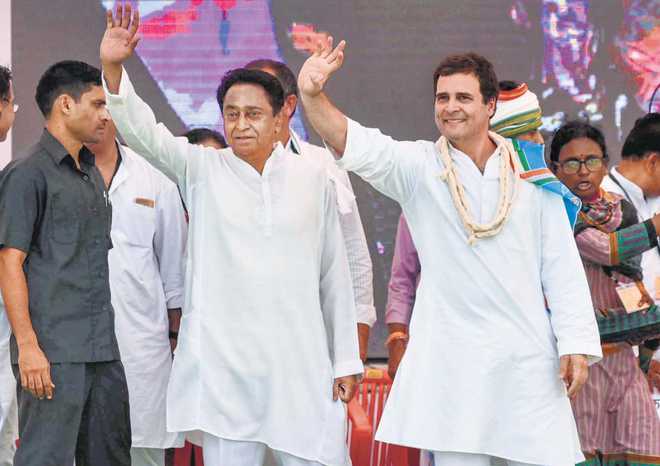 Rasheed Kidwai
Rasheed Kidwai
Senior journalist & author
WITH the country getting ready for another cycle of elections as Amit Shah kicked off the BJP campaign for the Madhya Pradesh polls at Ujjain's Mahakal temple, the Congress seems to be falling into BJP's trap of according primacy to religion in the electoral battle. Rahul Gandhi's move to engage "Muslim intellectuals", senior party leader Shashi Tharoor's apprehension of India turning into a "Hindu Pakistan" if the BJP gets voted to power in 2019 General Elections and Madhya Pradesh Congress Chief's letter to the Mahakal deity, seeking divine intervention to end BJP Chief Minister Shivraj Singh Chouhan's "misrule", are all pointers towards the Congress' bid to mix religion with politics.
A section of Congress leaders wonders why the Congress is not focusing on the rise in fuel prices, farm crisis, unemployment, crime against women and children and poll promises that have remained unfulfilled by the Narendra Modi government. In the poll-bound states of Madhya Pradesh, Rajasthan and Chhattisgarh, there is the anti-incumbency factor against Shivraj Singh Chouhan, Vasundhararaje Scindia and Dr Raman Singh, respectively, that could be exploited.
Unlike the BJP and the Sangh Parivar, the Congress lacks a sense of purpose and unanimity to use religion for its electoral gains. Within the Congress, there is disquiet and unease over Tharoor's pronouncements. A senior party leader of Madhya Pradesh, Sajjan Singh Verma, has criticised Tharoor. Speaking to a news channel, Verma said, "The BJP is managing Shashi Tharoor." Later, Verma said he had sent an email to Rahul Gandhi to act against Tharoor. "If Rahulji wants to keep Tharoor in the party, he should send him abroad to do some research work till the Lok Sabha polls are completed," Verma said, disagreeing with Tharoor's formulation that electoral victory in 2019 would help the BJP push its "Hindu agenda."
In Verma's views, an electoral win or defeat is a reflection of the voter's choice and it should be accepted in humility. He argues that Tharoor, in effect, is questioning the sagacity of voters who, for decades, had preferred the Congress over the other parties.
MPCC chief Kamal Nath, too, thinks that Tharoor's remarks are "ill-timed" and have the potential of being misconstrued as 'anti-Hindu.' Nath, who is heading the MPCC for the November Assembly polls, has been temple-hopping — from Mahakal in Ujjain, to a Shakti Peeth in Datia. In his constituency of Chhindwara, Nath has played an active role in the installation of the 101-foot statue of Hanuman.
Historically, too, the Congress' bid to mix religion in its political campaign has remained problematic. There was a contradiction in the way Jawaharlal Nehru viewed religion and politics. As I have mentioned in my book, 24, Akbar Road, Nehru was firm in his definition of secularism that meant separation of religion from the political, economic, social and cultural aspects of life. Religion, in Nehru's scheme of things, was a personal matter that the state should disassociate itself from at all costs. In a letter to his Home Minister Kailashnath Katju in 1953, Nehru wrote, "The fate of India is largely tied up with the Hindu outlook. If the present Hindu outlook does not change radically, I am quite sure that India is doomed." Nehru had observed that communalism of the majority community had the potential to recast its nationalism, which it did.
But for Mahatma Gandhi, religion was an integral part of secularism. Gandhi, who agreed with his disciple Nehru on a range of issues, was a believer that the Nehruvian secular prescription would not work for India. Gandhi believed that "politics bereft of religion are absolute dirt."
By the time Indira Gandhi returned to power in 1980, her zeal to push the Nehruvian secularism was missing. She tried to cultivate the majority community, accepting the invitation to launch the VHP's `Ekatmata Yatra', also called the `Ganga jal yatra.' This was a nascent VHP's first mass contact programme, giving a glimpse to how Hindu rituals and symbols could be effectively utilised for popular and political mobilisation. Bureaucrat and author SS Gill noticed that post 1980, Indira lacked social solicitude towards Muslims. In his book, The Dynasty — A political biography of the premier ruling family of modern India (1996), he wrote how Indira loyalist CM Stephen had declared in 1983, "The wave-length of the Hindu culture and the Congress culture is the same." Barely six months before her assassination, Prime Minister Indira sought to assure the majority community that, "if there is injustice to them or if they did not get their rights, then it would be dangerous to the integrity of the country."
Congress ideologue VN Gadgil died a disillusioned man. He had told Congressmen at a training camp to select 'future Congress leaders' in Maharashtra in 2000 that he disapproved of the Congress' policy of appeasing Muslims. He said, 'Every time the Shahi Imam makes a statement, the party reacts as if God himself has spoken. Do minorities mean only Muslims? What about Buddhists, Sikhs and others? When 36 Sikhs were killed in Kashmir, not a single Congressman condoled over their deaths. In J&K, there is not a single Buddhist working in the state secretariat. The only Buddhist who was selected through the state public service commission had to convert to Islam to secure the government job.... The Congress is silent on this."
He remarked, "While appeasing Muslims, we should not forget Hindus, who are a majority in this state", referring to an article published in The Economist, which stated that 'Islam and democracy do not go together'. Quoting from the article, Gadgil said a province in China, which had a substantial Muslim population, wanted to break away and form a separate nation.
When Gadgil was asked why he was saying all this, he said: "I have said this earlier. Muslims constitute only 18 per cent of the vote share. Even if all of them vote for the Congress, the party will not return to power. We cannot go on ignoring the sentiments of the other 82 per cent."
Tharoor may like to read a Congress Working Committee resolution adopted under Sonia Gandhi's leadership on January 16, 1999, articulating the Congress' definition of secularism. It read, "The CWC endorses the views of the Congress president, Sonia Gandhi, in her speech on the anniversary of Swami Vivekananda, where she had said, 'India is secular primarily because of Hindus, both as a philosophy and as a way of life based on what our ancients said, Ekam satyam, vipraha bahudha vadanti (The truth is one, the wise pursue it variously)'."
All readers are invited to post comments responsibly. Any messages with foul language or inciting hatred will be deleted. Comments with all capital letters will also be deleted. Readers are encouraged to flag the comments they feel are inappropriate. The views expressed in the Comments section are of the individuals writing the post. The Tribune does not endorse or support the views in these posts in any manner.
Top Stories