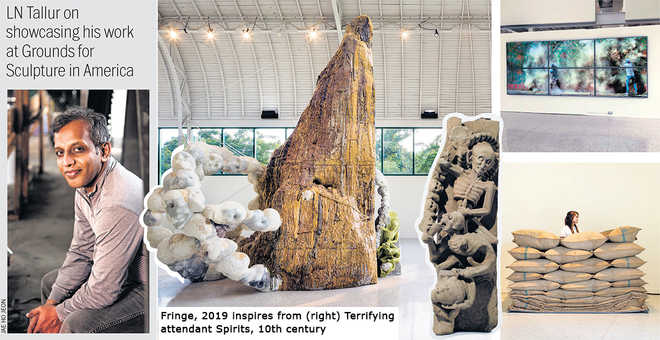 singhking99@yahoo.com
Lovedeep Sidhu
Conceptual artist LN Tallur has been using sculpture, wall pieces and installations to carve out a correlation between the traditional and contemporary. His latest, Interference Fringe, is an attempt at an exchange with a 10th-century sculptor. Excerpts from an interview with the artist who divides time between India and South Korea:
Your latest work, Interference Fringe, on view at Grounds for Sculpture, US, is inspired by Indian temple fragments. How did you come across this theme?
I saw a 10th-century, red sandstone temple fragment in the collection of the Philadelphia Museum of Art, which had probably been made in Madhya Pradesh. The museum, which had collected this in 2000, lent it to me for the show. It's now on view there — a rare honour for an artist — all thanks to head curator Darielle Mason.
This interesting, yet, disturbing sculpture sends mixed signals. The two figures in the sculpture look skeletal and starved and one of them is masturbating while the other is busy eating the foot of the masturbating figure. One doesn't know whether the expression on his face reflects pain or arousal. The museum changed the text four times while the sculpture was on display there, based on the interpretations that evolved.
The left side of the sculpture has a broken garland of heads, which the museum termed as the Terrifying Attendant Spirits. It may be representative of protective deities such as Kali and Chamandi, and the medieval practice of tantric worship. For this, I decided to use bone meal or crushed bones, which I collected from sugar and gelatine-manufacturing factories.
Amidst the rules and regulations that traditional sculptors follow while creating an artwork, they leave behind a personal expression. Keeping this in mind, I tried to respond through my sculpture. So, I think it's a conversation between a 10th-century sculptor and a 21st-century sculptor.
You also use, for the first time, film as an artistic medium in this work.
In my practise, concept guides me to choose the medium. In Fringe, I used bone meal as a medium for the first time. For Interference, I wanted to document the 'historical dust'. The Durbar Hall Museum in Junagadh, Gujarat, had acquired an 18th-century carpet that had once adorned the Durbar Hall. This carpet had been made by inmates of Junagadh Jail. On a recent visit to the museum, I saw the carpet being cleaned and the surprising amount of dust it emitted. It struck me that all those who visited the Durbar Hall must have left their mark on it. I sought permission to shoot this cleaning process.
From Koteswara in Karnataka to Mysore, Baroda, Leeds, and now Seoul, you've lived at many places. Does that affect your work?
I believe travelling breaks one's conditioning, which is essential for creativity. Living in different cultures, economies and geographies gives a unique perspective to life, thereby influencing art too. In fact, I made an artwork on this theme, called Souvenir Maker: Designed in America, Conceptualised in India, Made in China, Sponsored by Korea, Yes we are conditioned to think under flag (2005).
In conceptual art, idea takes preference over aesthetic. Can you take us through the process of the birth of an idea and its execution?
The absence of a strong experience or feeling can't translate into meaningful work. I understand that my knowledge, documentation, activism, new medium, etc. will not automatically translate into an artwork, but these are exercises that keep our brains sharp. Post the 2004 tsunami, I came across a picture in a newspaper showcasing black marketing of rice bags. Shocked at the scale of illegal storage, I decided to work on this idea and began experimenting with inflatable materials. After a lot of trial and error, I came up with plastic bags covered by jute gunny bags that could be inflated and deflated. During the showcase, visitors were allowed to walk into this pile of bags. On being inflated, the structure would rise up till the roof and the person would be trapped inside, panic-struck, not having expected a gunny bag to inflate. I called it the Panic Room. The visitor could only escape after it would be deflated. This, to me, is one of my complete works with open-ended trigger points. This work is also on display currently at the Grounds for Sculpture.
How important is it for an artist to be understood in the context that he/she aimed at?
I believe that whatever experience an artist goes through should be felt by the viewer as well. As an artist, one must try to leave all the signals of the process which help viewers associate with the experience.
What next?
I'm excited about my new catalogue for Interference Fringe, being published by ArtBook DAP, edited by Gary Garrido Schneider and supported by Grounds for Sculpture. It will come out before the show closes in January 2020.
All readers are invited to post comments responsibly. Any messages with foul language or inciting hatred will be deleted. Comments with all capital letters will also be deleted. Readers are encouraged to flag the comments they feel are inappropriate. The views expressed in the Comments section are of the individuals writing the post. The Tribune does not endorse or support the views in these posts in any manner.