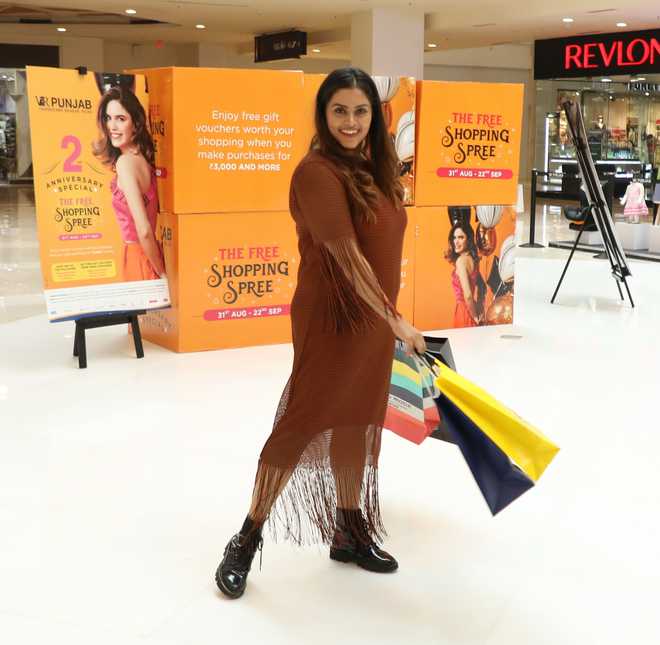 rajivbhatia82@gmail.com
Mehr Chand Polytechnic bags 88 merit positions
As many as 88 students of Mehr Chand Polytechnic College, Jalandhar, have secured merit positions out of first 20 positions in various disciplines in the examinations held in November 2018 by the Punjab State Board of Technical Education and Industrial Training. Principal Dr Jagroop Singh said eight students achieved first position, five got second positions while five bagged third positions.
PKF celebrates diamond jubilee, declares 10% dividend
PKF Finance Ltd., Jalandhar, has declared 10% dividend for the financial year 2018-19. At the company's AGM held recently, Alok Sondhi, managing director, PKF Finance Ltd., said the PKF Group had crossed the turnover of Rs 500 crore as on March 31, 2019 and recorded a profit of Rs 7.65 crore in its diamond jubilee year. He said the company had registered a growth of 10% in investments despite tough economic conditions.
Dr Devinder Singh Sandhu conferred with state award
The Cancer Council of India has welcomed the decision of the Punjab government to confer the state award on internationally renowned cancer super specialist Dr Devinder Singh Sandhu. The award was presented to Dr Sandhu for his achievements by Chief Minister Capt Amarinder Singh at a state- level function Independence Day function held in Jalandhar. Dr Sandhu is the chief oncologist and hematologist working at Sandhu Cancer Centre, Udham Singh Nagar, Ludhiana.
Royale Estate Group unveils affordable housing scheme
Royale Estate Group has launched affordable housing scheme near International Airport and Aerocity to facilitate those in limited income group (having annual income below Rs 6 lakh) in Mohali. The Punjab government-approved scheme is backed by SBI. Under the scheme, special quotas have been planned for defence personnel, government, semi-government employees, sports category, people with disabilities and NRIs. The scheme is open till September 11.
TDTR DAV Institute observes World Physiotherapy Day
TDTR DAV Institute of Physiotherapy & Rehabilitation, Yamunanagar, celebrated World Physiotherapy Day on September 7 by organising free physiotherapy camp, seminar on organ donation and fitness awareness programme for patients, students and staff. Vijay Kapoor, chairman, DAV Public school, Yamunanagar, was the chief guest on the occasion. Dr Himanshu Sekhar, principal, TDTR DAV Institute of Physiotherapy, talked about general fitness of the body and mind and its importance in daily life.
Dr Dushyant Thaman attends National Neurotrauma Meet
Neurosurgeon Dr Dushyant Thaman, who runs 'Protect Your Head' campaign, recently attended a national neurotrauma meet held in Agra. The meeting was organised by National Neurotrauma Society. Various aspects of head and spine injury were discussed at the national-level meet. Preventive aspects of head injury, scenario of increasing traffic all over the country, measures on road safety, new techniques of measuring intracranial pressure in head injury patients and new methods of spine fixation were also discussed.
'Diabetic foot may lead to limb amputation'
"Diabetic foot care is one of the most ignored aspects of diabetic care in India whereas a diabetic foot can lead to limb amputation if ignored," said Dr Ravul Jindal, director, Vascular Surgery, Fortis Hospital, Mohali, while sharing facts about diabetic foot care recently. He said amputation due to diabetic foot can be prevented in 90% of cases with proper education and timely treatment.
Powergrid declares dividend of Rs 4,357.92 crore for FY19
Power Grid Corporation of India has declared a final dividend of Rs 1,307.90 crore in addition to Rs 3,050.02 crore of interim dividend for the financial year 2018-19, thus aggregating to Rs 4,357.92 crore. An RTGS advice of Rs 698.81 crore towards final dividend for the year 2018-19 was handed over to Minister of State for Power, New & Renewable Energy RK Singh by Powergrid CMD K Sreekant recently.
VR Punjab announces 'Free Shopping Spree'
To mark its second anniversary, VR Punjab is going all out to enthrall its customers through a first-of-its-kind celebration. As a token of appreciation towards its patrons, the mall is hosting a three-week celebration culminating with its anniversary on September 22. The celebrations include a first-of-its-kind 'Free Shopping Spree' which is giving patrons of VR Punjab an opportunity to enjoy and avail the benefits of VRP Switch, a unique concept which will allow them to redo their wardrobe and much more.
Skoda announces 'Single Wicket' talent programme
Skoda has announced a cricketing talent scouting programme — Skoda 'Single Wicket' — for 'under 12 & 14' age categories which will be organised till January 2020 involving participation of 1,00,000 students, from 5,000 schools across 50 cities nationwide.
BHEL wins Rs 450-crore order for Emission Control System
Bharat Heavy Electricals Limited (BHEL) has secured an order for emission control equipment for 2x250 MW Bhilai Expansion power project in Chhattisgarh. Valued at around Rs 450 crore, the order has been placed on BHEL by NTPC-SAIL Power Company Limited (a joint venture of NTPC and Steel Authority of India Ltd). The order involves supply and installation of Flue Gas Desulphurization (FGD) system.
IndianOil R&D celebrates diamond jubilee function
Team IndianOil R&D recently celebrated the diamond jubilee of IndianOil with great joy and enthusiasm. Dr SSV Ramakumar, Director (R&D), IndianOil, addressed the gathering at Servo auditorium of R&D Centre, Faridabad. Speaking on the occasion, Dr Ramakumar said: "More than a company of 60 years old, IndianOil is an emotion, a feeling that touches the heart of every Indian, day after day, year after year".
Kalgidhar Trust starts repair of houses damaged due to floods
Shiromani Panth Ratan Baba Iqbal Singh has stopped all construction work of the Kalgidhar Trust and has sent a team of civil staff, including plumbers, electricians and engineers, to 70 flood-affected villages of Punjab. Masons will also be sent to these flooded-areas soon to repair and reconstruct the damaged houses.
International Tractors records market share of 14.7% in Aug
International Tractors Limited has recorded a market share of 14.7% in August. ITL also retained the number one position in exports during April-August period. "The company's strategy on market activation, strengthening channel presence and new product launches has led to gain in market share, rather than focusing on reducing manpower in tough times," said Raman Mittal, executive director, ITL Group.
Life Insurance Corp completes 63 years of incorporation
Life Insurance Corporation of India has completed 63 years of its incorporation. The company has played a significant role in spreading life insurance among the masses and mobilisation of people's money for people's welfare. In this journey, LIC has crossed many milestones and has set unprecedented performance records in various aspects of life insurance business.
LivePools records flourishing business growth in Punjab
Known for its skill-based sports predictor game platform, across cricket, football and kabaddi, within the fantasy sports space, LivePools is flourishing in Punjab. Gaurav Assomull, co-founder, Livepools.com, said with one of the world's largest youth population, the fantasy sports industry is undergoing a revolution in India. It's a thrilling experience to see tier-II and III cities youth extremely active on Livepools, with over 30 % of the business contributed by users from Punjab and Chandigarh.
51% Indian UK graduates earn above average salary: Study
Indian graduates who have studied in the UK say they earn above average salaries in their work life. As many as 51% of all Indians graduating from the UK say they earn above or well above average and 90% of women in this group say they earn average or above average salaries. This data was released in the Indian Graduate Outcomes 2019 study, conducted by UUKi.
'Fatafat' on-demand delivery service launched in Rewari
Fatafat, India's leading hyper-local startup is set to step into the Rewari market. The delivery application, powered by Jugnoo, will offer custom consignor services and is a huge step towards the glorification of otherwise overshadowed and unexplored vendors. The services offered by Fatafat can be redeemed for no minimum price and at zero delivery charges, making it an extremely lucrative option for its users.
Escorts launches India's first hybrid concept tractor
Escorts has announced the launch of India's first hybrid concept tractor powered by fuel and battery both. Pioneering the concept, the company is launching this in the range of 70-75 HP which can be boosted up to 90 HP with the help of its hybridisation feature. This unique ability in a tractor brings to the market a product that reduces the emission and increases the efficiency.
Cities