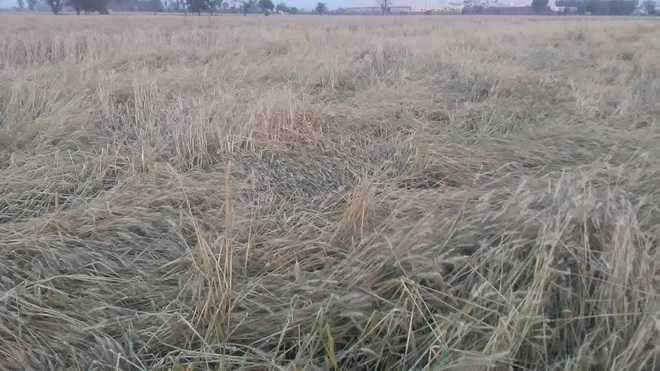 editorial@tribune.com
Parvesh Sharma
Tribune News Service
Sangrur, April 20
Alleging improper assessment of damage to their crops, suffered three days back due to rain and hailstorm, Sangrur farmers under the banner of the BKU (Ugrahan) today met senior officers and alleged that they had suffered 80 per cent losses while revenue officers concerned had shown only 20 per cent damage.
They have announced to launch an agitation in the coming days if officers failed to undertake proper assessment of the damaged crop.
"The rain and hailstorm have caused around 80 per cent damage to the standing wheat crop in various villages of Sangrur district. It's likely to increase debt of farmers. But officers concerned have shown only 20 per cent losses, which is injustice with us. We will launch an agitation if officers fail to conduct proper assessment of the damage," said Gobinder Singh, BKU (Ugrahan) Sangrur block president.
Farmers alleged that after rain and hailstorm, revenue officers visited their villages, but they did not visit fields to take exact assessment of losses. They also alleged that many revenue officers prepared reports by sitting in their offices and taking feedback through phone.
"How the officers could prepare damage reports without visiting fields? But it has happened in many villages. There are many farmers in my contact who have suffered more than 80 per cent losses, but revenue officers have shown only 20 per cent losses. We have demanded proper assessment of damage because it's third crop loss during the last two years," said Labh Singh, Bhawanigarh block president of the BKU (Ugrahan).
When contacted, Patwari Dharminder Singh confirmed that earlier they had prepared preliminary reports which showed 20 per cent losses.
"Today we have prepared a detailed report and detected around 35 per cent losses. We are conducting detailed assessment and will send our reports to higher authorities for financial compensation to farmers," he said.
Top Stories