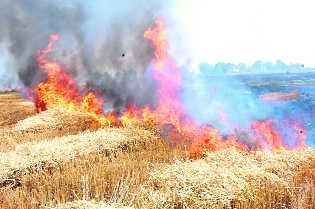 editorial@tribune.com
Tribune News Service
Chandigarh, October 7
The Environment Protection Control Authority, set up by the Supreme Court, today directed Punjab and Haryana to strictly implement the action plan drafted to stop the burning of paddy straw. Meanwhile, Punjab has demanded special funds to curb the menace.
In a meeting held with officers of Punjab, Haryana and Chandigarh here today, the authority's chairman Bhure Lal said that effective steps must be taken to check this menace.
"Both states must realise that its pollution is affecting the populace in both these states far more than in Delhi," he said.
Punjab Chief Secretary Sarvesh Kaushal, however, sought "liberal allocation of funds" while adding that Punjab was very serious about tackling the problem.
Kaushal urged the authority to impress upon the Centre to allocate liberal funds to the state for this purpose.
Additional Chief Secretary of Punjab NS Kalsi said that the state government was giving 50 per cent subsidy on purchase of implements like happy seeder and rotavator, the use of which help in avoiding paddy burning.
Chairman, Punjab Pollution Control Board, Manpreet Singh told the authority that the board has set up environment monitoring committees in every district to make the people aware of the menace.