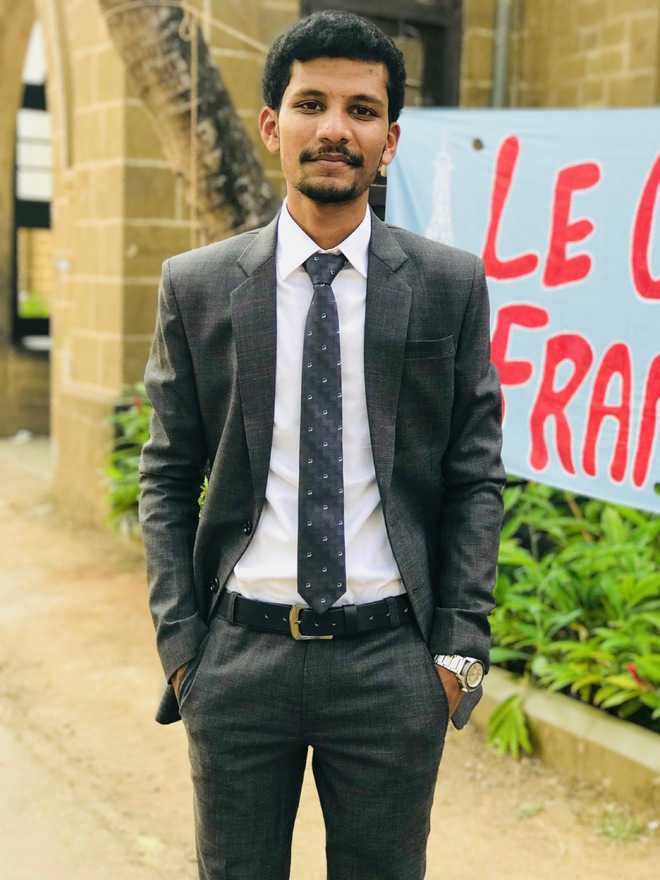 editorial@tribune.com
Harleen Kaur
Enterprising youngsters are not only thinking out-of-the box but are also establishing themselves as entrepreneurs during their college years monetising their hobbies. Instead of sitting for placements they are creating jobs not only for themselves, but also for others.
---
MOHIT BANSAL (22)
This Indore boy graduated in economics with distinction from Fergusson College, Pune, but has chosen the high-potential agri sector to start his venture.
He came up with Mohit Agro Industries which manufactures premium-quality wheat products at affordable price. The foundation for his venture was laid in May 2018 and his manufacturing unit was inaugurated in January 2019.
Inspiration
"I always wanted to do run a successful business. I have learned everything by observing. I think observing and learning from other people's success and failures has been the best way to learn for me."
Challenges
"When we decided to build this business last year, I was merely 21 years old and a fresh graduate with no professional experience. Everyone around me was a lot older and experienced. Thus, talking and dealing with them was intimidating initially.
Starting a business is a lot different from thinking of starting it. I would want to mention that the time at which we were seeking the loan was a very turbulent time for the banking industry as a new banking fraud and scam was getting revealed in the newspapers eveyday. Thus, the officials were very suspicious of my project, And the fact that I did not have any experience, made things worse. The entire loan sanctioning process took almost four months and we had already started the working of the project on the day one of the loan process so for those four months we had to spend from our own pockets. From funding the project to dealing with different policy formalities and bureaucracy around it was tough and eveny frustrating at times. "
Overcoming Challenges
I think BELIEF. Belief at every step that everything will get OK. That's what that made me going.
Future goals
"At Mohit Agro Industries we plan to attain the scale for existing unit and establish ourselves as a trusted brand. In future, we plan to expand our capacity and also enter into Agro commodity warehousing space."
---
SIMRAN ARORA (22)
Make-up is every teenage girl's passion and so it was for Simran Arora. The only difference here being that she saw business potential in it and trained herself to become a professional make-up artist along with finishing her graduation. She was 20 when she did her friend's make-up and got rave reviews. However, with no certification and formal training, it was difficult for her to get a regular clientele. "The money was good but it is difficult to win the trust of a person, especially when they found out that I was self trained", she says. But through her hard work, she has honed her skill and established her name. On an average she earns Rs 35000/month. She has a business page on instagram:- makeover by simran arora where she collaborate with celebrities.
Inspiration
"I follow many Instagram accounts whereas Amritkaurartistry from India and NikkieTutorials from the U.K have been my inspirations."
Challenges
Initially I spent hours and hours practising, but I didn't have links and nobody was ready to pay for the services. Most of the people thought i was doing it as a hobby and thus, did not pay. However, things have changed after i got my certification last year.
Overcoming challenges
"I collaborated with many bloggers to get business.
Future goals
"I don't want to limit myself to Pollywood or Bollywood, I want to work in Hollywood and International Fashion Shows as the youngest make-up artist.
I surely want to start my own make-up line and figure in Forbes 30 under 30 list".
---
ANIRAT GILL (22)
It all started with her tiny hands helping her mom bake and being fascinated by the whole process, to growing up with a passion for baking. Anirat Gill started baking when she was about 8. What started as a hobby initially which led to looking through baking books, finding recipes online and trying them, soon became a business for her. Her friends and family were always there to taste and test her recipes. It was everyone's encouragement that made her sell cakes and take orders. Once she started, the customer base only grew. She is a self- taught baker, who has a bachelor's degree in commerce.
Initially, she started her bakehouse — Ann's Bakehouse — with a loan of Rs 10,000 from her parents which she repaid soon after. She now manages to earn around Rs 35,000 per month. She recently completed a Certificate Course in Baking and Pastry Arts from Lavonne Academy, Bangalore.
Inspiration
"Pooja Dhingra, owner of Le15 patisserie has been a huge inspiration for me. She brought macarons and French pastry to India and is running a great business successfully."
Challenges
"As a young entrepreneur, the biggest challenge that I had to face was competition and the constantly changing trends and fashions. I have to always be updated about the developments and innovations in this field."
Overcoming challenges
"It would not have been possible without the people constantly cheering on me and having faith in me. Cakes were not always perfect but the trust and support from the clients always was. A lot of sunken cakes, burnt brownies, inedible cupcakes and rock hard macarons later, I'm still here! Still learning. Trying to find my way through. Trying new recipes, hit and trial. That's how you learn.
We are all a work in progress. That's how Anna's Bakehouse has become what it is today. And in the end, the smiles on the kids' faces and the love, It is why I do what I do."
Future goals
"As of now, I want to learn more about mass production and some- day open my own patisserie. A place where people can enjoy pastries and fall in love with the art of baking just like I did."
---
SONALI SHARMA (21)
Sonali Sharma runs her label 'Mitvahbysonali' in Ludhiana. while pursuing master's in English. Designing is her passion. She envisioned herself to be a successful entrepreneur at the age of 16 and has been working in that direction ever since. Her label is all about ingenious designs and romantic silhouettes in soft and vibrant colours. The label is about to complete its first year in July. She started the business with her own savings and has earned enough to cover the initial investments.
Inspiration
"Honestly, I am inspired by each and every person whom I see working independently for his goals, dreams and ambitions, no matter which gender or profession they belong to. Independent people inspire me the most and foremost of them is my father. His journey to become what he is today has taught me a lot."
Challenges
"Being so young, I was discouraged but I always wanted to see myself doing this so I went ahead. Initially, nobody took me seriously. Even my family was not much supportive. It took time to make my own place in this field."
Overcoming challenges
"I began my journey as a designer and entrepreneur. I wanted it to be my own struggle so I rejected any funding from family and decided to start it as an online venture via Instagram to avoid the cost of physical store initially. Savings from initial orders were source of investment for new designs and after first three tough months I was able to pull off this start up on my own. Now ' Mitvahbysonali' operates through its official Instagram page and my home. Hopefully, I plan to come up with physical store in Ludhiana by the end of this year."
Future goals
" I plan to establish a studio in Ludhiana. Currently, I am planning and saving for it. Also, I want to participate in Lakme Fashion Week. Hopefully , I will see my label as the best Designer label of India."
---
AVANTIKA JAIN (23)
Avantika Jain is a certified nutritionist by profession, but a baker at heart. Her bakery journey started when she was in high school. She would bake for her family and relatives occasionally. And that's when people motivated her to start something of her own that too organic and gut healthy. Her venture is beyond the regular cakes and brownies stuff as she also supplies pizzas, cinnamon rolls, donuts, chocolates and ice creams. She runs her business from home and takes orders online. In one year she is earning average Rs 10,000 per month from her home business.
Inspiration
"Food is my inspiration.Being born and brought up in baniya family and living in Punjab, I guess I was meant to fall in love with food. So, that's where this whole venture started."
Challenges
"I live in Dera Bassi, the biggest issue was getting orders. I started my venture a year ago, and now people know about me and orders keep flowing in. So, for me selling my cakes in a small town was the toughest of all challenges."
Overcoming challenges
"I work on my own, I don't trust anyone with my work. I'm happy where I am because I am in control of my life with this."
Future goals
"I plan to home bake for about another 15-20 years and when the time is right, I might open my own small bakery shop."
---
FLOWZICIANS
They are young and they will have you dance to their tunes — meet Shivangi Ahuja (21), Abhijeet (21), Prateek (20) and Amit (20) – the four partners behind Flowzicians Dance Studio in Chandigarh. While three of them have completed collge, one is still in the college. It was during college that they won dance competitions and became popular in many colleges. They started their journey through instagram and YouTube and decided to open their dance studio. They not only focus on dance but fitness also and are making good profit.
Inspiration
"A group is the only inspiration for opening a studio. We would like to forward our group to international level.
Challenges
Starting on our own was the biggest challenge as we didn't know the nuances of setting up a business. Money was a huge issue as we did not take any help from our parents. Initially, it was difficult to attract people to our studio as there is tough competition in this market.
Overcoming challenges
Strong will belief in our talent and faith in each other , besides support of our friends has helped us overcome challenges so far.
Future goals
We want to represent India on the stage of 'World of Dance' and take our studio to a new level.
— As told to Bhavya Chhabra and Kirandeep Kaur
All readers are invited to post comments responsibly. Any messages with foul language or inciting hatred will be deleted. Comments with all capital letters will also be deleted. Readers are encouraged to flag the comments they feel are inappropriate. The views expressed in the Comments section are of the individuals writing the post. The Tribune does not endorse or support the views in these posts in any manner.
Top Stories