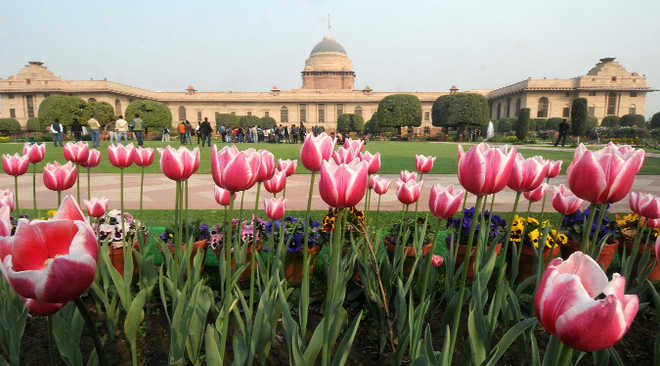 New Delhi, February 10
Roses named after iconic personalities like Mother Teresa, Queen Elizabeth and John F Kennedy are all set to welcome lakhs of visitors to the sprawling Rashtrapati Bhavan's Mughal Gardens, which opens for public this Friday.
Besides the rose varieties, about 12,000 tulips, said to be among President Pranab Mukherjee's favourites, and primulas will be main attraction.
The horticulture delight this year include, 135 varieties of roses, some of them named -- 'Raja Ram Mohun Roy', 'Jawahar', 'Mr Lincoln', 'Arjun' and 'Bhim'. Other rose varieties worth mentioning are Christian Dior, Granada, American Heritage, Happiness, Kiss of Fire, Iceberg and Double Delight, Rashtrapati Bhavan officials said.
President Pranab Mukherjee will tomorrow inaugurate 'Udyanotsav 2016' -- the period of annual opening of Mughal Gardens to the public.
"The weather is always unpredictable. We had a warm winter, followed by a cold patch and now it is warm again. But, as of now the tulips look wonderful.
"Lot of effort has been invested in the last 3-4 years in the maintenance of the gardens. The 'Udyanotsav' attracts lakhs of visitors during this period and special efforts have been put into the upkeep of the iconic gardens to ensure that the visitors are delighted when they come here," said Venu Rajamony, Press Secretary to the President.
Spread over 15 acres, the Mughal Gardens has more than 70 varieties of seasonal flowers, including exotic bulbous and winter flowering plants. The design of the iconic gardens at the President's Estate draws inspiration from Mughal, Persian and British garden art.
The gardens will be open to the public from February 12 to March 19 (except on Mondays which are maintenance days) between 9.30 am to 4 pm, officials said.
About 4.68 lakh people had visited Mughal Gardens last year.
Last year, 10,000 tulips were planted but this year the President, an admirer of these flowers, wanted the number to be increased, an official of the Horticulture Department at the President's Estate said.
'Calceolaria herbeohydra' or the 'Lady's Purse' is another interesting variety consisting of amazing flowers which are spotted with contrasting colours and are shaped like a lady's purse.
The Central Lawn, the Rectangular Garden and the Circular Garden -- which comprise the Mughal Gardens -- are filled with splendid colours of winter seasonal flowers, roses, exotic bulbous plants, shrubs, variety of creepers and flowering trees.—PTI
Top News
Protesters call for economic boycott from Monday to Wednesda...
National capital's 24-hour average air quality index recorde...
The counting of votes will take place on December 7
French Ambassador Emmanuel Lenain offers full support to Ind...
Spent around 45 minutes with his mother before leaving for t...