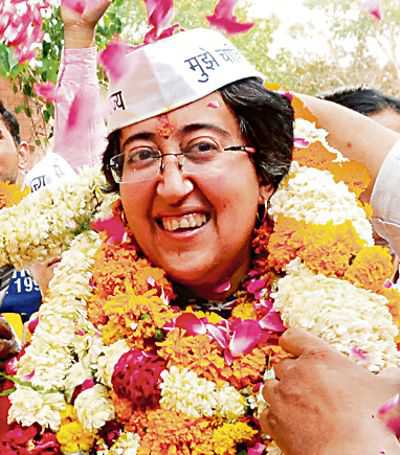 Tribune News Service
New Delhi, April 22
The second last day of filing nominations today witnessed roadshows and havan-punjan in Delhi when three BJP candidates, Dr Harsh Vardhan, Manoj Tiwari and Parvesh Verma, filed nominations for the Lok Sabha polls in their respective parliamentary constituencies.
Ramesh Bidhuri of BJP's South Delhi candidate decided to file his nominations tomorrow following advice of a family pandit.
Amid presence of a large number of supporters, sitting MP Dr Harsh Vardhan filed his nomination papers at the Deputy Commission office in Alipur for the Chandni Chowk parliamentary constituency.
Union Ministers Nitin Gadkari and Mukhtar Abbas Naqvi flagged off Dr Vardhan's nomination 'yatra' from Pushpanjali Enclave.
Later, he addressed the crowd from the election 'rath' saying that it was very evident that there is a pro-Modi wave in the country.
West Delhi candidate and sitting MP Parvesh Verma performed hawan before filing the nomination. The havan was organised in Janakpuri at 9 am, thereafter, he started his procession towards Rajourie Garden to file his nomination at the DM office in Rajourie Garden.
Verma filed papers in the presence of Defence Minister Nirmala Sitharaman, former Union Minister Vikram Verma, Rajourie Garden MLA Manjinder Singh Sirsa.
Delhi BJP president and sitting MP from Northeast Delhi Manoj Tiwari staged a roadshow before filing nomination papers in the Deputy Commissioner office near Nand Nagri. He held hawan before the roadshow. Union Minister Vijay Goel, Leader of the Opposition in Delhi Assembly Vijender Gupta, famous Haryanvi dancer and singer Sapna Chaudhary joined the roadshow.
With a lot of fanfare, six candidates of the AAP filed their nomination papers on Monday, a day before the closing day of nominations, for the Lok Sabha elections in Delhi scheduled for May 12.
AAP's Atishi (East Delhi), Raghav Chadha (South Delhi), Brijesh Goel (New Delhi), Pankaj Gupta (Chandni Chowk), Gugan Singh (North West) and Dilip Pandey (North East) filed their nominations today. The party's West Delhi nominee Balbir Singh Jakhar had filed his nomination on Thursday.
Prior to filing their nominations all candidates, making their electoral debut, held roadshows accompanied by senior leaders of the party in a show of strength.
Atishi had Deputy Chief Minister Manish Sisodia by her side when she filed her papers at SDM office at Geeta Colony while Chadha who filed his nomination in Saket was accompanied by his mother Alka Chadha and Rajya Sabha MP ND Gupta who later joined Brajesh Goel before he filed his papers for the New Delhi segment.
Gupta had party leader Satyendar Jain by his side while Singh was accompanied by RS MP Sanjay Singh and Pandey filed nomination in the presence of senior leaders Gopal Rai and Rajendra Pal Gautam.