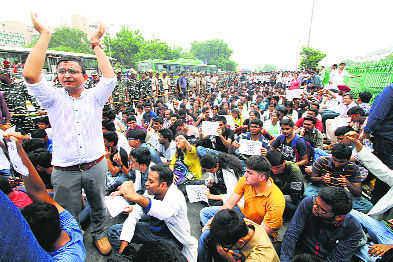 Tribune News Service
New Delhi, August 4
Resident Doctors Association (RDA) of AIIMS called off their strike against the National Medical Commission Bill 2019 today after meeting Health Minister Harsh Vardhan.
The doctors laid down a condition for the withdrawal of strike saying the government should treat them on duty during the period of strike between August 1 and 3.
The government today told the striking doctors about the laws of the land which prohibit government doctors from striking work.
Vardhan also allayed fears of doctors about the proposed community health workers under the new law saying the courses required to be taken by the new mid-level health carde will be devised in consultation with the medical experts and doctors at the time of framing of regulations of the law.
Doctors also wanted assurances about how the exit exam would play out for MBBS students who failed to pass it considering it was proposed to also be the only licensiate test to practice medicine and also to enter PG stream.
The RDA statement said the minister assured them of wide consultations before the details of exit exam are finalised by the NMC which will get three years to roll out the test. Final year MBBS exam is proposed to serve as a licence exam for students wanting to practice medicine besides also serving as an entrance test for postgraduate exam.
Top Stories