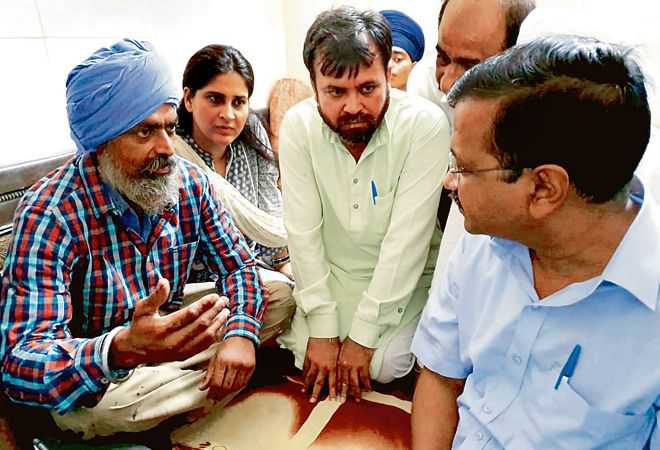 Tribune News Service
New Delhi, June 17
Chief Minister Arvind Kejriwal today visited the house of auto driver Sarabjeet Singh, who was assaulted by some cops at Mukherjee Nagar here on Sunday evening.
The CM said the incident brought the Delhi Police's objectionable behaviour into question once again.
After meeting the family members and hearing the victim's ordeal, Kejriwal said, "The manner in which the auto driver was beaten up was most brutal and barbaric. I strongly condemn this assault by Delhi cops. I appeal to the Lieutenant Governor (LG), DCP and Police Commissioner to punish the policemen responsible for the attack."
In light of the rising crime in Delhi, the CM said, "The LG and the Home Minister will have to take strict measures to check the rising crime in Delhi. It needs to stop."
Earlier in the day, Kejriwal had tweeted, "The Delhi Police brutality in Mukherjee Nagar is highly condemnable and unjustified. I demand an impartial probe into the whole incident and strict action against the guilty. Protectors of citizens can't be allowed to turn into uncontrolled violent mobsters."
Rajya Sabha MP Sanjay Singh and MLAs Jarnail Singh, Jagdeep Singh, Pankaj Pushkar and Akhilesh Pati Tripathi visited the spot on Sunday evening. The MP and MLAs also remained stationed at the Mukherjee Nagar police station in the morning to put forth the demand of some residents who were holding a protest outside.
In one of the purported videos that have gone viral on social media, Sarabjeet is seen chasing some policemen with a sword in his hand, while the policemen are seen thrashing him with batons in another.
Politicians condemn incident
"Violence has no place in any Civil Society. Mukherjee Nagar incident is sad and condemnable. Free and fair enquiry should be done, so that no innocent should be punished and guilty should be brought to book," said Delhi BJP chief Manoj Tiwari, in a tweet.
"A thorough probe is needed into the incident. Mere suspension of guilty police officials is not enough," said Jitendra Kochar, Delhi Congress spokesperson.
Top Stories