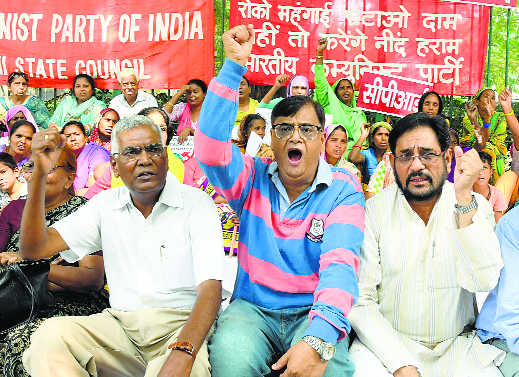 Tribune News Service
New Delhi, October 12
Delhi State unit of the Communist Party of India (CPI), today held a Dharna as part of its monthlong national campaign in exposing pro-corporate, anti-people and corrupt polices of the BJP government.
The party demanded that Panama leak names made public, bringing back NPAs to banks or attach the properties of industrialists.The protest was addressed by party MP national secretary Atul Kumar Anjaan, Delhi State secretary Dhirendra Sharma, and Delhi State assistant secretary Dinesh Varshney.
The leaders sought to know why PM Narendra Modi was silent on corruption, Panama leak names, NPA, prices rise and on the issue of BJP national president Amit Shah's son Jai Shah.
"Why are all TV channels and newspapers not ready to discuss it. Have they become the views channels' views papers of the capitalists?" the leaders said.
Stating that demonetization had caused distress to the people, they said lakhs of people lost their jobs, small and medium scale enterprises bear the brunt, farmers' suicides continue and workers' rights are being taken away to favour the capitalists while the rich were becoming super rich.