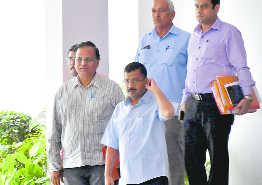 Tribune News Service
New Delhi, October 5
The medical superintendents of major hospitals like Hindu Rao, GB Pant, Lok Nayak and B.S. Ambedkar informed Lieutenant Governor Najeeb Jung that the rush of fever patients has come down by 40-50 per cent in the last few days.
They also told the LG that the fever clinics, wards, etc are operational round the clock and adequate supply of testing kits and medicines are available in all the hospitals.
The LG was given this information during a review meeting held today. The meeting was attended by Chief Minister Arvind Kejriwal, Health Minister Satyendra Jain, Secretary (Ministry of Health and Family Welfare, Union Government) C.K. Mishra with his Additional Secretary, Chief Secretary, Chairperson of New
Delhi Municipal Council, Naresh Kumar, the three municipal commissioners, medical superintendents of major hospitals, and others.
The Lt. Governor asked for a feedback from all those present on the directions issued by him in the previous two review meetings.
The municipal commissioners informed that they have drawn a roster for field visits by the deputy commissioners.
The Health Secretary of the Delhi Government informed the Lt. Governor that as per reports collected at 10.30 am on October 5 from across hospitals, 25 per cent beds dedicated to fever patients are lying vacant.
Health Minister Satyendra Jain informed the Lt. Governor that hospitals are equipped to handle fever cases and currently 355 fever clinics are running, including on Sundays.