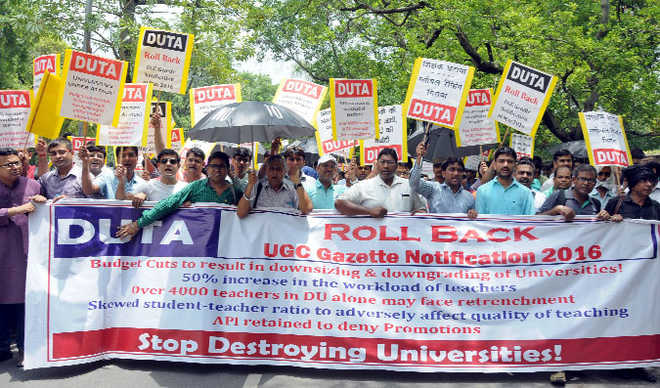 Tribune News Service
New Delhi, May 30
Accusing the Central government of "attack" on public-funded higher education institutions, Delhi University teachers and students today raised their pitch against the UGC circular brought out earlier this month to assess their academic performance.
They said it reflects the government's attempt to "cut" jobs and "deny" promotions.
They marched from Mandi House to Parliament Street, demanding the withdrawal of notification, arguing that it will lead to retrenchment to the tune of 50 per cent and drastically increase pupil-teacher ratio in higher education.
Calling the amendments to the UGC regulations "retrogressive", they stated that a memorandum of demands was submitted to the MHRD officials.
Delhi University gave a call for a mass movement against the MHRD's "narrow" parameters on workload calculation and impossible API targets for promotions.
Teachers and students are resolute in their determination not to submit to the MHRD's bullying and will broaden the DUTA's movement to a mass campaign.
DUTA president Nandita Narayan said the HRD ministry has maintained a "shocking silence" over the parallel decision to block the release of the second tranche of teaching posts under the OBC-Expansion Scheme.
"This has damaged the job-prospects of 5,000 young teachers in DU alone and has put a question mark on the promotions and career-advancement of the entire teaching community," said DUTA secretary Sandeep Kumar.
"With the changes, no teacher will ever be eligible for promotion in future. More than 2,000 teachers in DU are awaiting their promotion under CAS. The NDA government has mindlessly forwarded the UPA's anti-teacher policy and in the process has caused great damage to the foundation of higher education in India. We will not tolerate anti-teacher policy of the government," read a statement issued by the Academics for Action and Development.
DUTA will continue with evaluation boycott till June 2 when it convenes its next General Body to decide on how to step up the agitation.
However, the HRD ministry had last week defended the new UGC criteria for Academic Performance Indicators (API), saying it provides "more flexibility" while it ruled out reduction in the number of teaching jobs due to the changes.
The new gazette notification has increased the workload for assistant professors from 16 hours of direct teaching per week (including tutorials) to 18 hours, plus another six of tutorials, taking the cumulative hours to 24 hrs. Similarly the work hours of associate professors have been increased from 14 to 22.