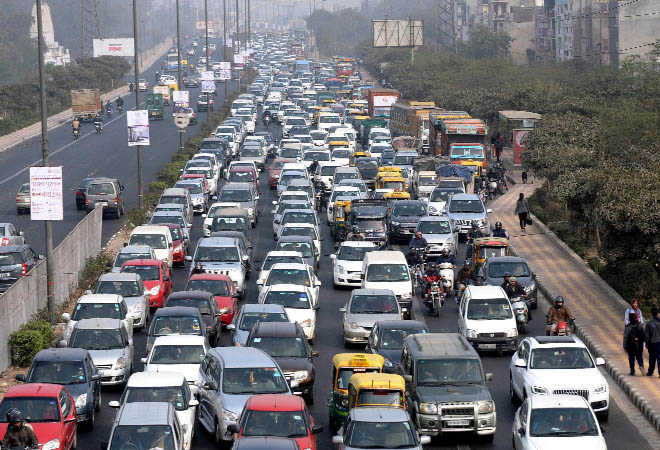 Syed Ali Ahmed
Tribune News Service
New Delhi, January 18
The Delhi Government considers relaunching the odd-even scheme following a review meeting held today under the chairmanship of Chief Minister Arvind Kejriwal.
The government has to think of certain issues like vehicles coming from the neighbouring states before relaunching the scheme. The experts have also pointed out that odd-even may result in more cars in Delhi as some people will have two cars with registration numbers of odd and even numbers.
The meeting was attended by the Cabinet ministers, senior officials of transport, revenue, environment departments, PWD, traffic police, DMRC, DTC DIMTS, transport experts, representatives of CSE and a few other agencies.
The experts at the meeting recommended relaunching the odd-even scheme as there was positive feedback from various quarters. Along with the pollution level, traffic congestion had also come down consequently frequency of the vehicles improved, said Transport Minister Gopal Rai.
When asked that there was no effect on pollution level during the scheme, Rai said except the report of Delhi Pollution Control Committee, the Delhi Government studied the reports of three other agencies including TERI and CSE. According to the report of these agencies, the pollution level of PM 2.5 during trail scheme of odd-even was between 300 and 400. After the scheme the level has gone up to 600.
He said that government is also considering adding 1,000 new buses to the DTC till April and May and another 1,000 buses in August. Besides, premium buses will be added to the DTC fleet in which people will be able get their seats reserved.
Traffic chaos, R-Day rehearsal adds to woes
Heavy traffic returned to haunt the city on the first weekday post the fortnight-long odd-even vehicular restrictions, which had reduced congestion considerably, as severe snarls were witnessed today at major arterial roads across the national Capital.
During the peak hours in the morning, bumper-to-bumper traffic was seen in New Delhi region, especially around the India Gate C-Hexagon, and South Delhi areas which include Chirag Delhi, Vasant Kunj, Chhatarpur, Greater Kailash and the BRT corridor, said a traffic official.
Major roads in North, West and East Delhi were also chock-a-block giving a harrowing time to commuters, as both odd and even numbered private cars returned to the streets.
Special Commissioner of Police (Traffic) Muktesh Chander said, "Heavy traffic in New Delhi region was caused by the blocking of a particular stretch on Rajpath for full-dress rehearsal for upcoming Republic Day celebrations." "In other cases, adequate personnel were deployed to ensure smooth traffic flow as and when we received information about severe congestion," he added.
Traffic snarls considerably slowed down vehicular movement in Dhaula Huan, S P Marg, Dwarka, South Extension, Laxmi Nagar and roads around the Akshardham temple.
In the wake of the road-rationing measures from January 1 - 15, when private cars bearing odd and even numbered registration plates plied on alternate days, the national Capital saw drastic cuts in traffic volume.
The city government projected this to be the biggest outcome of the vehicular restrictions which they termed a massive success and had also claimed that pollution levels had come down by around 25 per cent. (With PTI inputs)
Top News
Growth propels Indian Economy to USD 3.3 trillion, sets the ...
Both sides agree to hold 19th round of high-level military t...
Former CM Charanjit Channi denies allegations
Governor Banwarilal Purohit administers the oath of office a...
The suit filed in August 2021 sought permission for daily wo...