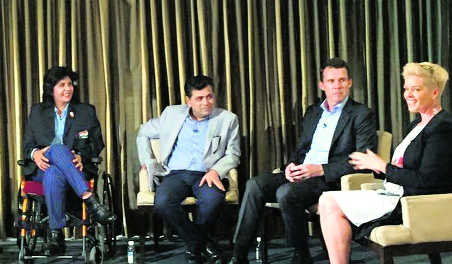 Tribune News Service
New Delhi, October 4
"Sports is a way of challenging the patriarchal values in our society and the increased participation of women in competitive sports world-over has ensured that this barrier stands broken," said Rio Paralympic silver medallist Deepa Malik, as she shared her views during a panel discussion on the "Changing role of sports in India and the role of women in sport".
The hour-long discussion was organised as part of the Australian Government's 'Women in News and Sport' (WINS) initiative in India and was attended by Australia's Acting High Commissioner Chris Elstoft and Ministry of Youth Affairs and Sports (MYAS) secretary Injeti Srinivas, apart from Malik.
The discussion saw the panelists expressing their views about the sports culture in India and Australia and how a substantially significant number of women athletes are using sports as a tool to achieve greater heights in their careers.
"We have a strong sports culture in Australia. There was always this attitude problem that male athletes play better sports than their women counterparts. They were considered competitively stronger than women. But, in recent years, some excellent performances by our women athletes have broken that barrier," Elstoft said.
"Now, our women's soccer team has been producing some great results. Our Australian women's cricket team is closer to our male counterparts, both in terms of competition and pay package. We are bringing our women athletes at par with male sportspersons," he added.
Srinivas said the women athletes in India have started outperforming their male counterparts and cited the excellent showing by badminton player PV Sindhu, wrestler Sakshi Malik and gymnast Dipa Karmakar at the 2016 Rio Olympics in Brazil.
Malik added: "I never allowed my disability to become my weakness. The definition of differently-abled wasn't acceptable to me. I wanted to achieve the medal glory irrespective of my disability and I have been able to do that."
WINS aims to increase opportunities for women in sports journalism in the Indo-Pacific region and through those opportunities increase stories about women in sport. The WINS programme will train 16 women sports journalists from across the country in aprofessional exchange in New Delhi from October 3 to 6. The programme will focus on three areas–providing skills training and industry knowledge; improving multi-platform content creation; and networking with other women sports journalists, and sport organisations.