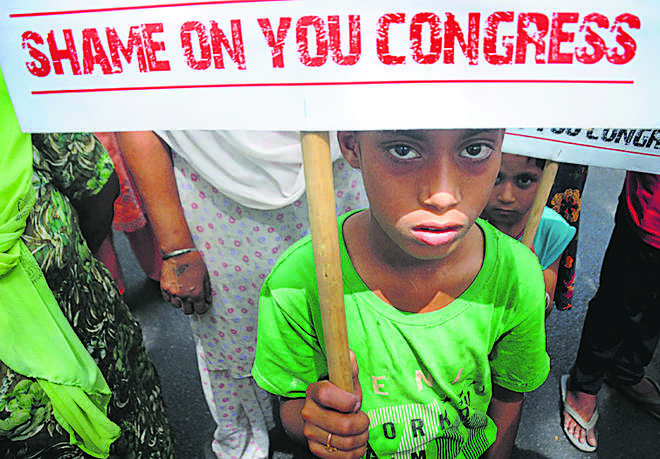 Tribune News Service
New Delhi, May 10
A large number of Sikhs, including 1984 anti-Sikh riot victims, under the leadership of DSGMC protested near the residence of Congress president Rahul Gandhi at 24, Akbar Road, in protest against the reported statement of Sam Pitroda who reportedly said about the riot, "hua to hua".
Carrying placards, the protesters raised slogans against Pitroda, Congress and Rahul Gandhi seeking Pitroda's ouster from the party. They said Pitroda's statement hurt the sentiments of the Sikh community particularly the sentiments of the 1984 anti-Sikh riot.
DSGMC president Manjinder Singh Sirsa said there was no change in the thought of the Congress in connection with the Sikh community. "At the time when we were expecting Rahul's apology for the Sikh riots, this controversial statement has made it clear that he is going on the line of his father Rajiv Gandhi," he said.
The Sikh leader said in 1984 when Rajiv Gandhi was the Prime Minister, he should have apologised for killing of innocent Sikhs. But he issued statement saying "When a huge tree falls, earth shakes". Now, same kind of statement is being issued by Rahul's close aide Pitroda who said "1984 me jo hua so hua".