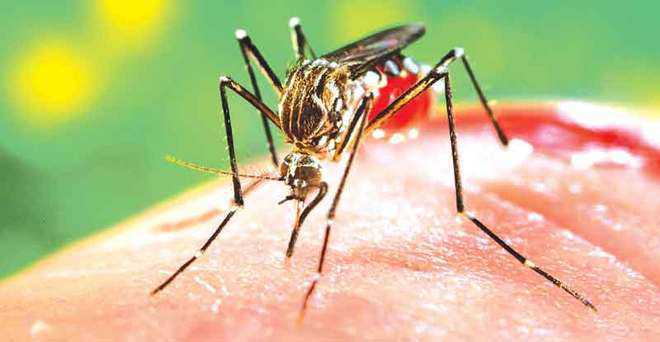 editorial@tribune.com
Dushyant Singh Pundir
Tribune News Service
Chandigarh, August 23
Taking a tough stance against 'lackadaisical attitude' of residents, the UT Health Department has issued 5,402 notices, 92 show-cause notices and eight challans over mosquitogenic conditions this season.
Challans of Rs 500 are issued to repeat offenders, who fail to comply with the order of the department.
As many as 20 cases of dengue and 14 of malaria have been reported from different areas of the city this year.
An official of the Health Department said 34 cases of dengue and 28 cases of malaria were reported during the corresponding period last year. Not even a single case of chikungunya has been reported so far whereas two cases were reported last year.
With sustained efforts, the department managed to bring down vector-borne disease cases this year, claimed the official.
The department sprayed insecticide at 1,152 indoor and outdoor locations and conducted fogging at 1,067 places in the city. An extensive house-to-house survey is underway to check the source of vector-borne diseases.
Vector-borne diseases result from mosquito breeding due to stagnation of water in uncovered overhead tanks, containers, bird/animal feeding pots, coolers, unused disposable articles, tyres etc. Due to recurrent rains, these sources fill repeatedly.
"Community participation is the key to fight vector-borne diseases. However, all efforts are nullified due to lack of support of residents in checking these sources. Residents also do not co-operate with field teams. Residents should shoulder the responsibility of tackling mosquitogenic sources on war footing to prevent any outbreak of vector-borne diseases," the health official said.
Meanwhile, the Health Department has appealed to residents to actively participate in source reduction and do away with the practice of keeping plates under flowerpots and use of bird/animal feeding pots during the season of vector-borne diseases as aedes larvae are frequently found in these containers.
Combating vector-borne diseases
Dos
Drain out water from coolers every week, dry them and then add fresh water
Keep overhead tanks covered
Drain out water from back trays of refrigerators every week
Use mosquito nets or mosquito repellents while sleeping
Wear light-coloured clothes covering the entire body
Don'ts
Do not wear clothes that expose arms and legs
Don't allow kids to play in shorts, half-sleeved clothes
Do not allow water to stagnate in bird/animal feeding pots. Change it every day
Do not leave toilet pots uncovered while going out of station for a long time