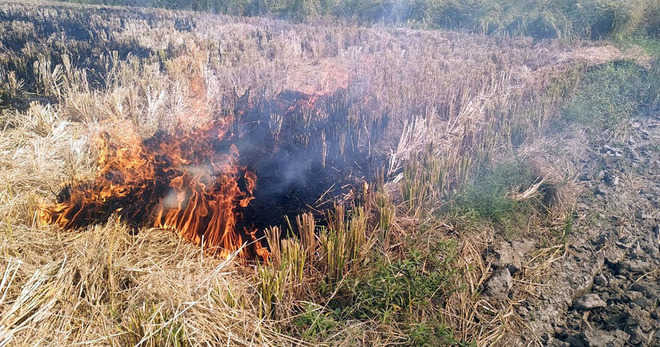 editorial@tribune.com
Manmeet Gill
Tribune News Service
Amritsar, October 20
Despite government's awareness drives to dissuade farmers from burning crop residue, several farmers are still using fire to clear their fields. Notably, the government has been providing machinery on subsidised rates to the farmers to manage stubble.
A visit to rural areas of the district revealed that almost 50 per cent of the land has already been cleared with fire. On the remaining land, mostly paddy crop is ready for harvesting.
A farmer, Harnam Singh, said, "Farmers are being unnecessarily accused of causing pollution. Pollution is mostly caused by industrial units and automobiles, but this goes unchecked. The government should provide some viable solution."
Another farmer, Kuljit Singh, said, "The way to manage stubble suggested by the government is too costly. It will burden farmers with additional at least Rs 3,500. The government should not take farmers as criminals."
Meanwhile, residents are unhappy with the government's plan to get FIR registered against landowners if tillers burn crop residue. "Once a landowner gives his land on lease, he has no right to suggest farm practices to the tiller. The government seems to be shying from taking strict action. Instead, it is trying to create tension between owners and tillers," said an elderly, Sukhwant Singh.
The practice of giving land on lease has increased during the last few years with youngsters going abroad and their elders being too old to carry on with farming. "For many, giving land on lease is a compulsion as they cannot till it," said Sukhwant Singh.
Agriculture Engineer Ranbir Singh Randhawa said, "A change is being noticed slowly. I personally know many farmers who have shunned burning of crop residue. With the each passing year, more and more farmers are joining in."