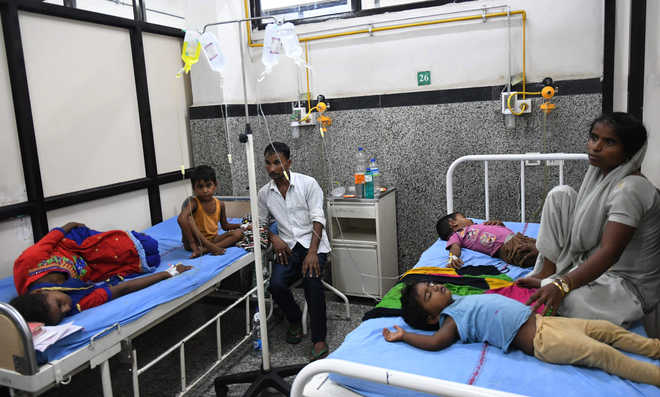 editorial@tribune.com
Tribune News Service
Panchkula, September 11
The Health Department here has swung into action after over 60 people, mostly children, of a migrant colony at Shahpur village in Pinjore block on the Haryana-Himachal Pradesh border were found suffering from diarrhoea. They have been admitted to various hospitals in Baddi town of Himachal Pradesh and at the Civil Hospital, Panchkula.
The department rushed a team to collect water samples from a water tank constructed near the house of the village sarpanch through which residents of over 300 jhuggis in the village collect water for their daily use.
The incident came to the fore after a 10-year-old girl suffering from diarrhoea was discharged from the hospital at Baddi but her condition deteriorated. She later died at the hospital.
The Civil Surgeon, Dr Yogesh Sharma, said they had sent a team to the village to collect water samples and these had been sent to a laboratory for testing. He said they were also taking stool samples of patients to determine the actual cause of the disease. He said a close watch was being kept on the situation and preventive measures were being taken to check the spread of the disease.
Those admitted to the Civil Hospital in Panchkula include Neha (16), Sheetal (3), Priyanshi (2), Mamta (10), Priyanka (10), Anu (5), Alam Raza (4), Alice (6), Gautam (11) and Than Singh (28).
Prem Pal, father of Anu, said he was a labourer in a private factory at Dharmajra in the Baddi area. He said they had been drawing water from the tank through a tap for their daily use. He said the water tank had been constructed by the village sarpanch and over 300 families in the colony were drawing water from the tank.
Shama, mother of Alam Raza, said on Monday, one of the children complained of vomiting and loose motions, but they did not take it seriously. She said after this, the number of children suffering from diarrhoea increased and they rushed their children to hospitals at Panchkula and Baddi.
45 at baddi hospital
Nearly 45 kids were admitted to the Civil Hospital, Baddi, while 10 persons, including nine children aged between two and 16, were admitted to the Civil Hospital in Panchkula. According to reports, two children have died.