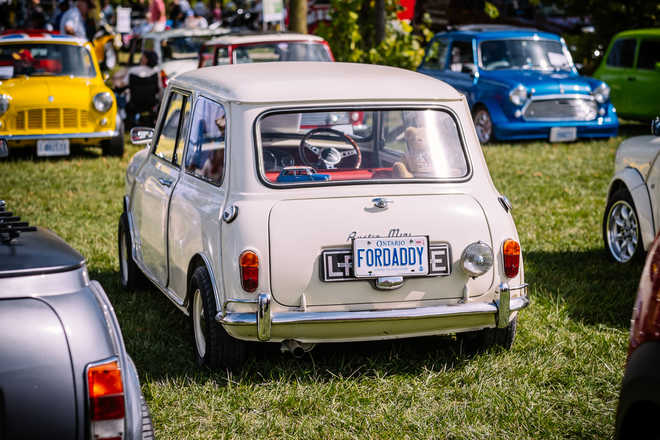 Varinder Singh
Tribune News Service
Jalandhar, January 16
Punjabis strive to leave their indelible mark wherever they go. The Greater Toronto Area (GTA) in general and Brampton, in particular, are no exceptions where the 'high-spirited' Punjabis express themselves via an array of personalised, vanity or in some cases even 'offensive' number plates of their vehicles.
The hiring of staff, which are able to speak and decipher various languages by the Ontario Ministry of Transportation and calls by a section of Punjabi community to recall such 'offensive or provocative' licence plate has hardly deterred youngsters who are passionate about such plates. The ministry's variety of translation tools to filter out such vanity plates which don't meet regulations have seemingly a little effect on vanity licence plate seekers.
As a result, one can often see vehicles with angilicised plates displaying purely 'Desi' and even 'vulgar' expressions like "BANDOOK" (Gun), "DONALI" (Double-barrel gun), "JATT", "PEG-SHEG" (A shot of liquor), FEEM (Opium), " SOORMA", "PK 3 PEG", "5AABI", "GRAB HER", "CLEANPWR", "COCO", "STUPIFY", 'CRAMPED", "PLAY ON" and even "TRUMP JR" and "FU".
In fact, it is relatively damn easy to fetch personalised vehicle licence plates in Ontario, even as the Ministry of Transport had recently reviewed over 50 plates and had even flagged nearly 30 such plates for recall for they were allegedly violating the stipulated provincial transport guidelines which, don't allow references to sex, violence, drugs or alcohol.
Interestingly, the figures show that despite application of filtering tools and staff there is a great demand for vanity number plates particularly, amongst the vibrant Punjabi communit. It was clear from ordering of over 31,000 personalised licence plates in Ontario of which, over 3,300 applications for such plates were turned down by the transport authorities for their direct or indirect reference to some 'objectionable' words or meanings.
What was more interesting that any driving licence or a or Registrant Identification Number (RIN) holder could buy a vanity or personalised number plate online for his or her private four-wheeler after paying a meager sum of -- $310 (2 to 8 character letters and/or numbers without a graphic) and for $336.40 (for 2 to 6 character letters and/or numbers, with a graphic). For a commercial vehicle, one has to shell out $310 for plates of choice. Even people not armed with a licence number or RIN could get hold of a personalised licence plate, sources pointed out.
"There should be no place for any licence plates referring to alcohol, drugs or vulgarity. These send out a wrong message for growing kids with tender minds," observed Deepinder Loomba, a Para Legal Expert dealing in traffic violation cases. He said in most of cases, selection of vanity plate is to display their 'money power' by people.
Traffic volunteer Manan Gupta said the transport authorities should ban such plates. "What is the worst impact of such plates is that these distract other drivers and road users. Moreover, what is the use of words like 'Bandook' and what these depict? Our culture? Not at all," said Deepak Punj, owner of Toronto-based radio Frontline.
UK has turned out to be more strict in case of personalised or 'offensive' licence plates. The UK Driver and Vehicle Licencing Agency (DVLA) has banned as many as 68 licence plates like MY68 DCK, OR68 ASM, NO68 EAD and SH68 AGR which were considered to be 'rude' to other road users or vehicle drivers. Plate combinations like DO68 GER, BA68 TRD, BL68 JOB and CA68OMB were also banned for these allegedly could suggest sexism, homophobia or racism.