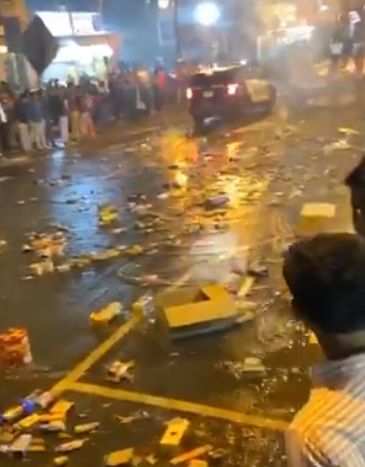 Tribune Web Desk
Chandigarh, October 30
The festival of lights—Diwali—was a messy celebration at the India Square in New Jersey. A viral clip shows gushes of water being sprayed by multiple hydrants to clear the trash on streets.
Empty boxes, wrappers of crackers and other sorts of waste material had filled the streets. Crowds gathered at India Square while it was being cleaned.
In the clip, some people were heard speaking in Hindi. A New Jersey Police can was patrolling to administer the work.
The 14-second video was shared on Twitter by a user, Sandhya, with the caption: "Ashamed to be called an Indian. Last Night on Indian Street near Journal Square New Jersey. Hats off to NJ Police handling the mess Very professionally."
The video has generated a discussion on Twitter and has already been viewed almost 70,000 times.
"All Indians should undergo compulsory rigorous training camps on cleanliness before entering these developed countries," a user wrote as several others expressed anger in the comments section of the video.
Ashamed to be called an Indian

Last Night on Indian Street near Journal Square New Jersey

Hats off to NJ Police handling the mess Very professionally 👏👏 pic.twitter.com/39nVmGaejO

— sANDhya (@DhooDala) 28 October 2019