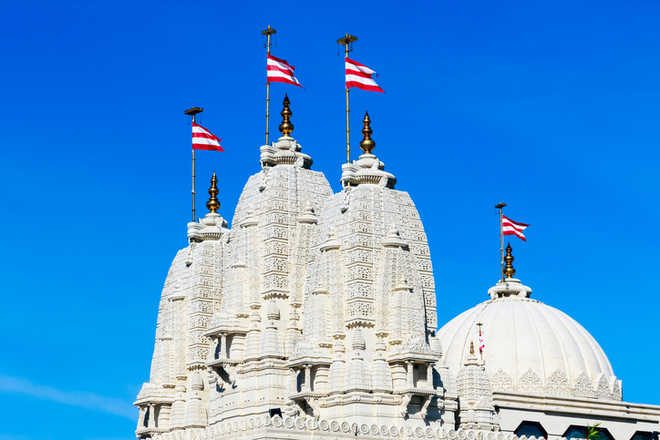 London, April 3
A Hindu temple that was subjected to graffiti attacks and a gurdwara are among a number of places of worship in the UK to receive government funds for additional security measures.
"A Hindu temple in southwest England, which has been subjected to hateful graffiti, was awarded 9,319.20 pounds for CCTV, security lighting, and gated fencing," the UK Home Office said in a statement today.
The unnamed temple and the gurdwara are among a number of places of worship in the UK to receive funds under the newly-launched 'Places of Worship Security Funding Scheme'.
A mosque in Lincolnshire in the east of England, which has a history of attacks, including criminal damage, hate mail, and hateful graffiti, was awarded 7,232.90 pounds for CCTV, intruder alarms and door locks and a church in the West Midlands, which has experienced break-ins, vandalism and the defacement of religious texts, was awarded 10,012.80 pounds for intruder alarms, CCTV and perimeter fencing.
Sarah Newton, minister for vulnerability, safeguarding and countering extremism, said, "Hate crime has a devastating impact on individuals and communities. It has absolutely no place in a Britain that works for everyone, and this government is determined to stamp it out forever.
"For people of all faiths, right across the UK, their place of worship is a refuge — and an attack on that place of safety can be deeply upsetting," she said.
Newton emphasised that the money granted will help prevent hateful attacks on places of worship, and will make it easier to prosecute the "despicable crimes" when they do happen.
A total of 45 churches, 12 mosques, one temple and one gurdwara were given a total of 405,000 pounds under the scheme launched last year to help pay for security measures.
From Monday, churches, mosques, gurdwaras and temples can apply for the second round of funding under the scheme.
Places of worship have until May end to apply in this round, which can be used to pay for security measures such as CCTV, alarms, external lighting and perimeter fencing.
In order to qualify, places of worship must show evidence that they are vulnerable to a hate crime attack or have experienced one within the last two years.
The first round of support under the 2.4-million-pound scheme, which was announced by UK Home Secretary Amber Rudd as part of the Hate Crime Action Plan in July 2016, was awarded in November.
According to official figures, incidents of hate crime have registered a hike over the last year.
In 2015/16 there were 62,518 offences recorded by the police in which one or more hate crime strands were deemed to be a motivating factor.
This was an increase of 19 per cent compared with the 52,465 hate crimes recorded in 2014/15.
UK police forces monitor hate crimes under five broad strands of race, religion, sexual orientation, disability or transgender identity.
Hate crime is defined by police as "any criminal offence which is perceived, by the victim or any other person, to be motivated by hostility or prejudice towards someone based on a personal characteristic". — PTI
Top News
Several pictures of Amritpal Singh in different attires rele...
The report of the panel was tabled in the Lok Sabha on Tuesd...