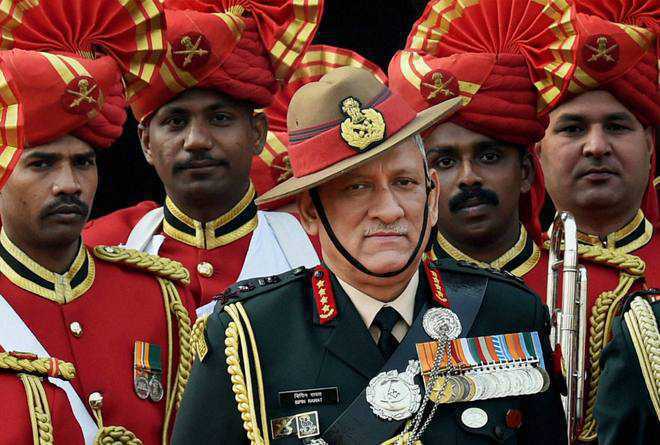 By now it is unanimously held that in his one year as Army Chief, Gen Bipin Rawat has emerged as the most loquacious of the lot so far, with a marked tendency to wade into the politics of the civilian leadership. It is unclear whether Gen Rawat's frequent transgressions into the political and foreign policy domains carry the government's approval. But his actions and pronouncements — making a comparison between the BJP and AIUDF, decorating an officer while a probe is on and recommending Bharat Ratna for a former Army Chief in an election-bound state — reveal an inclination to dwell on subjects that are closer to the present dispensation's ideological makeup rather than war fighting.
On the contrary, the present Army Chief has been rather reticent and obfuscating on the pressing concerns in his own backyard: lopsided budgets that reduce outlays for new purchases to a pittance, an Army permanently trapped in high-casualty counterinsurgency operations and a crash-landed Make-in-India programme for defence products. Gen Rawat also heads a force structure that has been abandoned as obsolete by all major military powers barring India. When despite these glaring shortcomings, Gen Rawat began talking up the till-now-unheard concept of a two-and-a-half front war, it was inevitable there would be stirrings of unease among his professional colleagues.
Gen Rawat's perorations so far were met with reluctant silence or elicited mild disapproval because of the high respect accorded to the Army for its dedication and professionalism. Now, two of his seniormost Generals have upended not just the Army Chief's formulations, but the government's security-heavy approach to the Kashmir border. While one General did not think even a two-front war was a smart idea (much less a two-and-a-half front war!), another pointed out that shooting matches on the border are not an end in themselves. Given the hyperactive state of the media and politics, the Generals need to avoid events primarily meant for marketing. The armed forces remain the only surviving bastion of professionalism and integrity. They will remain insulated from the shrillness of the political bazaar, only if the Generals speak in their lanes.
Top News
Was speaking to Indian journalists in Washington
This comes amid a diplomatic row between India and Canada ov...
Granthi Giani Jaswinder Singh from Pine Hill Gurdwara in New...
Heavy security deployed to deal with the situation
Family say all 3 accused knew Hrithik and that there were no...